Lee Sang-hwa sets Olympic records to win second straight 500m gold
South Korea's Lee Sang-hwa set a new Olympic record for fastest 500 meter and fastest combined time in winning her second straight gold in the speed skating sprint.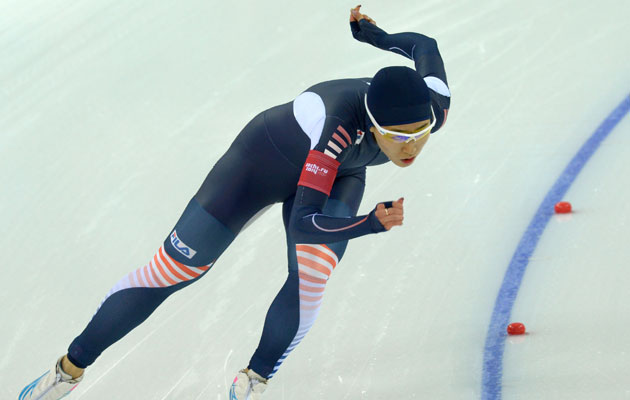 Lee Sang-hwa continued her domination of women's 500 meter speed skate, crushing the competition to win her second straight gold medal and set a couple of Olympic records in the process.
The South Korean who won the event in Vancouver only got better in the four years since. Her first skate of two in the competition yielded a time of 37.42, giving her a lead of 0.15 seconds going into the second skate.
That's when Lee turned it up another level and blistered the track with an Olympic Record time of 37.28 in her second skate. Her total time of 74.70 was also an Olympic Record and gave her a decisive win, 0.36 seconds faster than Russia's Olga Fatkulina in combined time. The bronze medal went to the Netherlands' Margot Boer, adding to the Dutch's haul in speed skating.
Lee's performance in setting an Olympic record was remarkable, especially given the fact that her time came at sea level in Sochi (the previous record was set in Salt Lake City) and on a track that has been slower for most skaters in these Olympics so far. But Lee is not most skaters as she has shown this season.
Lee entered a clear favorite as she is already the world record holder and is perfect this season. Coming into the Games she had won every other 500 meter competition she had been in this season, a perfect seven for seven. Make it eight for eight.
American Heather Richardson came in with a chance at becoming the first female medalist in speed skating since 2002 but her combined time of 75.75 put her in eighth place.
Steve Penny was arrested this week on allegations he tampered with investigation evidence

Penny was arrested for allegedly ordering documents from the Karolyi Ranch be removed

Bono only held the position for five days
The three-time Olympic medalist and skiing superstar says injuries have taken a toll on he...

Lochte called the police on himself before admitting he needs help with alcohol abuse

The International Olympic Committee disputes certain expenses as part of the budget, howev...