Lolo Jones, Lauryn Williams make US Olympic bobsled team
Sprinters Lolo Jones and Lauryn Williams will become the ninth and 10th Americans to compete in both Summer and Winter Olympics, making the US bobsled team for Sochi.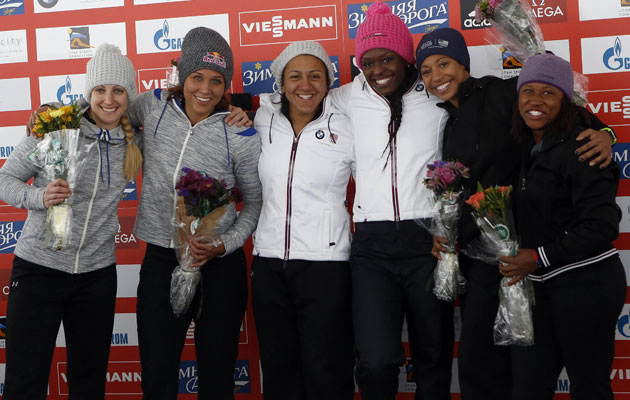 The United States announced the bobsled teams for the Winter Olympics in Sochi next month and highlighting the teams are two Summer Olympic stars: hurdler Lolo Jones and sprinter Lauryn Williams.
Jones, a two-time Olympian as a hurdler, started pursuing the 2014 Olympics as a bobsled pusher a year ago and was part of two medal-winning performances this season.
Williams won a gold medal with the 4x100-meter women's relay team for the USA in 2012 in the London Games. Williams made a strong statement to make the team by partnering with driver Jamie Greubel earlier Sunday to win the final World Cup race before the team was named, just edging fellow Americans Elana Meyers and Aja Evans by .13 seconds over the two runs.
Jones and Williams become the ninth and 10th Americans to ever compete in both the Winter and Summer Olympics.
Joining the two sprinters on the American team on the women's side are drivers Greubel, Meyers and Jazmine Fenlator. Evans joins Williams and Jones as those making the team as pushers.
"This is the deepest field of push athletes we've ever had," said USBSF CEO Darrin Steele. "We knew heading into the season that the Olympic selection was going to be extremely difficult. It's a good problem to have, but it meant that some outstanding athletes would not make the Olympic Team."
On the men's side Steven Holcomb is making a return to the Olympics after leading the American team to its first four-man gold in 62 years in Vancouver. He will pilot the first USA four-man team and Nick Cunningham will drive for the second four-man American team. Cory Butner also makes Team USA as a two-man driver (as do Holcome and Cunnigham).
The pushers that made the team on the men's side are Curt Tomasevicz, Steven Langton and Chris Fogt, who are all on the USA first team with Holcomb. Pushing the second sled will be Justin Olsen, Johnny Quinn and Dallas Robinson.
Jamaican legend goes down on the 4x100 relay final with an apparent leg injury

The Summer Games are coming to L.A. for the third time

Gil Roberts claims that the only crime that he committed was loving too much
Los Angeles preferred 2024, but may have to wait another four years to host Games again

TSA says it reached out to the gymnast and is looking into the incident

The record-setting Jamaican sprinter had one of his nine gold medals stripped