London Olympics made the world smile in amazement
There are plenty of moments that stood out at the London Games but it is that signature, expressive emotion of happiness known as the smile that left an impression on so many and gave us several, lasting images of the XXX Olympiad.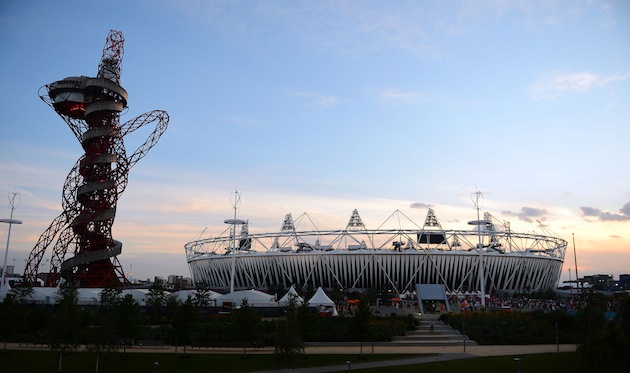 The sun sets on the Olympic Stadium one final time after a memorable XXX Olympiad. (Christopher Hanewinckel-USA TODAY Sports)
Oh the smiles.
There are plenty of moments that stood out at the London Games but it is that signature, expressive emotion of happiness that left an impression on so many and gave us several, lasting images of the XXX Olympiad. Usain Bolt delighted crowds with his pearly whites' flashing just as he gave his famous lightening bolt pose. There was Gabby Douglas, head up, smile out and beaming with youthful pride as she received one of her gold medals. Michael Phelps gave an awkward but reflective smirk as he looked back at all those medal races, leaving behind the greatest Olympic career of them all.
No one expected London to top what was the largess of Beijing and yet, with grace and panache fully fitting of the British people, the 2012 Games delivered. And then some.
Faster, higher, stronger, the past two weeks surely lived up to the Olympic motto. It didn't try and top anything, rather it lived in the present and let the athletic achievements and special moments flow naturally from one day to the next. Over 16 days the world watched and each night went to sleep amazed.
Oh, and there was a badminton scandal. Yes, the world was swept up in a badminton scandal. Luckily we only pay attention every four years to these things but with the bad there was plenty of good.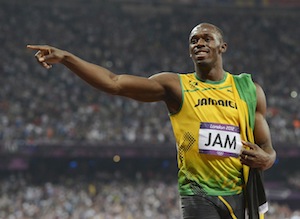 Usain Bolt had plenty to smile about as he became an Olympic legend on the track. (Andrew P. Scott-USA TODAY Sports)
It is hard, without the benefit of time, to recognize how lucky we are to see two of the greatest Olympians -- Michael Phelps and Usain Bolt -- rule their respective sports like no others before them. The Lighting Bolt from Jamaica became a triple gold medalist for the second consecutive Summer Games, extending his reign as the world's fastest man and setting an another  impressive record while anchoring the 4x100 meter relay. He may be 6-foot-5 and literally tower over everyone else on the track but he does so figuratively as well, cementing his status as a legend each time he looked to his left while crossing the finish line to not only check his time, but give the audience a bit of flash and entertainment in a sport measured in mere seconds.
Then there's Phelps, who came into these games with a stiff challenge from fellow American Ryan Lochte amid calls that he had lost a few seconds. Fourth in the 400m IM, silver in the 4x100m freestyle relay, out-touched by 5/100ths of a second in the 200m butterfly. Then, ho-hum, he won four straight gold medals to give him 18 total and 22 medals overall. The most decorated Olympian ever appeared to take a page out of the other G.O.A.T, Muhammad Ali, and rope-a-dope us all.
How glorious it was for us to see, a front seat to history.
"It was a dream for a sports-lover like me," Jacques Rogge, the president of the International Olympic Committee, said.
As the host nation Great Britain, naturally, had a special connection to the ebb and flow of the past two weeks. There was worry about a slow start but that gave way to a historic few hours over two days that gave the country its greatest Olympic moment. Who could forget Andy Murray, heartbroken at Wimbledon just a month earlier, defeating the great Roger Federer at tennis' great cathedral of Centre Court at the All England Club? Heck, in 46 minutes the night before the country had as good of a run as you'll find.
There was Jessica Ennis, crossing the line with her hands spread high above her head in the heptathlon, later drenched in the Union Jack with the crowd sweeping over her. Greg Rutherford, top podium spot secure, used his final long jump as a bit of a victory lap while playing to the crowd. No one could top Mo Farah though. The man who came to London as an 8-year-old boy from Somalia made his adopted nation the proudest as he crossed the line with an impressive finishing kick to win the 10,000 meters, a look of amazement on his face as an entire country cheered.
And did the 'Mo-bot.'
Related links
More on Olympics
There typically is a bump in the medal count for the hosts but Team GB added 18 more to the coffers over their haul in Beijing. They won more gold and total medals than any other Olympics since, perhaps not surprisingly, 1908 in London. America and China battled early and battled late for the gold and overall medal lead but the U.S. won both in their most successful overseas Games ever when looking at the gold medal column.
We were introduced to so many new faces, most of whom will take the baton and run with it in Rio four years from now.
Missy Franklin and Katie Ledecky, the youngest member of the U.S. swim team at just 15, showed the future is bright in the pool. 23-year-old David Boudia upset the favored Chinese superpower on the platform. Kansas State junior Erik Kynard and Arizona sophomore Brigetta Barrett both looked relaxed and comfortable on the Olympic stage while winning silvers in the high jump.
Women, 40 years after Title IX went into effect in the United States, roared at this Olympiad. Loudly. In many respects, this was their games.
Saudi Arabia, Qatar and Brunei sent women for the first time, marking the first time in Olympic history every nation competing had a woman in the delegation. Two-thirds of American gold medals coming home from across the pond will be worn on the neck of a woman and close to 60 percent of the total. Claressa Shields, just 17, stood atop the podium in boxing, as did Katie Taylor, who made every Irishman across the globe stop what they were doing to cheer her on. As she waved her gloved-fists in the air after victory to sing Amhrán na bhFiann with the crowd, the plights of the country were nowhere near peoples' minds.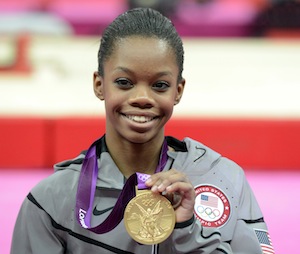 Gabby Douglas won over America as a 16-year-old double gold medalist. (Robert Deutsch-USA TODAY Sports)
Gabby Douglas – forever known to Americans just as Gabby from now on – delighted crowds with her gold medals. Abby Wambach and Alex Morgan led the U.S. Women's National Team to a thrilling, exhausting semifinal win over Canada and got redemption in the final against Japan. Allyson Felix finally finished first in the 200 meters, won another gold in the 4x400 relay and crushed a decades-old world record in the 4x100 relay. Serena Williams was as dominant as anyone to crush the singles field in tennis.
These two weeks weren't about geopolitics either, they were about athletes and sport itself. People from East Coast to West tuned in, in record numbers, to see a Jamaican run. Mo Farah winning double gold on the track was appreciated by more than just the home crowd. Perhaps the most inspirational of them all, South Africa's Oscar Pistorius, made the world watch in awe as the double-amputee ran around the track, carbon-fiber blades moving in lockstep next to his fellow competitors in the 400 meters.
These Olympics gave us a memorable two weeks we won't soon forget. There won't be debate over the Games' place in history, rather it closes secure in being an event where the world gathered and marveled.
Gold was won from 10 meters up, world records were set on the track and in the pool and the heavyweight champion is a young lady from Michigan. Higher, faster, stronger these athletes were.
It was grand London, I know I'm smiling at the end.
Three members of the Board of Directors executive leadership tendered their resignations on...

Emma Ann Miller, the 95th person to speak against Nassar in court, made the claims Monday

Kenworthy is set for his second Winter Olympics and his first after coming out as gay
Not everybody in South Korea is on board with the decision to unite with North Korea for the...

The Ralph Lauren jacket can be controlled by the athlete's smartphone, so that's something

Johannson, 53, had been tasked with assembling the United States' men's ice hockey team