Masterful entertainer Usain Bolt becomes a legend on the track
Masterful entertainer Usain Bolt becomes a legend on the track while entertaining the masses.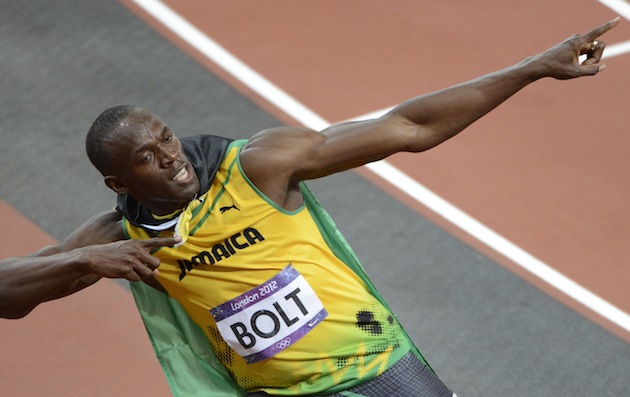 "And the champion has become a legend."
That was the BBC call of the 100 meter final on Sunday and it was an absolutely perfect call.
Jamaican sprinter Usain Bolt is many things. He is mostly known as the world's fastest man but the affable, funny, camera-mobbing star of the track world became a legend Sunday night by repeating in the event with an Olympic record 9.63.
Bolt is many adjectives but a brilliant entertainer comes to mind before and after he runs those 100 meters. His runs transcend the sport, that smile drawing millions -- perhaps billions -- around the world to root for the tall sprinter from an island nation of just under three million people.
Related links
More on Olympics
He serenades the camera while warming up but nobody is turned off by him. Bolt is cocky, no doubt, but it's not aimed at denigrating to his competitors. Give them some truth serium and you'll probably find a few who enjoy the theatrics. He seems to draw his inspiration for competition from the movie The Gladiator, because quite simply it's hard not to be entertained when watching him on center stage.
It's the second straight golden win for Bolt in 100, making him the only other man aside from the great Carl Lewis to defend the title at back-to-back Olympics. He coasted through the line during previous heats, showing just flashes of what he could do when he turned on the jets for the full distance. It was an average start for Bolt in the final but he glided past his teammate, world champion Yohan Blake, and others with each long stride toward the finish line. Once he was even with the field the only question became what would be his time.
Bolt too was curious, leaning across the finish line with his head tilted to the left to see the clock. The fastest field in the Olympics ever and he sacrificed a few hundredths of a second to make sure he set a record.
The man knows how to run but also what to celebrate.
There were plenty of doubters as Bolt arrived in London thinking that he had lost a step. As he leaves, gold medal around his neck walking with an undeniable swagger, he left them a simple message regarding what he was about. 
"I just said it on the track," Bolt said on the BBC. "People can talk, all they can do is talk. When it comes to championships I bring it."
Indeed, an everlasting run that made his entertaining performance even sweeter. What a lighting show the world was able to take in.
Three members of the Board of Directors executive leadership tendered their resignations on...

Emma Ann Miller, the 95th person to speak against Nassar in court, made the claims Monday

Kenworthy is set for his second Winter Olympics and his first after coming out as gay
Not everybody in South Korea is on board with the decision to unite with North Korea for the...

The Ralph Lauren jacket can be controlled by the athlete's smartphone, so that's something

Johannson, 53, had been tasked with assembling the United States' men's ice hockey team