Medal Check: after Day 10, U.S. on track for overall medal win; golds a toss-up
Pre-Games medal projections suggest that roughly two-thirds of the way through the London Games, the U.S. is on track to win the overall medal count for the fifth consecutive Summer Olympics--but still have ground to make up on China to win the gold medal title.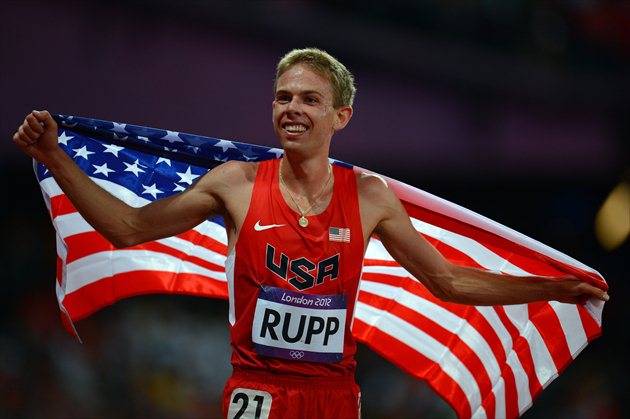 The U.S. will need surprise gold medals from contenders like Galen Rupp in the 5,000 meters to top China. (Getty Images)
Second verse, same as the first?
In our first Medal Check, following Day 5 of the London Games, we created a consensus from three pre-Olympics medal projections and found that the U.S. and China were both slightly, equally ahead of their overall medal predictions. That was good news for the U.S., which was projected to finish with a narrow lead in the overall medal count and had a small scheduling advantage down the stretch in track and team sports.
The bad news was that while the U.S. was meeting their gold medal expectations, China was exceeding them, and in a race that the projections predicted would be too close to call, that amounted to a serious Chinese advantage.
After Day 10, what's changed? Not much--as before, the U.S. has both won several surprising gold medals (Kayla Harrison's in judo, Katie Ledecky's in swimming, etc.) and missed out ones they were favored to win (McKayla Maroney in women's vault, Carmelita Jeter in the women's 100-meter dash). Meanwhile, China has continued to own sports like badminton, table tennis and diving lock-stock-and-barrel while adding surprise golds like Xu Lijia's in women's sailing Monday. 
So rather than use the medal projections to look back, in this Medal Check we're using them to look forward. As before, we looked at the projections of Sports Illustrated, the Associated Press and USA Today, with agreement from two of the three good enough for a consensus. If the U.S. and China followed that consensus in the final six days of the Olympics (minus athletes projected to win medals that have already been eliminated, like Todd Rogers and Phil Dalhausser), we'd get this medal table:
Projected Medal Count

 
Golds
Overall
United States
42
97
China
44
85
Both China and the U.S. are projected to take 13 more golds in addition to their current totals of 31 and 29, respectively, but Team USA is projected to grab 34 more medals overall to China's 21.
The bottom line would remain what we saw in Beijing, with China taking the gold medals crown and the U.S. the overall count. But Team USA should take encouragement from the narrowness of the gold medal margin; in Beijing, the final margin was 15 golds, 51 to 36. With just a handful of surprise golds -- like Jennifer Suhr's upset victory in the pole vault -- the U.S. could snatch the gold medal crown back.
Here's the 13 events each country is projected to win in the final six days of the Games:
U.S.A.: Women's 200 meters; women's long jump; decathlon; women's soccer; women's water polo; women's 4x100 meter relay; men's 4x400 meter relay*; men's 74 kg freestyle wrestling; women's 4x400 meter relay; women's basketball; women's Elliott match race sailing; women's volleyball; men's basketball. 
China: men's 3-meter springboard; men's parallel bars; men's high bar; women's balanace beam; women's team table tennis; men's 110-meter hurdles; men's team table tennis; women's 49 kg taekwondo; women's flyweight boxing; women's 10-meter platform; women's 57 kg taekwondo; men's light flyweight boxing; men's 10-meter platform.
And three events to keep an eye on as the medal count comes down to the wire:
Men's 110-meter hurdles: China's Liu Xiang is the favorite, but Americans Jason Richardson and Aries Merritt are both gold medal contenders, with Richardson the reigning world champion (after a Liu disqualification in the final) and Merritt the top hurdler at U.S. trials.
Women's beach volleyball: Though the Brazilian team of Larissa and Juliana are the favorites, Misty May-Treanor and Kerri Walsh Jennings meet the Chinese team of Xue Chen and Xi Zhang in the opposite semifinal--and only one country will get the shot at gold. 
Women's flyweight boxing: American Marlen Esparza was sharp in winning her quarterfinal matchup 24-16 over her Venezuelan opponent, guaranteeing herself a medal in the two-bronze-medals 51 kg boxing tournament. But now she faces a much sterner test in Wednesday's semifinal against Chinese gold medal favorite Ren Cancan.
Only the women are remaining to skate for their medals

In case you didn't know, OAR is actually a country you've already heard of -- just in disg...

How does your time zone translate to the Pyeongchang Games? We've got you covered
Find out everything you need to know about watching the Winter Olympics on Wednesday

The short answer is simple: She didn't do enough. But there's more to it than the simple e...

Lindsey Vonn says she's skiing for her late grandfather in likely her final Winter Olympic...