Medal Check: How the U.S. turned the gold medal chase around
In 2008, the U.S. lost the "most gold medals" crown by 15 to China, and seemed headed towards a narrow defeat again just days ago. So how did they turn that deficit into an eight-gold-medal victory in London?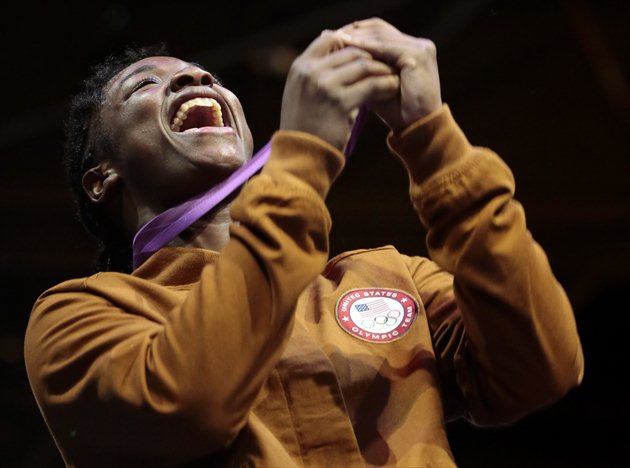 Claressa Shields' surprise gold medal in women's boxing was a big win for Team USA, too. (AP)
A quick refresher: from 1996 to 2004, Team USA never finished lower than first in either overall medals or most gold medals in the Olympic medal table. The Russians and Chinese made the gold tally a sweat a couple of times, but whether it was Atlanta, Sydney, or Athens, the end result was never really in doubt. 
That U.S. success continued through Beijing in the overall count, but the gold medal chase got flipped, and how: the Chinese grabbed a whopping 51 gold medals to the U.S.'s 36, setting London up as almost a make-or-break Games in the medal table for Team USA. Would the Americans reestablish themselves as the preeminent Olympic sports power, or resign themselves to touting their ability to make the podium over their ability to stand atop it?
After the first third of the Games, it looked like a Beijing rerun: pre-Games projections suggested China was ahead of their expected gold medal pace while the U.S. had stuck exactly to theirs, in a race predicted to come down to only a handful of golds either way. Two-thirds of the way through, the story was much the same, as China was still projected to top the gold count even as the U.S. pulled away in overall medals.
But here we are, all three thirds completed, and the U.S. has completed its Games with 46 gold medals won, a full eight more than China's 38, restoring Team USA to its pre-Beijing dominance.  Which begs the question: what happened?
As you might expect given the surprising margin of the U.S.'s golden victory, there were two parts to it: the Americans surging to a bushel of gold medals they weren't expected to win, and the Chinese faltering in a number of events in which they'd been heavy favorites. As we wrote Saturday, no single event personified that shift better than U.S. diver David Boudia shocking Chinese favorite Qiu Bo for the gold in the 10-meter platform competition.
But down the stretch there were plenty of both Chinese failures and American successes. Favored 100-meter hurdler Liu Xiang's injury opened the door for the U.S.'s Aries Merritt; Chinese women's boxer Ren Cancan was upset while American Claressa Shields won surprise gold; no Chinese wrestler topped the podium while the U.S. got a late win from upstart Jake Varner; etc. Even with the U.S. coming up short in supposed locks like women's volleyball or the injury-ravaged men's 4x400-meter relay, the wins from places like women's beach volleyball (where Misty May-Treanor and Kerri Walsh Jennings were supposed to fall short against Brazilians Larissa and Juliana), men's triple jump, and women's floor exercise were more than enough -- given the Chinese losses -- to win back the gold medal title.
Here's how the U.S. "comeback" looked in graph form, from Day 1 to Day 16:
That's the little picture, though. What about the big picture? How, exactly, did we arrive at a 23-gold medal swing between Beijing and London? Here's the five disciplines where it happened:
Gymnastics: This was a head-to-head bloodbath in 2008. Powered by the Chinese men claiming seven of a possible eight golds inartistic gymnastics, Beijing's host nation outscored the U.S. 11 victories to 2--more than half of their final winning margin. But with those same Chinese men only grabbing three wins this time (plus only one from the Chinese women), and the U.S. women winning three of their own behind Gabby Douglas and Aly Raisman, the tally this time was only 5-3 in China's favor. (That tally also includes their men's trampoline gold medal.) Without a blowout Chinese victory here, the U.S. was always going to have the advantage elsewhere. Change: U.S. +7.
Shooting: Quietly one of China's strongest disciplines, they scored five golds in Beijing to the U.S.'s 2. The tables were turned in London as Kim Rhode (women's skeet), Vincent Hancock (men's skeet), and Jamie Lynn Gray (women's 50m rifle three-positions) all took American victories while the Chinese shooters surprisingly grabbed only two. Change: U.S. +4.
Judo: China isn't known as a  particularly strong judo country, but they used their home crowd to great advantage in Beijing and nabbed three golds to the Americans' none. It was a different story in London as Kayla Harrison become the first American judoka to wear the gold medal and China could no better than a single silver and lone bronze. Change: U.S. +4.
Weightlifting: As in 2008, the U.S. didn't have any weightlifter make the podium in London, much less win gold. But the Chinese weightlifters took a step back from "utterly dominant" to "really good," taking only five of a possible 15 golds rather than their Beijing total of eight. That alone gave the U.S. a nice head-to-head boost. Change: U.S. +3.
Swimming: The U.S. didn't actually make up any ground on China in the gold medal chase in the pool. But given that the Chinese program continues to develop and yielded five golds in London to the one it earned in Beijing, it would have been easy for the U.S. to give back some of the gains they would make elsewhere--especially with superstars Michael Phelps and Ryan Lochte failing to perform up to their colossal expectations. (Yes, as fondly as his London Games will be remembered after he broke the all-time medal mark and finished with four golds, his loss in the 200 butterfly meant Phelps finished one gold shy of expectations.) But thanks to the likes of Missy Franklin, Katie Ledecky, Matt Grevers, Nathan Adrian, and more, the U.S. bumped their own gold tally in the pool from 12 to 16, maintaining the plus-11 margin they'd enjoyed in Beijing. Change: U.S. +0.
Add those U.S. triumphs to minor head-to-head improvements in diving (+2), rowing and canoeing (+2), wrestling (+2) and multiple others, and you wind up with a sizable shift in the final gold medal count. (If you're wondering about the U.S. track and field performance, the Americans won five more overall medals in London but didn't actually push their advantage over China in golds any more than they did in Beijing; there, the final tally was U.S. 8, China 0, and in London it finished 9-1.)
The next big question: will the U.S. be able to repeat this success in Rio in four years? Given that it seems to hinge first-and-foremost on the U.S. continuing to withstand the Chinese surge in swimming and hold their own in gymnastics, we'd guess so; many of the American heavyweights in the pool will be back for 2016 (even if Phelps says he won't be), and the U.S. gymnastics program is deep overall as it's ever been.
We'll have to wait those four long years and see, but the guess here is that the 2008 gold medal defeat will look even more like a Beijing blip headed into 2020.
Not everybody in South Korea is on board with the decision to unite with North Korea for the...

The Ralph Lauren jacket can be controlled by the athlete's smartphone, so that's something

Johannson, 53, had been tasked with assembling the United States' men's ice hockey team
Nassar continues to have to listen to victim impact statements as he awaits sentencing

The former USA Gymnastics doctor issued a six-page complaint during his sentencing hearing

Mancuso went out in style on her final run, rocking a Wonder Woman outfit and cape