Men's soccer at the London Games: what you need to know
You might know that Team USA didn't quite make it to London, but what else do you know about the men's Olympic soccer tournament? Here's your primer.
You've seen the countdowns, read "July 27" in a thousand places, maybe even marked your calendars. But where the men's Olympic soccer tournament is concerned, forget the Opening Ceremonies: the fun actually begins July 26, when the tourney kicks off with a whopping eight matches and all 16 teams in action. Here's what you need to know about the tourney, with the breakdown of the women's version here.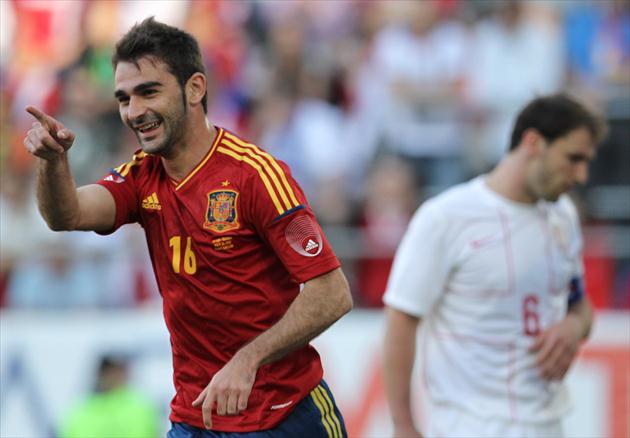 Striker Adrian is looking to point Spain towards yet another major international championship. (Getty Images)
THE BASICS: 16 teams are split into four groups of four and play round-robin, with the top two in each group advancing to bracketed quarterfinals. Group play is scheduled for July 26-Aug. 1, quarterfinals for Aug. 4, semifinals for Aug. 7, and the final for Aug. 11 at London's historic Wembley Stadium. 
Group A consists of hosts Great Britain, Senegal, the United Arab Emirates, and Uruguay; Group B is Mexico, South Korea, Gabon, and Switzerland; Group C Brazil, Egypt, Belarus, and New Zealand; and Group D Spain, Japan, Morocco and Honduras.
More on Olympics
Analysis

Related links
Unlike the women's tournament, which features full national teams, the men's version only includes players under the age of 23--with the exception of three over-age "wild card" players*, which each country can add to their final 18-man roster. Qualification is competed exclusively by the "U-23" teams, which helps explain why many world powers (Italy, Germany, Argentina, etc.) failed to advance to London.
SO WHERE'S THE U.S.A.? If you missed it, a heavily favored U.S. U-23 side failed to advance out of its initial CONCACAF qualifying group, suffering a shocking 2-0 loss to Canada and a gut-wrenching 3-3 tie against El Salvador on substitute goalkeeper Sean Johnson's injury-time error. 
THE FAVORITE: If it's a major international tournament in the year 2012, it seems unwise to bet against Spain. Most of the stars of La Furia Roja's recent, unprecedented triumph in Euro 2012 won't be along for the ride, but revelatory left back Jordi Alba will be, along with Chelsea star Juan Mata and UEFA Cup finalist Javi Martinez of Athletic Bilbao. With the bulk of the roster made up of the same players who won the most recent European U-21 championship, though -- including Manchester United goalkeeper David De Gea and lethal Atletico Madrid striker Adrian -- the Spanish shouldn't need a whole lot of help from their wild card players anyway. Top-to-bottom, no roster in the tournament boasts as much big-club experience or big-time success.

THE CHALLENGER: Many of the world's top soccer nations don't take the Olympics all that seriously. Brazil is not one of those nations, however, which makes its failure to have ever come home with the gold medal all the more baffling--and all the more infuriating for followers of the Canarinho. Their 2012 roster is, as usual, stocked to the gills: A.C. Milan defender Thiago Silva, Real Madrid wingback Marcelo, Milan striker Pato, Man United midfielder Rafael, and Porto striker Hulk** have all played (and succeeded) at the very highest levels of European club soccer. And that's before we get to Neymar (right), the 20-year-old playmaking sensation who's already become something of a Brazilian hero for his loyalty to home club Santos, not to mention a fixture for the full national side.
If you could count on this squad to play up to its immense potential, it would be a clearcut favorite. But it's Brazil in the Olympics--history suggests the only thing worth counting on is the opposite.
THE CONTENDERS: Home-field advantage alone would give Great Britain a real shot in a tournament as traditionally wide-open as the Olympics have proven to be, but its selection of players isn't anything to sneeze at, either, with the likes of Man United's Ryan Giggs, Chelsea's Daniel Sturridge, Arsenal's Aaron Ramsey, and plenty more Premier League stars available for manager Stuart Pearce. If wild card defender Micah Richards can marshal what might otherwise prove a shaky back line, the team's talented attackers and host-nation pride could take them a long way.
Speaking of talented attackers, no team has brought in more overage firepower than Uruguay, who are set to play Liverpool's Luis Suarez and Napoli's red-hot Edinson Cavani together in what could be an outrageously productive striking tandem. But after eliminating two-time defending Olympic gold medalists Argentina in South American qualifying, the under-23 section of the squad has plenty firepower as well, starting with impressive 20-year-old Italy-based defender Diego Polenta. With Polenta in back, Nicolas Lodeiro and Arevalo Rios in midfield, and Suarez and Cavani up top, it's hard to pinpoint any particular weakness in what should be one of the toughest outs of the tournament.
Mexico looked they were headed in the wrong direction when the U.S. soundly beat them 2-0 in a Leap Day friendly, but while the Americans were busy flailing out of the competition a few weeks later, El Tri swept their five qualification matches by a combined score of 26-3. The Mexicans won't bring the same kind of star power to London as the preceding teams, but their collective time in the Mexican League (where all but one of their 18 members plies his trade) and playing alongside each other in other successful youth competitions has given them a great deal of squad unity and familiarity. Guadalajara midfielder Marco Fabian knows his way around goal, too.
THE PLAYERS TO WATCH: If you're going to guarantee a gold medal -- and do it for a country as desperate for that prize as Brazil -- you'd better be prepared to walk the walk as well as you talk the talk. But Neymar has the skills to do just that, with seemingly every elite club in the world having made some effort to pry him out of the Brazilian league since he first burst onto the international stage in 2009. Watch him, and it's easy to see why, as his combination of fluid dribbling, creative passing, and pure speed is matched by few other strikers in the world. Pele jumped the gun when he recently called Neymar already the best player in the world, but with Lionel Messi at home, he should prove to be the best player in this Olympic tournament.
Even though he was a teenager, when Ryan Giggs (left) elected to play for Wales over pursuing his potential (and somewhat dodgy) eligibility for England, he knew he was almost certainly giving up on ever playing in a major international tournament. Thanks to the formation of a unified British team for the London Games, however, the 38-year-old will finally have a chance to represent his country on a global stage--and as the British captain, no less. And even if "Giggsy" doesn't have the wheels that once made him one of Manchester United's most fearsome attacking players, he's not just there for ceremonial purposes; his poise on the ball and command of midfield will be critical if the Brits are to escape from what's certainly the most difficult of the four groups. 
Africa has an outstanding record of success in the Olympics, medaling in four of the five U-23 competitions with two golds, a silver, and a bronze. But the teams that won those prizes -- Nigeria, Cameroon, and Ghana -- all failed to qualify for London, leaving the continent's hopes in the hands of several less-respected sides. Of those, Egypt has the most favorable draw and arguably the continent's best individual player at the tournament--veteran midfielder and captain Mohamed Aboutrika, who pulls the strings for a smooth, coordinated passing attack that at its best can make the Pharoahs look like the Middle East's answer to Brazil. Even getting out of the group won't be easy for the Egyptians, much less coming home with a medal, but if it happens it'll be Aboutrika who makes it happen.
THE MATCHES TO WATCH: Great Britain vs. Senegal, 3 p.m., July 26. History will be made when Great Britain takes the field against the Senegalese in their Olympic debut, because "Great Britain" hasn't taken the field since 1972--the last time the United Kingdom fielded a team for Olympic competition. (They haven't actually qualified since 1960.) Thanks to England, Scotland, Wales, and Northern Ireland's traditional independence within FIFA -- and the vagaries of the Olympics' amateurism rules -- it took London hosting the Games to finally reconvene the four "Home Nations" onto one roster. It didn't end up mattering much where the Scots and Northern Irish are concerned (neither had a player picked for the squad), but there are five Welsh players on the team--not that anyone in the rabid Manchester crowd will care who's from where once the ball is kicked off.
Semifinal No. 2, 2:45 p.m., Aug. 7. We're projecting a bit, but if form holds, this match would see Groups C's winner -- i.e., Brazil -- taking on Group A's winner -- i.e. Uruguay or Great Britain. If it's Brazil facing off against Suarez, Cavani, and Co., that match will feature the greatest array of attacking skill the tournament would have to offer. If it's Great Britain, it's just the Brazilians taking on the host country in a packed stadium with their first gold-medal match appearance since 1988 on the line. Either way: appointment viewing.
*If you're wondering why this is the case, FIFA doesn't want full national sides making the Olympics -- which they make no money from -- a rival to the World Cup. But the IOC also doesn't want to hold a straight U-23 tournament with an absence of stars. The "wild card" plan was the two sides' compromise.
**Yes, "Hulk." Get your giggling out of your system now. We've all been there.
Three members of the Board of Directors executive leadership tendered their resignations on...

Emma Ann Miller, the 95th person to speak against Nassar in court, made the claims Monday

Kenworthy is set for his second Winter Olympics and his first after coming out as gay
Not everybody in South Korea is on board with the decision to unite with North Korea for the...

The Ralph Lauren jacket can be controlled by the athlete's smartphone, so that's something

Johannson, 53, had been tasked with assembling the United States' men's ice hockey team