Men's soccer tourney wide open after Spain eliminated by Honduras
Want a little March Madness in your Olympics? Check out the men's soccer tournament, thrown wide open after Spain's second straight upset loss eliminated the globe's current preeminent soccer power.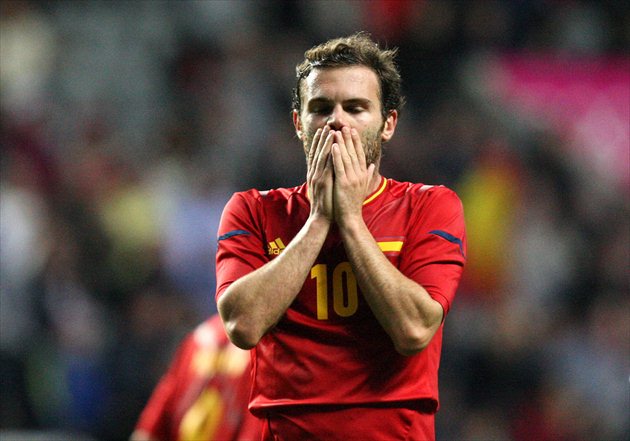 Even Chelsea star Juan Mata couldn't keep Spain from their second straight 1-0 defeat. (Getty Images)
After two days of competition, the women's Olympic soccer tournament has gone largely to form: the U.S., Japan, and Brazil look like contenders, and the Colombias and South Africas are getting pounded. 
The men's version? Not so much.
A tournament that's seemed wide open from the beginning got even more open Sunday, when gold medal co-favorites Spain suffered a second straight shock 1-0 defeat and crashed out of the tournament. Honduras striker Jerry Bengtson headed home in the 7th minute and outstanding goalkeeper Jose Mendoza made the goal stand up, giving the Hondurans a 1-0 victory that arguably stands as the small Cental American nation's greatest-ever soccer achievement.
For Spain, it's a jarring, borderline incomprehensible end to one of the great runs in soccer history. The Spanish full national side is fresh off their second straight European championship with a mere World Cup title sandwiched between them for good measure. Though the Olympics is competed by only players under the age of 23, with three overage "wild card" players per roster, the Spanish were expected by many to dominate this tournament as well--their roster is made up exclusively of major European club veterans, with breakout Euro 2012 star Jordi Alba and Chelsea striker Juan Mata along for the ride as wild cards.
No matter: the Spanish were eliminated before they ever even found the net, losing to Japan 1-0 in their debut and then peppering the Honduran goal (and striking the woodwork multiple times) without ever actually putting the ball away. Striker Adrian Lopez had an outstanding season for Atletico Madrid, but has shot nothing but blanks in London.
If the Spanish have any consolation, it's that they aren't alone in their surprising struggles. Uruguay were pegged by many (including this blog) as potential gold-medal contenders, but they'll have to fight for their Olympic lives after losing 2-0 to ten-man Senegal Sunday. Mexico was lucky to earn a draw vs. South Korea and took an hour to break through against lightly-regarded Gabon. Even Brazil --now the clearcut tournament favorite -- has been made to sweat, narrowly escaping Egypt 3-2 and falling behind Belarus 1-0 Sunday before surging to a 3-1 win.
So what do we make of all this chaos? Some of that is the randomness of soccer when played mostly by under-23 players; some of it is the randomness of soccer, period; and some of it is players like Lopez getting their first taste of the pressure of a major international soccer tournament, and finding it surprisingly bitter.
The bottom line is that even if Brazil will now wear the favorite's bullseye alone, this tournament is anyone to win's--even Honduras. 
The two-time gold medalist's road to making his fourth Olympics just got a little tougher

Here's how to watch all of the halfpipe and slopestyle action as Olympic qualifying resume...

The South African sprinter and Paralympic champion is serving time for the murder of his g...
The Olympic skier says she's received hurtful comments since her remarks about competing for...

More than 400 people reportedly held emergency defense drills in advance of the Winter Gam...

The Olympic gold medalist says she also won't accept an invite the White House