Michael Phelps barely qualifies for the Olympic 400m final by just .07 seconds
American Olympic icon Michael Phelps narrowly avoids failing to qualify for the Olympic 400m IM finals, edging out Lazlo Cseh by just .07 seconds.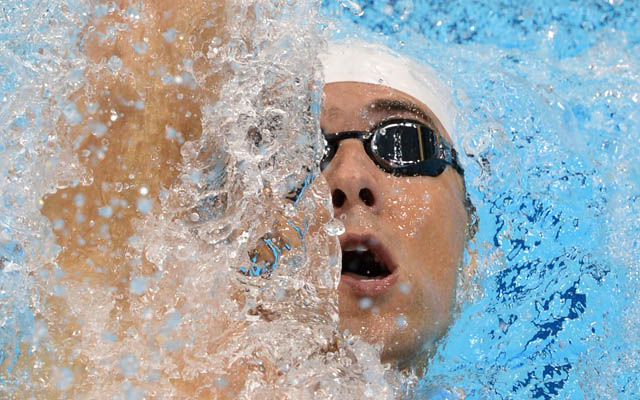 "Perhaps I should swim faster."
(Getty Images)
Not exactly the kind of start Team USA wanted to its drive for Olympic swimming gold and not a good start for the man most call the greatest American Olympian ever. 
Michael Phelps avoided missing qualifying for the men's 400m Indivdual Medley final by just .07 seconds, finishing 8th among competitors Saturday morning. Phelps' primary rival, American Ryan Lochte, finished third at 4:12:35. Japan's Kosuke Hagino swam the fastest qualifier at 4:10:01. 
By comparison, Phelps swam a 4.07.82 as first qualifier in the 2008 heats, and a 4.03.84 in the final in 2008, to win Gold. Phelps missed the opening ceremony on Friday night due to the early start time for the qualifiers Saturday, but apparently the extra rest didn't help. He has eight hours to get his body ready and push through in the final to be held Saturday evening in London, 2:26 p.m. ET in the U.S..
Phelps, for his part, wasn't overly concerned after the event:
"That one didn't feel too good," Phelps said. "The only thing that matters is just getting a spot in [the final]. You can't win the gold medal from the morning."
via Phelps nearly misses qualifying for 400m IM final in London - Swimming News | NBC Olympics.
That's true, but still not a great start for the United States' premier athlete. Fans will just have to hope the veteran was truly saving himself. Phelps will begin the finals in the unenviable eighth lane as a result. 
Equally as stunning as Phelps' near-disaster was the failure to qualify by the man Phelps' barely edged, Hungarian Laszlo Cseh, who took home silver in the event in 2008. Cseh, a second generation Olympic swimmer, was edged by Phelps in the last 50 meters. 
A crushing and stunning end to Cseh's hopes to overtake Phelps who beat him for Gold in 2008, made even more crushing by Phelps being the one to edge him.
Evgenia Medvedeva, the 18-year-old world champion, settled for silver as athletes from Russia...

In case you didn't know, OAR is actually a country you've already heard of -- just in disg...

Men's hockey, snowboarding and speed skating will all have major events on Friday
Two South Korean skaters abandoned their teammate at the Olympics, and angry fans want them...

Find out everything you need to know about watching the Winter Olympics on Thursday night

Get an up-to-date total of all the gold, silver and bronze medals won at the Winter Games