Michael Phelps finishes 4th, misses medal as Ryan Lochte takes gold in 400 IM
Legendary Olympian Michael Phelps does not medal in 400m final, taking fourth. American Ryan Lochte takes the gold.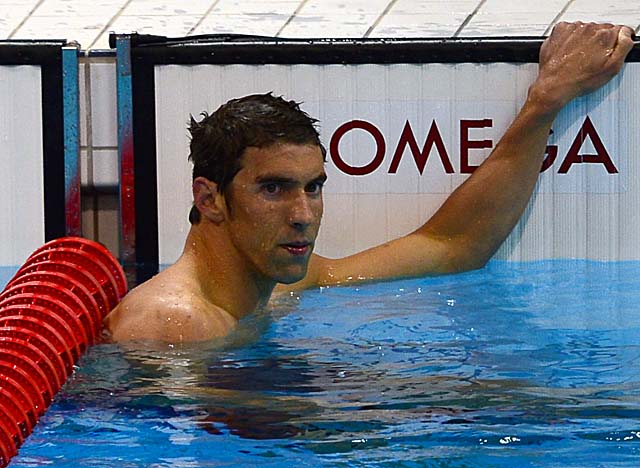 Phelps' disappointment registers on his face after his fourth-place finish in the 400 IM. (Getty Images)
A near-disaster in the 400-meter individual medley prelims led to an outright catastrophe for Michael Phelps. The American failed to medal in the 400 IM finals on Saturday night in London, as rival Ryan Lochte notched the United States' first gold at the 2012 Games. 
Lochte finished with an official time of 4:05.18, winning the race by more than 3 seconds, while Phelps came in at 4:09.28. The finish comes as a shock for Phelps, who only narrowly avoided missing the cut in the qualifier earlier Saturday. 
Phelps offered no excuses after the race, telling reporters, "Just a crappy race," and saying his opponents swam a better and smarter race than he did. Phelps also noted the other swimmers were more prepared. "That's why they're on the medal stand."
Phelps, who won six gold medals in Athens, then a record eight in Beijing to break Mark Spitz's Olympic record, has taken considerable criticism over his training regimen, and early on, those concerns seem to have proven valid. 
Lochte said afterwards he was shocked at Phelps' finish.
"I know he gave it everything he had," Lochte said. "That's all you can ask for."
Phelps fell behind right from the start in the butterfly, his trademark stroke. From there, it was all Lochte. He stretched his margin in the backstroke and breaststroke, then cruised to the gold in the freestyle, a good three body lengths ahead of the rest of the field.

"It's frustrating, that's all I can say," Phelps said. "The biggest thing now is to try to look forward. I have a bunch of other races, and hopefully we can finish a lot better than how we started."
Phelps was trying to become the first male swimmer to win the same individual event at three straight Olympics. He'll have three more chances at a threepeat before he's done in London, having also won the 200 individual medley, plus the 100 and 200 butterfly, at Athens and Beijing.
Japan's Kosuke Hagino (4:08.94) edged Phelps by 34-hundreds of a second for the bronze medal, while Brazil's Thiago Pereira (4:08.86) earned silver.
 It was the first time since the 2000 Sydney Games, when Phelps was a 15-year-old unknown who qualified in just one event, that he didn't win at least a bronze in an Olympic race. Afterward, he went 16 for 16, earning 14 golds and two bronzes.
Phelps put himself in position to swim another eight events with his performance at the U.S. trials, but he decided to drop the 200-meter freestyle, feeling one less race would give his body a better chance to recover and improve his performance in the other events.
Now, he may be regretting that decision.
The 400 IM was an event he has dominated, but he dropped it from his program after setting a world record in Beijing four years ago (4:03.84), vowing never to swim it again.
He should had stuck with that pledge. Clearly, Phelps didn't leave himself enough time to get back in the kind of shape he needed to win the brutal race, having only brought it back earlier this year.
"I was lucky to get in," he said, referring to his slow time in the morning. "I had a chance to put myself in a spot to start off on a good note and didn't do it."
Lochte gave the Americans their first gold medal of the London Games and put himself in position to fulfill the promise he showed at last year's world championships, where he won five golds and beat Phelps in their two head-to-head meetings.
The friendly rivals have one more showdown in London, in the 200 individual medley. Phelps edged Lochte in that race during the U.S. Olympics trials, but Lochte appears to be on top of his game when it really counts.
The Associated Press contributed to this report.
The Olympic champion is one of many women speaking up with the #metoo movement

The famous Braves groundsman goes fast, and Team USA took notice

The Games are to be hosted in South Korea, and France has already expressed concern over s...
If the South Korean standoff with Pyongyang continues, France has said they will stay home...

The news comes shortly after a deal was struck by Los Angeles and the IOC

Jamaican legend goes down on the 4x100 relay final with an apparent leg injury