Michigan's Betsey Armstrong becomes world's top water polo goalie
U.S. women's water polo goalie Betsey Armstrong is the only player on her team that doesn't hail from the West Coast. But her Midwestern ties haven't stopped her from becoming one of the world's best players--in fact, they say they've helped make her the player she is.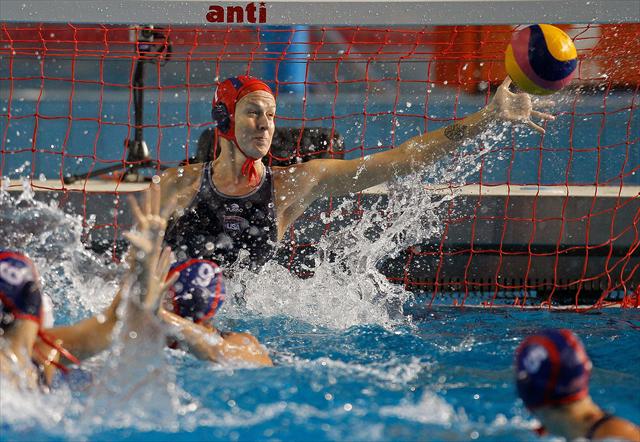 It's a long way from Ann Arbor, Mich. to the Olympics if you play water polo, but Betsey Armstrong's managed. 
(Getty Images)
Look over the official USA water polo bio for goalkeeper Betsey Armstrong, and you'll notice it describes her as "arguably the world's top goalkeeper," a designation plenty of others around the sport (including her coach) are willing to put forward without the "arguably."
So as is the case for most Olympians, that kind of recognition – not to mention the chance to help lead the U.S. to its first gold medal in her sport -- represents the culmination of a lifetime of dreaming, a dream held since the day Armstrong first entered the pool as a kid. Right, Betsey?
"I can't really say that it was," Armstrong says with a laugh.
That might be the case for many of her teammates, but Armstrong's path to the national team was quite a bit different--primarily because it started thousands of miles away. Of the 13 women on the U.S. Olympic roster, Armstrong is the only one not born on the West Coast, the only one not to attend college in the sport's California hotbed.
That meant that a future as a national water polo star wasn't exactly something she considered as a young athlete in Ann Arbor, Mich., where the sport is growing … and still very much an afterthought.
"I was interested in sports. And everyone has an Olympic dream," she says, "but mine wasn't that specific."
After playing some club polo "here and there" – "I wasn't serious about it," she says – that changed when she followed her older sister Katy onto her Huron High School team.
"They just threw me in the cage to see what happened," she says, "and it opened up a whole world."
Before long Armstrong had "put [her] face in the crowd" as part of the Midwestern regional development team, even making the roster of the gold medal-winning national team at the 2000 Junior Pan Am Games.
"That's when it started hitting me," she says. "Maybe I could make the Olympics."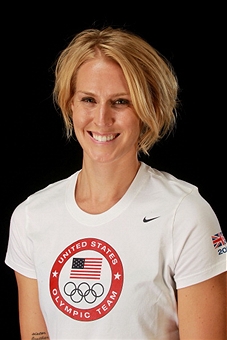 Betsey Armstrong (Getty Images)
But with her high school career coming to an end, Armstrong made an unusual decision—rather than enroll at one of the sport's California powers and continue with the national team program, she elected to play for her hometown Michigan Wolverines and focus on her college career there.
Armstrong admits it's a decision that might have cost her a chance to play on the 2004 Olympic team that won bronze in Athens, but it's not one she regrets.
"There's some great athletes out there [in California] that burn out just a little bit quicker. I was able to take my time," she says. "If I was committed earlier, my career maybe wouldn't have been as long, or it wouldn't have been the career I've had."
That career exploded in 2007, when Armstrong backstopped the U.S. to gold at the FINA world championships and was named the tournament's top goalkeeper. She's never looked back—except to appreciate where she's been.
"I'm so proud to represent Michigan and represent my home," she says. "I love it. I love having the whole community back home behind me. I like proving that you don't have to be from Southern California to play this sport."
Armstrong admits she's heard "some jokes here and there" from her teammates about being the fish out of the roster's West Coast water. But – not surprisingly -- it's never actually threatened the chemistry of a team that can't afford to have any of its 13 members on different pages. After earning medals in all three previous Olympic women's water polo tournaments (the only team to do so) but never gold, Armstrong says the U.S. will have to navigate the toughest field yet – and their own history of coming up just short -- to win veterans Brenda Villa and Heather Petri gold in their final U.S. appearances.
"There's no hiding," she says, pointing out that the U.S.'s last meeting with hosts Great Britain (considered the weakest team in the eight-team field) was decided by a single goal. "We're very realistic about what it's going to take … We've had four years to deal with [losing in the 2008 final]. You don't ever want to feel that way. Once it's over, that's it. It's gone. It's out of reach.
"We've dealt with it year after year. Now we're just looking forward."
Despite the team's history, Armstrong says neither she nor her teammates can afford to obsess over finally claiming that elusive gold.
"The goal is always to be at the top of the podium. But I wouldn't say it's 'gold or bust,'" she says. "You have to stay focused on the moment—every moment of every game. If you start saying "gold or bust," and don't keep that focus, that's going to be your downfall."
That bio chronicles how successful Armstrong has been at maintaining that focus over the past few years, but it also adds the fun tidbit that her favorite movie is Rushmore—the Wes Anderson film in which hero Max Fischer is forced to abandon his carefully constructed private school existence and adapt to the wider world.
It's no surprise that Armstrong sees something of her own journey in Max's.
"My parents went to Michigan, my sister went to Michigan, I went to Michigan," she says. "It was my own pocket of reality. And leaving that was sort of a reality check. It's a different kind of reality out here."
If Armstrong and her teammates play to their potential in London, it could also be an entirely new golden reality for U.S. women's water polo.
Ten won his medal in the 2014 Sochi Games and was also a two-time World Championship medal...

Emeline Miller passed away on June 10 after drowning in a swimming pool

The two-time Olympic gold medalist is confronting childhood anxiety and says it's OK to be...
Kukors Smith said that she was 'groomed' from 13 years old by her former coach

The record-breaking Blankers-Koen would have been 100 years old this week

The former U.S. Olympic gymnast is speaking out about the former Michigan State doctor