Norway's Bjoerndalen wins biathlon gold, ties winter medals record
40-year-old Ole Enar Bjoerndalen took gold in the men's 10 km biathlon sprint, tying his countryman Bjorn Daehle's record for career medals.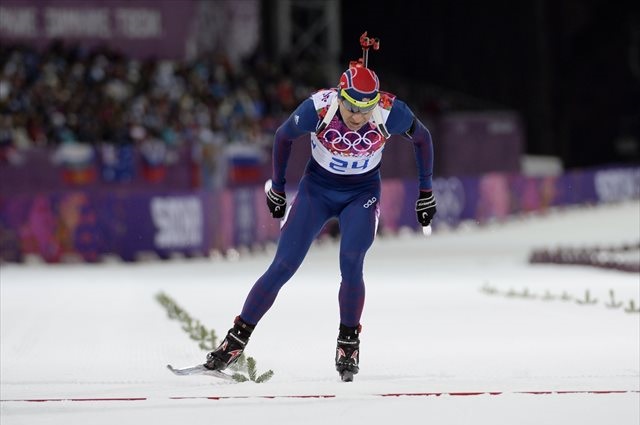 There are now two Norwegians atop the list of all-time Winter Olympic medalists.
40-year-old Ole Einar Bjoerndalen won gold in Saturday's 10-kilometer sprint in biathlon, his seventh career gold medal and 12th medal of any color -- tying him with countryman Bjoern Daehlie, Norway's cross-country skiing legend who won eight golds and four silvers between 1992 and 1998.
Bjoerndalen also became the oldest individual male gold medalist in Winter Games history, and the oldest individual winner of an Olympic biathlon event. His gold medal tally is now also only one shy of Daehlie's Winter Games-record eight.
And he's not done yet -- Bjoerndalen could enter as many as five remaining biathlon events in Sochi, giving him ample opportunity to leave the 2014 Games as the most decorated Winter Olympian of all-time. 
In the military exercise-derived biathlon, competitors must stop skiing at a shooting station where they fire at a series of targets with a rifle carried on the racer's back. Each miss forces racers to ski a penalty lap, with the fastest finishing time taking the gold. Bjoerndalen missed one of his 10 targets Saturday, but skiied fast enough to still beat out Austria's silver-medalist Dominik Landertinger by 1.3 seconds. Czech Republic's Jaroslav Soukup took the bronze.
American Tim Burke, aiming for the first-ever U.S. medal in biathlon, finished 19th after one miss. Burke won the U.S.'s first-ever medal at a biathlon World Championships in 2013 in the 20-kilometer individual event, and will hope for a better finish in that event in Sochi.
American Lowell Bailey finished 35th.
The two-time gold medalist's road to making his fourth Olympics just got a little tougher

Here's how to watch all of the halfpipe and slopestyle action as Olympic qualifying resume...

The South African sprinter and Paralympic champion is serving time for the murder of his g...
The Olympic skier says she's received hurtful comments since her remarks about competing for...

More than 400 people reportedly held emergency defense drills in advance of the Winter Gam...

The Olympic gold medalist says she also won't accept an invite the White House