Olympic Overview 8.8.12: Below the belt
Five thoughts to match the five Olympic rings for what transpired Wednesday in London.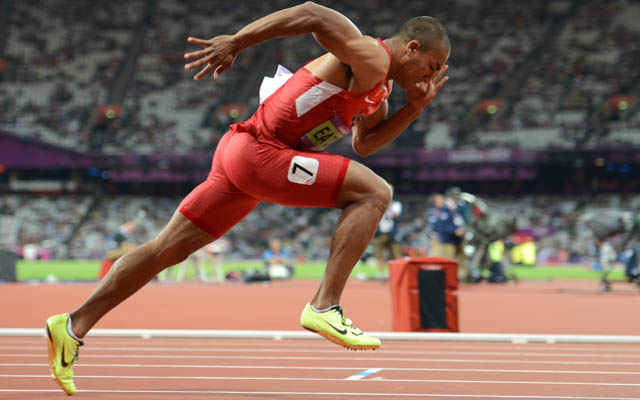 Super. Human.
(Getty Images)
Five thoughts to match the five Olympic rings for what transpired Wednesday in London.
1. Saying things got catty is like saying the lion had a snack with the gazelle. Dawn Harper and Kellie Wells sniped at Lolo Jones for not making the podium and the attention she's gathered on Wednesday. It was not graceful for anyone. Wells and Harper come across as jealous, cliquish females punishing the girl that captured America's attention with her personality. Jones seems like the all-style, no-substance track and field version of the female that succeeds in publicity for reasons other than legitimate success. 
Nobody won, here. 
The big thing missing here? America celebrates gold medalists. That's the biggest reason why Harper and Wells haven't gotten more of their deserved attention. Had they captured gold, America perhaps wouldn't have moved on from Jones, she's compelling for those that dig that sort of thing, but they would have at least split their attention. 
Can't blame them for how they felt but was it really necessary, regardless of what their relationship with Jones is?
2. Domination, thy name is Ashton. The race for the World's Greatest Athlete is being lead by someone well worthy of the title. Ashton Eaton took first in three of five events and it wasn't close. 
Watching an athlete compete in that many events in one day makes it hard to feel bad for players who get stuck in back-to-backs. You get more than a few hours off? What's the problem?
With five more tomorrow, and with the lead he currently has, Eaton could put on quite the show. 
3. Three, oh, it's the magic number. On Allyson Felix's third try in the Olympics, she finally snagged gold in the 200-meter dash. Meanwhile, Misty May-Treanor and Kerri Walsh Jennings won their third consecutive gold medal in women's beach volleyball. 
For Felix, it represents the committment to keep coming back in the face of having been so close, and for May-Treanor and Walsh Jennings, the determination to stay that sharp after so much victory. There's a weird symmetry between the two. 
4. Not cool, Nic, not cool. Why is hitting another man in the groin suddenly acceptable in international basketball competition? Have we lost all concept of decency? Elbow your opponent in the kidneys. Undercut their ankles on jumpshots. Take their legs out on rebounds, smack the face on jumper contests. 
But leave the bathing suit area alone. The fact that Nicolas Batum was so brazen afterwards about his acts, even with his apology on Twitter, says a lot about how these teams feel about each other. Between that and Argentina's exuberant celebration of beating Brazil who was never anything more than a dark horse candidate, there's a lot of bad blood in these Olympics. 
5.  The Big One. Is Thursday's Women's Soccer Final the biggest soccer match in American Olympic history? Probably not. But it's going to be massive, given the overwhelming sense of momentum behind the U.S. team and the rampant likeability of this squad. 
Biggest non-story of the day: Whomever Kobe Bryant chooses to set next to.
In case you missed it: Hey, it really was a great, great day for Americans on the track and in the field ... did you catch the video of the exploding pole vault stick? ... someone sneaked in unapproved condoms into the Olympic Village ...

GIF of the Day:
The two-time gold medalist's road to making his fourth Olympics just got a little tougher

Here's how to watch all of the halfpipe and slopestyle action as Olympic qualifying resume...

The South African sprinter and Paralympic champion is serving time for the murder of his g...
The Olympic skier says she's received hurtful comments since her remarks about competing for...

More than 400 people reportedly held emergency defense drills in advance of the Winter Gam...

The Olympic gold medalist says she also won't accept an invite the White House