Olympic Overview: Another memorable, historic night on the track
Five thoughts to match the five Olympic rings from Friday's Olympic action.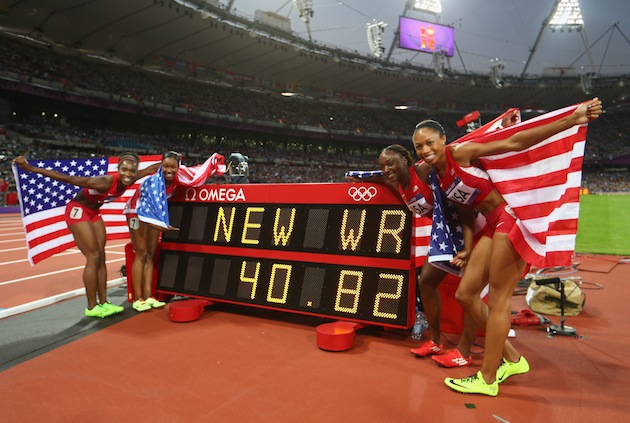 The U.S. Women shattered a 27-year-old mark to set a new world record in the 4x100m relay Friday. (Getty Images)
Five thoughts to match the five Olympic rings from Friday's Olympic action.
1. The ladies had a run for the ages but will it come crashing down?

In terms of excitement, outside of a stray event here or there, it is generally the relays that rank right up there as must-see events after the 100/200m individual races. After two blistering qualifying times, the U.S. Women's team of Tianna Madison, Allyson Felix, Bianca Knight and Carmelita Jeter left quite the impression during the 4x100m relay by turning running a world record time of 40.82 to shatter a 27-year-old mark. Given the problems the team has faced in recent Olympics, simply getting the baton around would have been an accomplishment but to do this was impressive considering how far in front of the equally loaded Jamaican team they were.
Still, while living in the moment may have provoked plenty of positive feelings for breaking the record, the news that surfaced of Jeter's relationship with a man barred from track and field for his affiliation with banned substances is concerning. The sprinter has never a drug test, to be clear, but given the way the track world has been over the past two decades even the hint of doping causes one's brain to have a creeping sense of skepticism. Hopefully things are kosher and the Americans will celebrate an impressive athletic achievement but as we've seen, you simply never know.
2. Dominance in the Men's 4x400 comes to an end. When reading over the recap of the race from Jerry Hinnen, one has to re-read the opening line two or three times before it sinks in how meaningful the United States' loss was on Friday.
Entering Friday's 4x400-meter men's relay final, the last time the U.S. failed to bring home the gold medal from a Games they attended was 1972, when they lost to Kenya*.
That's somewhat flabbergasting to think about. America's rich history in track and field -- and the Olympics in general -- has been well documented but that streak in seemed particularly impressive. Given the injuries to the squad and the fact that nobody wearing those red Nike track suits with USA on the front even made the individual 400m final, the loss wasn't that unexpected but still. The U.S. was in the lead during the anchor leg but simply couldn't get the job done one more time.
3. Thank you Oscar Pistorius. Here's plenty more on what the South African did these Games and his impact going forward but needless to say it was inspiring to see the man known as "Blade Runner" (an awesome and appropriate nickname by the way) run in the Olympics as if he were any other sprinter.
4. Burroughs lives up to his Twitter account. Many experts have remarked that the 2012 Olympic Games will be the first one where social media is an ingrained and lively part of what takes place both in London and out of it. Let's face it, there are many more people on Twitter and Facebook now than there were four years ago in Beijing and that's a major reason why stories have taken off and website traffic has noticeably ticked upward.
It's also given us things like freestyle wrestler Jordan Burroughs going by the Twitter handle of @alliseeisgold. A tad presuming but quite simply an awesome choice for the 75kg-class competitor. He did indeed live up to his own lofty expectations by winning the gold medal in a 3-0 shutout victory on Friday, proving all one has to do to be a champion is create a Twitter account. Well that and be really athletic... but still.
It was going to be a tough task living up to Usain Bolt's fantastic Twitter bio and eccentric tweets but with Burroughs' handle and performance, seems like he made it a competitive race with the Jamaican sprinter.
5. Team USA is back to looking unstoppable in Men's basketball. Hey, remember when Lithuania gave a loaded group of American superstars all they could handle? Pft, so six days ago. Kevin Durant was a slick shooter once again, pacing the team with 19 points as Carmelo Anthony and LeBron James chipped in solid all-around efforts for a 109-83 victory over Argentina. The South Americans figured to be a tough test once again after a chippy first game and for the most part they were, staying competitive for much of the first half. Then it seemed like the U.S. hit another gear in the third with dunks and 3's raining down like London's normally drab weather. The semifinal games setup a Beijing rematch with Spain and given how they looked against Russia, it appears it would take a monumental upset for the Star Spangled Banner not to be played on Sunday the way Team USA has looked as of late.
Biggest non-story of the day: Yesterday the Overview asked if we could go two days with out a non-story story of the day. Check mark!
In case you missed it: Colleague Matt Norlander put together a fascinating list of countries that have, so far, earned their first Olympic medals of any kind. Turkey has earned several medals in past Games but the country got on the gold medal board for the first time in track and field when Asli Cakir Alptekin and Gamze Bulut finished 1-2 in the Women's 1500m. It's always pretty cool to see nations experience Olympic success for the first time and even more so when they wind up having the national anthem played during the ceremony.
GIF of the Day:
Who knew extreme sports led to extremely funny crash GIF's?
Here's everything you need to know about Sunday's Closing Ceremony for the Winter Games

Get an up-to-date total of all the gold, silver and bronze medals won at the Winter Games

The Olympic Athletes from Russia claim the world's top prize in hockey, beating a late 3-2...
Find out everything you need to know about watching the Winter Olympics

CBS Sports asks the silver-medal bobsledder about her medals, softball and South Korean cu...

Canada beats Czech Republic for bronze, while Germany and Olympic Athletes from Russia are...