Olympic Overview, Aug. 11: Boudia the icing on the U.S.'s medal count cake
Five thoughts to match the five Olympic rings from Saturday's Olympic action.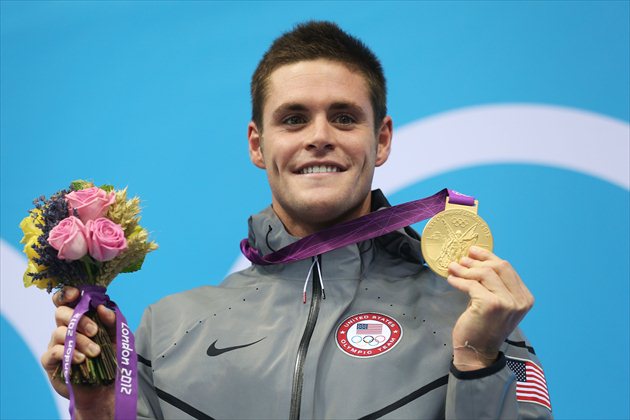 David Boudia's gold medal was sweet for Team USA--and had to be tough to swallow in China. (AP)
Five thoughts to match the five Olympic rings from Saturday's Olympic action.
1. David Boudia's gold medal in diving was the icing on Team USA's medal count cake. A close read of the Olympic schedule has made it clear for a few days now that the U.S. was going to win not only the overall medal count, but the chase for the most gold medals as well. There simply haven't been enough events where China had legitimate shots at gold (they won just two medals Friday), and some of the favorites they have had -- men's hurdler Liu Xiang, women's boxer Ren Cancan -- have come up short.
All the same, we can't imagine a more perfect symbol for the shift in the gold medal race between Beijing and London than the U.S.'s David Boudia upsetting China's Qiu Bo in 10-meter platform diving. Yes, diving, the discipline where just days ago the "smart" money was on China sweeping all eight gold medals and where no U.S. man had finished atop the podium since 1992. Team USA was going to leave London with the most golds whether Boudia put together a spectacular final dive to win or not, but to grab that particular surprise victory in that particular Chinese-dominated event was a beautiful cap to what's been a highly successful Games for the Americans.
2. On the flip side, was any U.S. defeat at these Games more gutting than the U.S. women's volleyball team's? For the better part of four years the Americans seemed to be on a collision course with their desperately awaited first gold medal, destroying any and all comers that stood in their way, up to and including world Nos. 2 and 3 Brazil and China -- 3-1 and 3-0, no less -- in pool play in London. Shy of the U.S. basketball squads, there didn't seem to be a bigger team sport favorite in the Games.
And somehow all of it came crashing down in a little more than one nightmare hour against Brazil Saturday. You wouldn't have believed it if told about it beforehand, which is maybe why the Americans seemed so utterly stunned themselves when it started happening to them ... and kept happening ... and kept happening, until they were forced to step onto the podium and accept the least-loved silver medals this side of McKayla Maroney's.
The bottom line: Brazil, the defending Olympic champions, knew how to raise their game to its highest level when it mattered the most. The U.S. did not, and now they have four more agonizing years to try and learn how.
3. We wish USA women's basketball had a Spain. The 2012 U.S. women's basketball team made its argument as the greatest of all time with yet another blowout victory, this time an 86-50 trouncing of previously undefeated France in the gold medal game. Make no mistake: this team is a phenomenal collection of talent, and when playing to its potential deserves every accolade sent its way and then some.
But it's hard to be moved by their greatness when they've lapped the international women's basketball field, when they don't have the same yardsticks and occasional challengers the U.S. men do. Even having one team do for them what Spain has done for the U.S. over the past few years would help make them an even bigger story--and make Diana Taurasi, Sue Bird and Co. into the national megasuperduperstars they ought to be.
4. Take a moment to applaud Tyson Gay while you're marveling at Usain Bolt, please. We know the headline from the thrilling men's 4x100 relay is the same as its been ever since the meteor-strike that has been Usain Bolt's Olympic career crashed to earth: Bolt is superhuman, his legacy as the definitive global icon of his generation is ever more secure, and pairing him with a fellow potential spaceman like Yohan Blake is borderline unfair.
But all of that doesn't mean we can't appreciate a couple of milestones from the U.S.'s admirable silver-medal performance: namely, that they smashed the existing American record, would have smashed the Olympic record if Jamaica wasn't busy rewriting it, and finally won Tyson Gay an Olympic medal. Remember: Gay would have been a mortal lock for the podium in 2008 if he hadn't been injured, once ran a 100 time faster than any non-Bolt human has ever run, and would have seen his 9.80 in the London 100 final put him on the podium in any other 100 ever run.
He deserved a medal like few other American sprinters ever have--and now, thankfully, he has one.
5. Brazil's Olympic soccer failures defy explanation. The Brazilian equivalent of the U.S. volleyball team, Brazil's men's soccer team -- which has somehow never won a gold medal, despite putting far more effort into the tournament than most of the globe's other soccer superpowers -- seemed on their way after scoring three or more goals in all five of their matches headed into Saturday's final. But they came up empty once again, letting Mexico score in the game's first 30 seconds, letting in a second with some awful set-piece defense, and going 91 scoreless minutes before a last-gasp rally fell short.
Kudos to Mexico, which won their first Olympic gold medal and arguably their biggest international soccer victory in their history. But why the Brazilians simply can't get over the Olympic hump is a mystery that's going to continue to defy scientists and researchers for at least four more years.
The biggest non-story of the day: We know the question has to be asked, but we wish we could simply kick back and enjoy the mindblowing of brilliance of Mr. Bolt for at least, you know, 24 hours or so before we start worrying about whether he'll show up in Rio in 2016.
In case you missed it: The U.S. victory in the women's 4x400 relay was as easy as it comes, not that with 3 of the top 7 individual finishers that was a surprise ... You can buy various Olympic memorabilia -- including the gold medal basketball net from Sunday's final -- directly from the London Games organizers at their custom auction site ... In an eerie resprise of the men's high jump competition, the U.S.'s supposed leading medal hope in the women's high jump faltered, only for an upstart -- in this case, Brigetta Barrett -- to win Team USA's first medal in the event since 1988 ... A taekwondo fighter from Gabon won his country's first-ever Olympic medal.
GIF of the day:
If you were Usain Bolt, would you pass a baton?
Nassar continues to have to listen to victim impact statements as he awaits sentencing

The former USA Gymnastics doctor issued a six-page complaint during his sentencing hearing

Mancuso went out in style on her final run, rocking a Wonder Woman outfit and cape
Unsurprisingly, an investigation has been launched into why so many Russian athletes got s...

Rippon says 'Mike Pence doesn't stand for anything that I really believe in'

Couric will be joining Mike Tirico at Pyeongchang Olympic Stadium for the Feb. 9 Opening C...