Olympic Roundup 8.5.12: Too fast for us to make a bolt pun
Five thoughts to match the five Olympic rings for what transpired Sunday in London.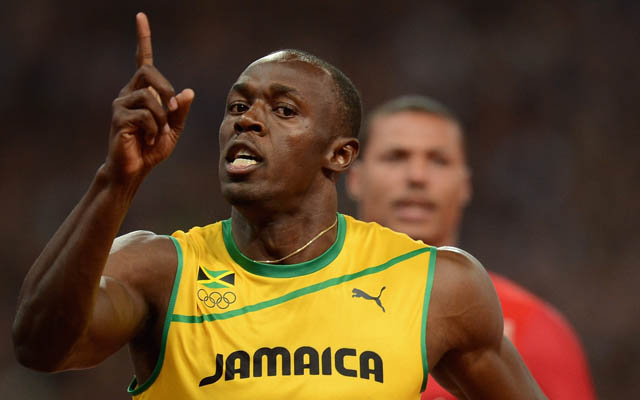 He just wants to remind you not to doubt him again.
(Getty Images)
Five thoughts to match the five Olympic rings for what transpired Sunday in London.
1. So, that guy's pretty fast. Usain Bolt captures the imagination of the world again as he sets an Olympic record for the 100 meters. Even with it not being the actual world record (only the second fastest time in recorded history for someone to run that distance), it standing as an Olympic record holds special weight. This is the world's oldest athletic competition, and Bolt ran that space of land faster faster than anyone before him had.

As Matt Norlander notes, the rest of the field all handily beat the times of their respective slots, meaning the entire field was tougher and Bolt still torched them.

Before the Olympics, there was talk that stars from the '08 games like Bolt and Phelps could find themselves on the wrong side of their careers, but instead London has become a mark of validation.

Geez, can that guy run.

2. Local lad does right. Andy Murray gave the host nation something to go nuts over in a fitting event when he bested Roger Federer to win the gold medal. Federer, clearly still a little exhausted from the four-hour set with del Potro Friday was just not able to rise to Murray's emotion and focus.

It will remain a hole on the resume of one of the greatest the sport has ever seen, while the host nation celebrates a proper winner in a proper sport. Maybe more amazing is the host nation's golden boy taking home honors in one of the best Olympic tournaments ever. Each match was beset with marathon sets, comebacks, and grit-it-out intensity. Murray's casual victory seems almost contrary to the rest of the dramatic tournament, but also provided a fitting denoument to the event.

3. We're in this! We're in this! We're... running for our lives. Team USA's women's basketball only lead by three after the first quarter. They won the game by over 40. They won the second quarter 30-8. It was done at both ends, as China's entry passes were batted and swiped, their dribbles interrupted and stolen, outlet passes delivered, and nets were set aflame.

This may not be the best woen's team in Olympic history, but it's going to be on it. When you consider the talent that's on it and their relative roles, it's a little stunning.

4. And things were going so well, too. The U.S. Women's volleyball faced their first serious challenge of the tournament, and not in the form of their opponent. No, they wiped Turkey off the map like they have everyone else they've faced. But they lost setter Lindsey Berg to a lower calf injury (her coach mentioned the word "Achilles" which is never good, though he said they don't feel she tore anything).

So there's going to be a challenge. Her replacement, Courtney Thompson, certainly seemed ready to take Berg's place if she's unable to go, but it's going to affect the rotations and how this team plays, which has been simply dominant.

Not everything can go smoothly forever. We'll see how they respond.

5. Horsing around. I have a question. Why don't the horses get the medals in the equestrian sports? I'm not trying to undermine the tremendous amount of skill and athleticism needed to ride these animals. But, I mean, they are the ones doing the work, yes? So why aren't we giving them the medals? Shouldn't the riders get smaller medals? Am I nuts for wanting the creatues doing the work to get the credit?
Gil Roberts claims that the only crime that he committed was loving too much

Los Angeles preferred 2024, but may have to wait another four years to host Games again

TSA says it reached out to the gymnast and is looking into the incident
The record-setting Jamaican sprinter had one of his nine gold medals stripped

This could be the best Olympics ever

Hundreds of athletes are implicated across more than one Olympics