Olympic Viewer's Guide: Friday, Aug. 3
The U.S. women's soccer team's march towards a third straight gold medal and Michael Phelps's final shot at individual gold highlight another big day in London.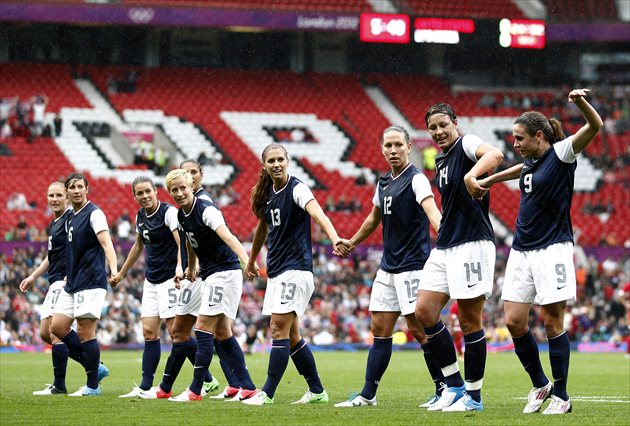 The U.S. women will look to do some more funky celebrating against New Zealand . (Getty Images)
Trying to watch the Olympics? Even with NBC now streaming every event live online, the wild array of events -- and difficulty in finding live events, for anyone like us not interested in avoiding spoilers all day -- can make the television viewing experience a bit bewildering.

But we're here to help. Here's our chronological list of the events U.S. Olympic fans should consider watching, and where, for Thursday, August 1st. All times Eastern and all events are live action unless otherwise noted. (A note to Mountain and Pacific viewers: all events shown on NBC will be on a one-hour delay. Sorry.) Many of the secondary events are also highly subject to change.
Here's what awaits you Friday:
denotes medal event.
Featured Events
7 a.m.-3 p.m., Men's and women's semifinals, Bravo/NBCOlympics.com
Another loaded day of tennis action kicks off with Roger Federer vs. Juan Martin del Potro and Novak Djokovic vs. Andy Murray in the men's semis at 7 a.m. Serena Williams will look to advance to the women's finals at 9 a.m. at the expense of Belarussian Victoria Azarenka. It's a busy day for Serena: she'll also attempt to make the women's doubles finals with sister Venus at 7 a.m.
Also in action will be American doubles partners Lisa Raymond and Liezel Huber in the women's draw and the Bryan brothers in the men's, both of which will be looking to clinch a medal with wins in their semifinals.
9:30 a.m., U.S. women vs. New Zealand, quarterfinals, NBC Sports Network
The reward for the U.S. winning Group G? A quarterfinal date with the Kiwis, who showed substantial heart in battling to 1-0 losses against Great Britain and Brazil but are the lowest-ranked team in the remaining eight-nation field. If the U.S. can penetrate New Zealand's steady defense early in the match -- forcing the Kiwis out of their defensive shell -- they should be able to tack on at least one more goal and cruise to the victory.
10-10:30 a.m., 11:30 a.m.-12 p.m., preliminaries, NBC (tape-delay); 12 p.m., preliminaries, NBCOlympics.com; 3:30 p.m., men's shot put final, NBCOlympics.com; 4:25 p.m., women's 10,000m final, NBC
Assuming you don't want to log on to NBCOlympics.com at 5 a.m., your first look at this year's track-and-field, er, field will come at 10 a.m. as NBC starts re-airing that morning's men's 400 hurdle and women's 400 meter heats, the latter featuring American favorite Sanya-Richards-Ross. But the action will really get going with Round 1 of the the women's 100-meter dash in the noon preliminaries online.
Later, two medals will also be given out in the men's shot put, in which American Reese Hoffa could win gold, and the women's 10,000 meters, where the U.S.'s Amy Hastings has a longshot at a medal.
Some track-and-field will re-air on NBC's 8 p.m. primetime broadcast.
12 p.m., Women's round of 16, Ross/Kessy (USA) vs. Kuhn/Zumkehr (SUI), men's round of 16, Rogers/Dalhausser (USA) vs. Nicolai/Lupo (ITA), NBC
Only a day after winning an epic 21-19, 19-21, 19-17 three-setter to win their preliminary group, April Ross and Jennifer Kessy are back on the court--and with the tournament moving to its single-elimination phase, now things really matter. The good news: Switzerland's Kuhn and Zumkehr were one of four third-place group finishers in a group without one of the U.S. or Brazilian power teams.
Likewise, defending gold medalists Todd Rogers and Phil Dalhausser will be big favorites over their Italian opponents, but looked shaky in their last outing against Spain.
 2:30 p.m., men's and women's finals, NBCOlympics.com
As usual, swimming will anchor NBC's primetime coverage, but if you don't want to wait, go online to watch the following medal finals, with U.S. swimmers in parentheses:
2:30 p.m.: women's 200 backstroke (Missy Franklin, Elizabeth Beisel)
2:38 p.m.: men's 100 butterfly (Michael Phelps, Tyler McGill)
2:45 p.m.: women's 800 freestyle (Katie Ledecky)
3:09 p.m.: men's 50 freestyle (Cullen Jones, Anthony Ervin)
The U.S. could claim as many as three golds out of the evening, with both 50 sprinters a threat, Franklin the favorite in her best event, and Phelps the defending Olympic champion in the 100 fly. But maybe the highlight of the night will be this: this is the final time Michael Phelps will swim an individual race at the Olympics.
3 p.m., U.S. women vs. Serbia, NBCOlympics.com
For the first time, NBC will hold its coverage of the dominant U.S. women for its primetime broadcast. But we'd suggest tuning in online to continue watching Destinee Hooker and Megan Hodge melting opponent's faces with their unstoppable kills. Serbia isn't supposed to be much of a test for the U.S. -- which is coming off 3-1 and 3-0 routs of the world's No. 2 and No. 3 teams, Brazil and China -- but the Americans are simply playing too well right now not to pay attention.
Also worth watching:
7 a.m., men's rifle 50m prone, NBCOlympics.com
After Joshua Richmond's surprising failure to medal in Thursday's double trap, Eric Uptagrafft and Michael McPhail will attempt to get the U.S. shooting team back on track.
 9 a.m., Men's trampoline first rounds, MSNBC; 10:30 a.m., NBCOlympics.com
American Steven Gluckstein will attempt to break up an Asian medal bloc in one of the craziest-looking Olympic sports of them all. If you like what you see in the MSNBC broadcast, you'll have to go online to watch the final; weirdly, NBC is holding it for primetime.
2:30 p.m., U.S. women vs. China, NBC.
The gold medal-contending Americans will look to win their group -- and clinch a quarterfinal berth vs. weaker Great Britain -- with a win over China. The U.S.'s first two matches finished 14-13 and 9-9, though, so expect some drama.
5 p.m., U.S. women vs. Czech Republic, NBC Sports
The Americans have been sluggish starters thus far in London and will look to finally put one away early against what should be an overmatched Czech team.
Here's how to watch all of the halfpipe and slopestyle action as Olympic qualifying resume...

The two-time gold medalist's road to making his fourth Olympics just got a little tougher

The South African sprinter and Paralympic champion is serving time for the murder of his g...
The Olympic skier says she's received hurtful comments since her remarks about competing for...

More than 400 people reportedly held emergency defense drills in advance of the Winter Gam...

The Olympic gold medalist says she also won't accept an invite the White House