Olympic Viewer's Guide: Monday, August 6
The U.S. women's soccer team takes on Canada in a semifinal match while the American men's hoops team looks to see off Argentina in Monday action.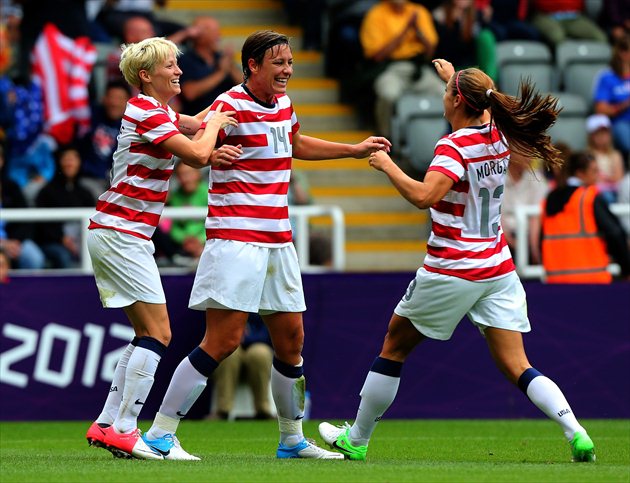 Megan Rapinoe, Abby Wambach and Alex Morgan are three big reasons the U.S. has its sights set on the final. (Getty Images)
Trying to watch the Olympics? Even with NBC now streaming every event live online, the wild array of events -- and difficulty in finding live events, for anyone like us not interested in avoiding spoilers all day -- can make the television viewing experience a bit bewildering.

But we're here to help. Here's our chronological list of the events U.S. Olympic fans should consider watching, and where, for Monday, Aug. 6. All times Eastern and all events are live action unless otherwise noted. (Events broadcast on NBC will be on a one-hour delay for Mountain and Pacific viewers. Sorry.) Many secondary events are also subject to change.
Here's what awaits you Saturday:
denotes medal event.
Featured Events
9:50 a.m., women's uneven bars event final; 10:40 a.m., men's vault event final, NBCOlympics.com.
Before she was Gabby Douglas, American superstar, she was Gabby Douglas "The Flying Squirrel," the nickname given her for her high-flying, occasionaly even breathtaking release skills on the uneven bars. Douglas will need another spectacular routine just to land on the podium amid a field loaded with Chinese and Russian bars specialists, but she's proven in London that she's capable of just about anything at this point.
Immediately following the bars final will be the men's vault competition, where American Sam Mikulak has an outside shot at a medal. If you can't make it online, both competitions will be aired during NBC's 8 p.m. primetime broadcast.
10 a.m-10:30 a.m., 12:15 p.m.-12:45 p.m., 1:30 p.m.-1:50 p.m., morning session, NBC (tape-delay).
Assuming you're not interested in waking up at 5 a.m. ET to watch the morning session of preliminary heats in track, you can catch them sprinked throughout NBC's daytime coverage. The schedule, with U.S. performers in parentheses:
10 a.m.: Women's 100 hurdles (Dawn Harper, Lolo Jones, Kellie Wells)
12:15 p.m.: Men's 800 (Nick Symmonds, Khadevis Robinson, Duane Solomon)
1:30 p.m.: Women's 1,500 (Shannon Rowbury, Jenny Simpson, Morgan Uceny)
Jones is the biggest name on this list, but Harper and Wells may be more likely to medal in the hurdles, and Simpson won a surprising world championship in the 1,500 last year.
10:30 a.m., U.S. men vs. Hungary, NBC
After three wins to open the competition, the U.S. was brought back to earth in their last match against gold medal contenders -- and possible favorites -- Serbia, losing 11-6. Now they face three-time defending Olympic champions Hungary, with a finish anywhere from first to fourth in their preliminary group on the line. First, and the U.S. should have a clear path to the medal round in the quarterfinals; fourth, and it could be a quick exit against heavyweights Croatia.
2 p.m., Gibb/Rosenthal (USA) vs. Plavins/Smedins (LAT), NBCOlympics.com
After the shocking Round of 16 exit of Todd Rogers and Phil Dalhausser, the U.S.'s men'smedal hopes rest solely on the shoulders of Jake Gibb and Sean Rosenthal. Though it hasn't always been pretty, Gibb and Rosenthal have advanced to the quarters without losing a set. They'll have their hands full with the dangerous Latvians, though, who've only dropped one set themselves and have plenty of Olympic experience. This match will also be shown during NBC's primetime broadcast.
2:30 p.m., women's semifinal, U.S. vs. Canada, NBC Sports.
The good news? The U.S. hasn't lost to the Canadians since 2001, a span of 26 meetings featuring 22 American victories. The bad news? Canada showed in their gritty, physical 2-1 loss in the U.S.'s Olympic send-off match that they still aren't intimidated by the Americans, and it's safe to assume the familiarity between the two sides has bred plenty of contempt. The U.S. is going to get Canada's best shot. The way Abby Wambach is playing, that still shouldn't be enough--but nothing is guaranteed.
2 p.m., evening session, NBCOlympics.com
The U.S. isn't expected to have a presence in Monday's medal finals outside of the men's 400 hurdles, but the evening session also features preliminary races in events that do feature several American stars. The slate, with Americans in parentheses:
2 p.m.: women's pole vault (Jennifer Suhr, Becky Holliday)
 2:15 p.m.: women's shot put (Michelle Carter, Tia Brooks, Jillian Camarena-Williams, pending qualifying)
2:20 p.m.: women's 200 meters, Round 1 (Allyson Felix, Carmelita Jeter, Sanya Richards-Ross)
3:15 p.m.: women's 400 hurdles, semifinals (Lashinda Demus, Georganne Moline, T'erea Brown)
 3:45 p.m.: men's 400 hurdles final (Kerron Clement, Angelo Taylor, Michael Tinsley)
 4:05 p.m.: women's 3000 steeplechase final (Emma Coburn, Bridget Franek). NOTE: will be televised live on NBC.
 4:30 p.m.: men's 400 meters final (none, sadly).
Any medal on the evening other than one for Taylor, Tinsley or Clement would be a major surprise, but good runs from the likes of Felix, Jeter and Demus would be a welcome singn of medals to come.
5:15 p.m., U.S. men vs. Argentina, NBC Sports Network.
2004 gold medalists Argentina brought a squad brimming with NBA talent and Olympic experience, but aside from an opening-day thrashing of Lithuania they haven't looked the part, losing to France and struggling to put away the likes of Tunisia and Nigeria. That may not be be a good sign as they prepare to face a U.S. team stung by their far-too-close-for-comfort win over the Lithuanians Saturday.
Also worth watching:
8:40 a.m., men's 50m rifle three-positions, NBCOlympics.com; 10:55 a.m., men's trap, NBCOlympics.com.
The U.S.'s Jason Parker projects as a possible contender in the 50-meter rifle competition, though no American made the finals in men's trap. The 50-meter rifle finals will also air at 11:30 a.m. on NBC Sports Network.
8:30 a.m. (live), 2 p.m. (tape-delay), women's quarterfinals, NBC Sports Network.
Americans Marlen Esparza and Clarissa Shields look to advance to the medal rounds.
3 p.m., U.S. men vs. Tunisia, NBC
In their final match of group play, the Americans take on winless Tunisia. Despite their loss to Russia, a win would see the U.S. take top spot in their group.
Gil Roberts claims that the only crime that he committed was loving too much

Los Angeles preferred 2024, but may have to wait another four years to host Games again

TSA says it reached out to the gymnast and is looking into the incident
The record-setting Jamaican sprinter had one of his nine gold medals stripped

This could be the best Olympics ever

Hundreds of athletes are implicated across more than one Olympics