Olympic Viewer's Guide: Sunday, August 5
The finals of the men's 100-meter dash highlights another phenomenal day of action in London. Here's when and how to watch it all.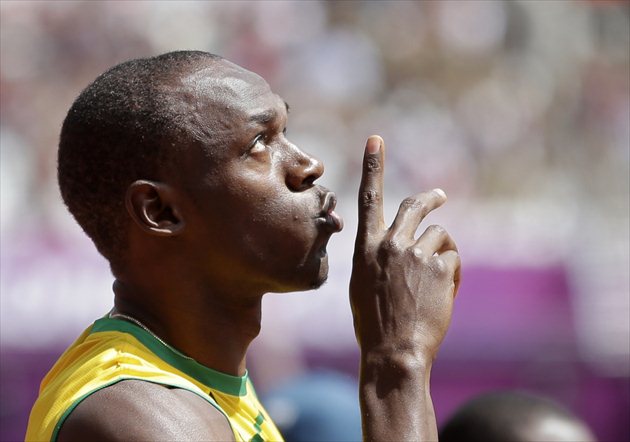 Usain Bolt. The 100-meter final. Watch, or lose. (AP)
Trying to watch the Olympics? Even with NBC now streaming every event live online, the wild array of events -- and difficulty in finding live events, for anyone like us not interested in avoiding spoilers all day -- can make the television viewing experience a bit bewildering.

But we're here to help. Here's our chronological list of the events U.S. Olympic fans should consider watching, and where, for Saturday, Aug. 4. All times Eastern and all events are live action unless otherwise noted. Many of the secondary events are also subject to change.
Here's what awaits you Saturday:
denotes medal event.
9 a.m., Men's singles final, NBC; 12:15 p.m., women's doubles final, NBC Sports.
The final two gold medals are handed out in Olympic tennis as Roger Federer and Andy Murray reprise their Wimbledon final on Wimbledon's Centre Court, no less--but this time with the host nation's first tennis gold medal on the line. In the women's doubles final, Serena Williams will go for her second gold alongside sister Venus when they take on Czech Republic pair Andrea Hlavackova and Lucie Hradecka.
 9 a.m., Gymnastics event finals: men's floor exercise, women's vault, men's pommel horse, NBCOlympics.com.
If you remember McKayla Maroney's gold medal-worthy vault from the women's team competition -- and you do -- you should tune in to see it actually (hopefully) win a gold medal in the event final, following the men's floor final at approximately 9:50 ET online. It's even possible the U.S. will have won another gymnastics medal by then, with American floor specialist Jake Dalton taking his shot at the podium. There's no Americans in the pommel horse final, but look for Great Britain's Louis Smith to fire up the home crowd with his potential championship routine.
The finals will also be broadcast as part of NBC's primetime coverage at 7 p.m.
2 p.m., women's quarterfinals: May-Treanor/Walsh Jennings (USA) vs. Cicolari/Menegatti (ITA), NBCOlympics.com (possibly NBC Sports Network).
NBC Sports has a block of time alotted for a live beach volleyball matchup at 2 p.m., but we're betting you'll have to go online to see May-Treanor and Walsh Jennings attempt to advance to their third straight Olympic semifinal; NBC also promises a beach volleyball match as part of their primetime coverage and it's likely that's this one. Italy doesn't have much beach volleyball tradition, but May-Treaner and Walsh Jennings could have their hands full after Cicolari and Menegatti won their preliminary group and rolled into the quarters.
5 p.m., women's quarterfinals: Kessy/Ross (USA) vs. Kolocova/Slukova (CZE), NBC.
April Ross and Jennifer Kessy appear to have caught a break in their quest for a first Olympic medal, with the Czech pair -- who lost 2-0 to May-Treanor and Walsh Jennings in group play -- upsetting a heavily favored Brazilian pairing in the Round of 16. But as Todd Rogers and Phil Dalhausser found out, every match at this stage of the tournament is a dangerous one.
2 p.m., women's quarterfinal, U.S. vs. Italy, NBC.
The U.S. women's bid to finally break through and win their first Olympic gold -- after near-misses in 2000, 2004, and 2008 -- gets serious in their first elimination match. The Americans have made the medal rounds in all three previous Olympic women's water polo tournaments and will be favored to get past the Italians, but after three razor-thin matches in group play, they can't take anything for granted.
2 p.m.-4 p.m., track preliminaries, NBCOlympics.com
The only place to see any of the evening action on the track is online. Preliminary action inclues (with Americans in parentheses):
2 p.m.: Women's 400 hurdles Round 1 (Lashinda Demus, Georganne Moline, T'Erea Brown)
2:45 p.m.: Men's 100 semifinals (Tyson Gay, Justin Gatlin, Ryan Bailey)
3:15 p.m.: Men's 1500 semifinals (Leonel Manzano, Andrew Wheating, Matthew Centrowitz)
3:30 p.m.: Men's 400 semifinals (Tony McQuay, Bryshon Nellum)
 3:15-5 p.m., track finals, NBCOlympics.com
The schedule for the medal races:
3:15 p.m.: Hammer throw (Kibwe Johnson)
4:10 p.m.: Women's 400 meters (Sanya Richards-Ross, DeeDee Trotter, Francena McCorory)
4:25 p.m.: Men's 3000 meter steeplechase (Donald Cabral, Evan Jager)
4:50 p.m.: Men's 100 meters.
Finalists for the much-anticipated 100-meter dash, crown for the Fastest Man in the World (semifinal times in parentheses):
USA's Justin Gatlin (9.82)
Jamaica's Yohan Blake (9.85)
Jamaica's Usain Bolt (9.87)
USA's Tyson Gay (9.90)
USA's Ryan Bailey (9.96)
Netherlands' Churandy Martina (9.91)
Jamaica's Asafa Powell (9.94)
Trinidad and Tobago's Richard Thompson (10.02)
Richards-Ross going for gold, Jager trying to do the unthinkable by medaling in steeplechase, and Usain Bolt vs. Yohan Blake vs. Gatlin and Gay as the nightcap. Are you really thinking about not watching? (If you don't do so live, though, NBC will air it all in primetime.)
Also worth watching:
6 a.m.-9 a.m., women's marathon, NBC.
The U.S.'s Shalene Flanagan, Kara Goucher, and Desiree Davila aren't expected to medal, but watch anyway for some picturesque shots of London.
11:30 a.m., U.S. women vs. China, NBC.
The U.S. concludes group play against China and will look to get off to a faster start than in their previous victory vs. the Czech Republic.
 1 p.m., Men's team foil, medal matches, NBCOlympics.com
Led by Brooklyn teenager Race Imboden, the U.S. men's fencing team takes their last shot at a medal--if they've gotten this far to begin with.
10:30 a.m., women's 75+ kg NBCOlympics.com.
New York Jet offensive lineman Nick Mangold's sister Holly Mangold looks to crash the podium for a rare U.S. weightlifting medal.

 2 p.m., women's 3-meter springboard, NBCOlympics.com.
Americans Christina Loukas and Cassidy Krug look to continue the U.S. resurgence in diving in the first individual finals of the Games. Will also air during NBC primetime.
Three members of the Board of Directors executive leadership tendered their resignations on...

Emma Ann Miller, the 95th person to speak against Nassar in court, made the claims Monday

Kenworthy is set for his second Winter Olympics and his first after coming out as gay
Not everybody in South Korea is on board with the decision to unite with North Korea for the...

The Ralph Lauren jacket can be controlled by the athlete's smartphone, so that's something

Johannson, 53, had been tasked with assembling the United States' men's ice hockey team