Pavel Datsyuk out for Sochi? Russian coach says replacement possible
Pavel Datsyuk played two games before the Olympic break but still doesn't look 100 percent and if the Russian coach doesn't think so, he says Datsyuk could sit the Olympics.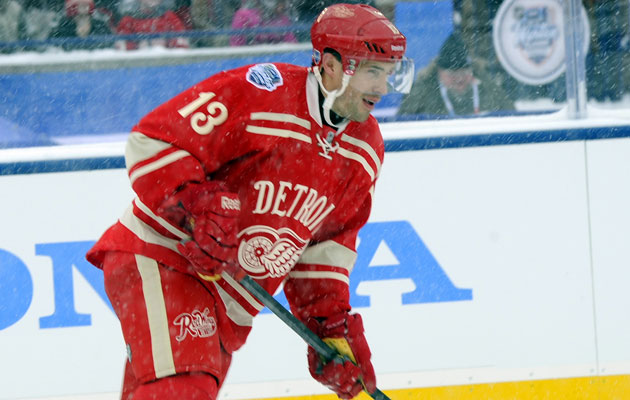 More NHL: Scores | Standings | League Leaders | Odds | Injuries | Power Rankings
The pressure is on the Russians to bring home the gold in the men's hockey tournament that get under way later this week, there could be even more if a certain Detroit Red Wings star can't play.
Pavel Datsyuk might be the top player the Russians will have, a complement to a very strong top six on paper and a sound all-around player. However Datsyuk has been battling injury since the Winter Classic, only playing two games for the Red Wings before the break and playing well below his average ice time.
Russian coach Zinetula Bilyaletdinov has noticed and says that he hasn't ruled out ruling out Datsyuk for the Games just a couple of days away. He said if Datsyuk isn't 100 percent, he might not play. RSport has a little more.
Datsyuk should arrive in Sochi on Monday. Changes into the roster may be made until Wednesday, when the Olympic hockey tournament starts.

"When Datsyuk arrives, we will talk and make a decision," Bilyaletdinov said. "Tomorrow is only the 10th and everything is possible."
Datsyuk will be arriving in Sochi shortly as he and the rest of the NHLers met up in Newark to start the flights to Russia. At least Datsyuk's spirits don't seem to be dampened.
???? ? ????!!!! @Anisimov42 @mkirilenko @Datsyuk13 !!!????? ????? ?? ??????!!!!!!@Sochi2014 @sochi2014_ru pic.twitter.com/KE36H5whPH

— Alex Ovechkin (@ovi8) February 9, 2014
Despite the threat (for lack of a better word), it's very difficult to envision Datsyuk won't play for Russia on Thursday when they open their tournament against Slovenia. Datsyuk might have come back a little early from his lower-body injury with the Red Wings but you can bet the Olympics had a role in that; he wants to play badly.
If it does some to Datsyuk sitting, though, it will be a massive blow for the Russians. The strength of their team is clearly the punch they possess in the top six and not only losing one of those players but losing a centerman would be brutal. It won't be much better if Datsyuk isn't fully healthy but Datsyuk at 75 percent is still a lot better than no Datsyuk at all.
The victim demanded that Nassar apologize to her face before granting him forgiveness

Three members of the Board of Directors executive leadership tendered their resignations on...

Emma Ann Miller, the 95th person to speak against Nassar in court, made the claims Monday
Kenworthy is set for his second Winter Olympics and his first after coming out as gay

Not everybody in South Korea is on board with the decision to unite with North Korea for the...

The Ralph Lauren jacket can be controlled by the athlete's smartphone, so that's something