PHOTO: Russian TV doctors opening ceremonies rings goof
If you only watched Russian state TV's broadcast of the opening ceremonies, you might not have known anything went wrong.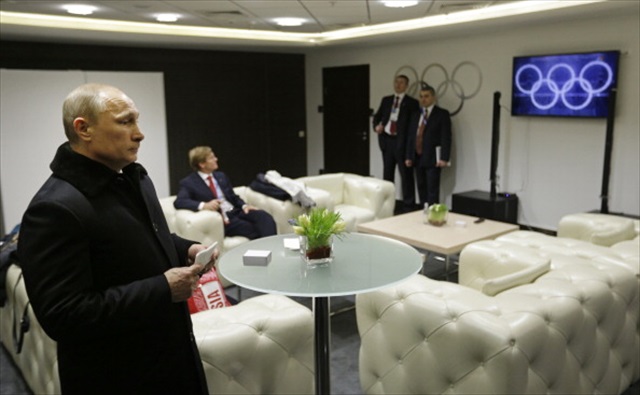 If you watched Friday's opening ceremonies for the 2014 Sochi Games, you might notice something off about the above image of Vladimir Putin in his presidential lounge. More than a few observers around the world did, anyway -- namely that the image of the Olympic rings on his television doesn't match what actually happened during the ceremonies, when one of the snowflakes intended to open into the fifth ring malfunctioned. (And launched a clever t-shirt.)
Famously, here's what the attendees in the stadium and TV viewers across the globe saw: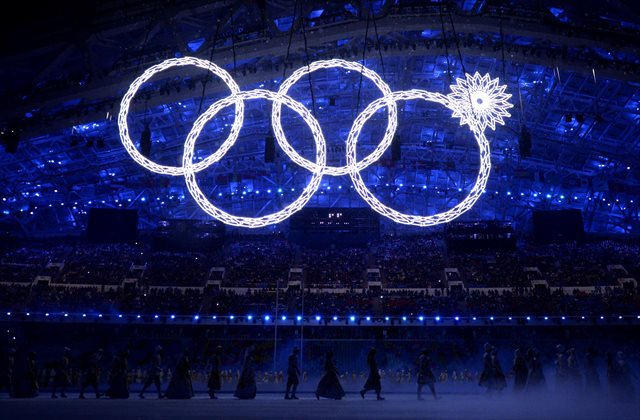 So how were the rings on Putin's TV complete? Because Russian state TV didn't actually show the goof. As the malfunction began, the Associated Press reports, host broadcaster Rossiya 1 cleverly (if deceitfully) cut to rehearsal footage of the rings' formation and an ensuing fireworks display that never went off at the actual ceremonies.
Rossiya producers confirmed the switch to the AP, saying it was important to preserve the imagery of the games. Ceremonies executive creative director Konstantin Ernst took credit for realizing the malfunction and calling for the rehearsal footage.
IOC official (and French ski great) Jean-Claude Killy endorsed the decision, telling the AP "it didn't show on television, thank God."
Russia shouldn't feel too bad, though; the failure of one of the giant ice arms intended to rise and cradle the Olympic cauldron at the Vancouver opening ceremonies -- one that cause a minute-long awkward delay -- was at least as embarrassing. And everyone in Canada saw that.
The two-time gold medalist's road to making his fourth Olympics just got a little tougher

Here's how to watch all of the halfpipe and slopestyle action as Olympic qualifying resume...

The South African sprinter and Paralympic champion is serving time for the murder of his g...
The Olympic skier says she's received hurtful comments since her remarks about competing for...

More than 400 people reportedly held emergency defense drills in advance of the Winter Gam...

The Olympic gold medalist says she also won't accept an invite the White House