PHOTO: Two-hour women's 10 km swim marathon decided by .4 seconds
After nearly two hours of swimming, American Haley Anderson had to settle for silver by only four-hundredths of a second.
For the second time in these Olympics, an event spanning miles of distance and hours of time was ultimately decided in the blink of an eye.
The first was the women's triathlon, which came down to a true photo finish to determine Swiss athlete Nicola Spirig's victory. The second came Thursday, when the women's 10-kilometer open swimming marathon --a race that took three minutes shy of two hours to complete -- was decided by all of four tenths of a second.
The unlucky silver medalist was Team USA's Haley Anderson, who slapped the floating electronic board above the finish line just after Hungarian gold medalist Eva Risztov. Risztov's official time was 1:57:38.2, Anderson's 1:57:38.6.
A margin that narrow meant the race was officially deemed a photo finish, though Risztov's hand clearly slapped the boatd ahead of Anderson. Photos of the finish, via Business Insider and the international Olympics television feed, with Anderson in the white cap: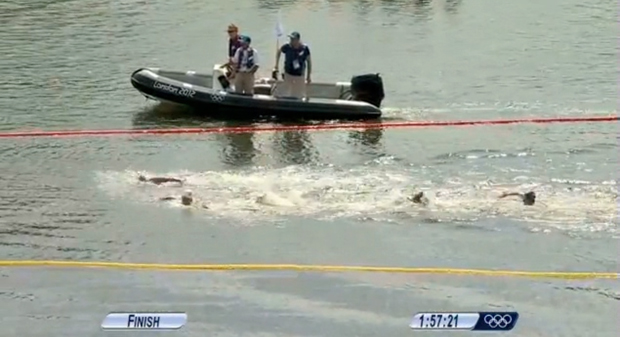 Anderson and Risztov come down the home stretch.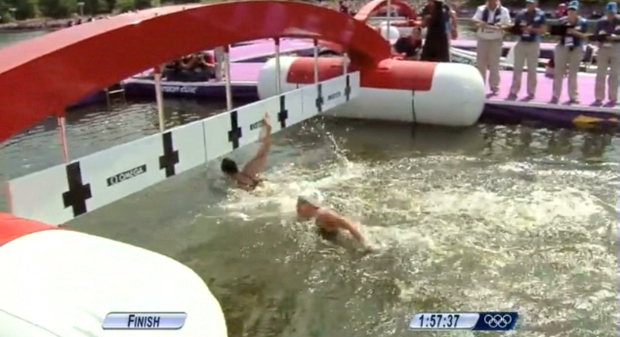 Risztov gets there first.
For Anderson, it won't be easy to stomach coming that close to a gold medal and coming just short. But the Santa Clara, Calif. native will be able to console herself that she wasn't expected to medal at all--and that if you've come that close to gold after two hours of swimming, it's fair to say you've had yourself one heck of a race.
Three members of the Board of Directors executive leadership tendered their resignations on...

Emma Ann Miller, the 95th person to speak against Nassar in court, made the claims Monday

Kenworthy is set for his second Winter Olympics and his first after coming out as gay
Not everybody in South Korea is on board with the decision to unite with North Korea for the...

The Ralph Lauren jacket can be controlled by the athlete's smartphone, so that's something

Johannson, 53, had been tasked with assembling the United States' men's ice hockey team