Qualification rounds set U.S. up for unprecedented gymnastics success
The U.S. women dominated their gymnastics qualification rounds as expected. But with the U.S. men strong as well, could Team USA be looking at their best gymnastics Games ever?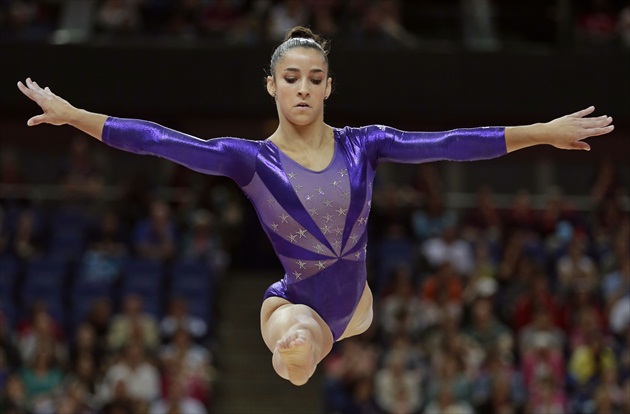 Aly Raisman's big all-around performance was bad news for Jordyn Wieber--but good news for Team USA. (Getty Images)
Entering the weekend's qualifying rounds, the consensus was that the U.S. gymnastics teams were as strong as they had been in years and were poised for a substantial medal haul. Leaving the weekend's qualifying rounds, the consensus will be that they might be even better than that.
The lead headline from the women's Sunday performance, of course, was that reigning world champion Jordyn Wieber failed to qualify for the individual all-around finals, taking a backseat to teammates Gabby Douglas and Aly Raisman in a competition which only allows two entrants per country. But that stunning development shouldn't overshadow the U.S.'s team dominance. Not only did Douglas, Raisman, and Wieber finish 2-3-4 in the all-around standings, but the team took top spot by a full 1.434 points over second-place Russia.
If you're new to gymnastics, yes, that's a reasonably wide margin. And though first-place all-around finisher Victoria Komova of Russia will clearly be a threat, having both Douglas and Raisman in the poised form they displayed Sunday means that the U.S. will retain their status as favorites to win both of the biggest prizes in Olympic gymnastics: the team gold and the individual all-around. The U.S. has never swept both golds in the same Olympics, having of course won the team title only once, in 1996 on Kerri Strug's iconic vault.
While the U.S.'s team score in qualifying is reason enough believe this is the year they finally return to the top of the podium, the way they posted it is even more encouraging. Head coach Martha Karolyi selected the team with an eye towards completely dominating the vault--McKayla Maroney, for instance, was chosen ahead of more accomplished all-around gymnasts solely for her world's best vaulting skills. That decision paid off handsomely, with Maroney scoring a 15.9 -- true to form, the best score of the competition -- and the U.S. gaining a 1.3 edge in that apparatus alone. If the U.S. can live up to their potential on vault, as they did Sunday, it would require a virtual meltdown on the other three disciplines to prevent a U.S. victory.
Here's the kicker, though: the U.S. women might have company on top of the podium. Although the U.S. men were expected to contend for a team medal, it wasn't supposed to be gold with the Japanese and Chinese around. But the Chinese suffered through a nightmare weekend, losing their top gymnast to injury in Friday's miserable "podium training" dress rehearsals and then slogging their way to a sixth-place finish in the qualifying standings; they suddenly look like they'll be fortunate to medal. Even more inexplicably, three-time defending world champion Kohei Uchimura fell off the high bar and the pommel horse in his first two events, setting the disappointing tone for a fifth-place Japanese finish.
And the U.S.? Led by past two national champions Danell Leyva and John Orozco, Team USA topped the qualifying standings, nearly three points ahead of second-place Russia. They may not stop at a team medal, either: Leyva posted the highest individual all-around score at 91.265, with Orozco in fourth at 90.597.
Can the U.S. men -- who haven't won team gold since the boycotted 1984 Games -- really start thinking about sweeping both the team and all-around events? Of putting two men on the all-around podium? We might be getting ahead of ourselves--Japan isn't likely to be so weak the next time around, Uchimura in particular. And though Leyva and Orozco weren't perfect (Leyva in particular left some points out there in the parallel bars), they might not score much higher than they did Sunday.
Still, for now, the Americans can dare to dream: the four biggest competitions in Olympic gymnastics, and four U.S. gold medals. After qualifying, it's never seemed more within reach.
If the South Korean standoff with Pyongyang continues, France has said they will stay home...

The news comes shortly after a deal was struck by Los Angeles and the IOC

Jamaican legend goes down on the 4x100 relay final with an apparent leg injury
The Summer Games are coming to L.A. for the third time

Gil Roberts claims that the only crime that he committed was loving too much

Los Angeles preferred 2024, but may have to wait another four years to host Games again