Roundtable: Who should the U.S. pick as its Opening Ceremonies flagbearer?
Aside from actually putting a medal around his or her neck, there's no higher honor for an American Olympian than to carry the stars-and-stripes in the Opening Ceremonies' Parade of Nations. The U.S. Olympic Committee didn't ask us, but here's who we'd pick for that honor all the same.
Aside from actually putting a medal around his or her neck, there's no higher honor for an American Olympian than to carry the stars-and-stripes in the Opening Ceremonies' Parade of Nations. The U.S. Olympic Committee didn't ask us, but here's who our Eye on Olympics bloggers would pick for that honor all the same.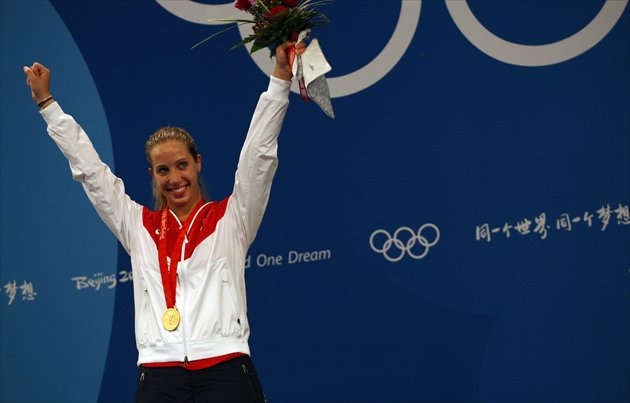 Fencer Mariel Zagunis could win gold in three straight Olympics. In a year when women outnumber men on Team USA, should she be recognized? (Getty Images)
Jerry Hinnen: No one likely envies the officials at the U.S. Olympic Committee when it's time to sit down and settle on the Team USA flagbearer for the opening ceremonies, since it's a question with no perfect answer, one whose criteria likely change in the eye of any beholder with an opinion.
Think the choice should be the most famous possible athlete, the one who'll garner the most attention? You'll want someone like (gold medalist, don't forget) Kobe Bryant. Want the team's most accomplished Olympian, period? Michael Phelps. You can go the inspirational route, a la the choice of former Sudanese-born "Lost Boy" Lopez Lomong in 2008. You could even go for the most patriotic selection possible and name one of the members of the U.S. Army Marksmanship Unit who'll compete in shooting, like 2008 men's double-trap gold medalist Walton Eller.
But if I'm choosing, I want a flagbearer who represents why so many Americans feel connected to Team USA in the first place--one who spends years and years of toiling and sweating between Olympiads knowing that work won't ever pay off in a cavalcade of endorsements and six-figure paychecks, but does it anyway because competition and victory matter just that much to them.
Someone like, say, Mariel Zagunis, whose gold medal in women's saber in Athens seemed to spark a U.S. fencing renaissance that could see her team come home with its largest medal haul yet ... who could become the first American since Carl Lewis to win individual gold medals in three consecutive Summer Olympics ... who could have taken multiple opportunities to give up the sport but has persevered and now stands poised to make Olympic history.
All of that, and you've probably never heard of Mariel Zaguins. That ought to change--which is why I'd select her to carry the U.S. flag July 27.
Bryan Fischer: There are over 500 American Olympians this year and there's a case for each to carry the star-spangled banner in London. It's a daunting task for the USOC and one I'm glad I don't have to make because as much as it seems like you can't go wrong, the critics will ensure there's no perfect choice for this.
I think you have to whittle it down to a handful of candidates and with 228 returning Olympians (76 of whom are gold medalists), that seems like a good place to start. Victory in the Games can be fleeting, so the fact that nearly half the team is coming back should mean something -- no offense to those that are first-timers, they should just enjoy the experience of the opening ceremony.
You could go splashy and have Kobe Bryant or LeBron James (which would cap off a heck of a summer for him, no?) be the flag bearer. It's rare that somebody so prominent is carrying the Red, White and Blue, but I wouldn't imagine Michael Phelps or Ryan Lochte would get the nod either, despite NBC's best wishes in building up the showdowns between those two in the pool. I would go with somebody a bit out of the spotlight but a tried-and-true U.S. Olympian nevertheless, somebody who most of the public hasn't heard of but should as they take in the summer games this year.
With all that in mind -- and with the knowledge that the United States will send more women then men to the Olympics for the first time -- I think Kim Rhode would be a great choice to carry the flag. Plenty of people might have to Google her name but what they will find is the true definition of somebody who competes in their sport diligently and with distinction. Rhode is a five-time Olympian and while in London -- she's competing in skeet and trap -- can become the first individual American to win a medal in five straight Olympics. Seems pretty worthy if you ask me.
Matt Norlander: Look at my colleagues going all earnest and clarifying and qualifying the heck out of their posts, timid to offend anyone. 

I see why Kobe or LeBron are an intriguing choice, but ...

As much as Phelps or Lochte makes sense ...

Fellas, let's make a statement here. After all, is this not the Olympics with the most doubt over whether we can bring home the top inventory in both golds and overall medals? Let's put our biggest stars on display and show right from the get-go how predominant and bedazzling we are. 


Let's go for the unusual. That's right: two flagbearers. But which two? The tallest and the shortest. You know, show the world how varied and eclictic the U.S. is and all that jazz. That means 7-1 Tyson Chandler and 4-11 gymnast Gabby Douglas both get a grip. You could have Douglas tumble all about Chandler as the Opening Ceremony procession takes place for all I care. And to be clear, there are two other 4-11 American Olympians -- diver Katie Bell and wrestler Clarissa Chun -- but Douglas seems destined to be the star, so let's just blatantly go with her. Anyway, when's that ever been a prohibitive quality in American sports? Douglas won the all-around title for gymnastics at the trials earlier this month, and it's because of her that the U.S. is given a real shot at taking the gold. 

As for Chandler, he's the only sizeable, respectable inside defensive threat Team USA has. He's not the best player, but he is the biggest. So, yeah, U.S.: break the mold like we have for more than 220 years, dammit. Two flagbearers, big and small, male and female, hoops and gymnastics. Tyson and Gabby.
JH: Of course we're being earnest: what part of the entire Olympic experience is more earnest than the Parade of Nations, the part when every Olympian contingent, every Olympian, is on the same footing--where both LeBron James and Kim Rhodes are simply happy to wave a flag and be part of the team, where Serena Williams isn't treated any differently than a Fijian weightlifter? There's no better expression of the "Olympic spirit" than the Parade of Nations, and if you care about that sort of corniness -- and I most certainly do -- then it's not a time for irony or visual gimmicks.
But I won't argue that 1. giving the honor to our best and brightest is appealing 2. that the dual-flagbearer option isn't intriguing. Maybe we split the difference and give it to both Phelps and Lochte--remind the world that we have both the planet's best swimmer and likely the only man truly capable of challenging him for that title ... but that even rivals like the pair of them know they're on the same team and willing to share the spotlight for a night. 
That way, we'd flex our muscles and be earnest about Team USA. Everyone wins.
Find out everything you need to know about watching the Winter Olympics on Thursday

USA will face Canada in the gold medal game for the third straight Olympics

Get an up-to-date total of all the gold, silver and bronze medals won at the Winter Games
Shiffrin's medal collection -- and fame -- grows, while Vonn's storied Olympic career ends...

The United States took down Canada 3-2 in a dramatic shootout win, capturing their first gold...

Team USA wins the gold in women's hockey and racks up medals in snowboard big air, alpine combined...