Team USA favored by 'only' 25.5 over Argentina, 1-33 favorites for gold
Team USA is favored by 25.5 points in their semifinal match against Argentina.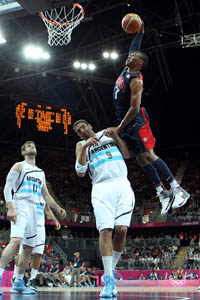 Team USA has a huge leg-up over Argentina according to bookmakers.
(Getty Images)
The United State opened as huge 26-point favorites over Argentina in their Olympic men's basketball semifinal on Friday, according to gambling site Bovada.lv. But rational thought has prevailed and the gap has closed. 
It's 25.5. 
Bovada also shared in a press release that 69 percent of the action is on Argentina to cover that spread, indicating the confidence people have in Argentina's ability to hang with the Americans behind Manu Ginobili and Andres Nocioni. It also reflects the sentiment that lingers with Team USA after having trouble with Lithuania and having just a three-point lead over Australia in the third quarter of their quarterfinal match. 
The United States remain massive 1-to-33 favorites to win the gold medal, after going undefeated in group play and blowing out Australia in the fourth quarter on Wednesday. 
It follows the same trend. Everyone expects the United States to win, but is winning enough if it's not in dominant fashion? The comparisons to the Dream Team brought a level of expectaton far higher than what was reasonable given their injury situation, and in reality, it's unlikely they even match the point differential of Team USA in 2012, despite facing a weaker crowd. 
In a bit of a surprise, traditional superpower Spain is giving 5 points to Russia in the other semifinal match, despite Russia having looked like the far superior team in match play. It took a considerable collapse from France late in their quarterfinal against Spain for the Gasol brothers and company to escape. 
The winners of both semifinals will play in the gold medal game on Sunday, with the losers facing off in the bronze medal game. 
Canada beats Czech Republic for bronze, while Germany and Olympic Athletes from Russia are...

Here's everything you need to know about Sunday's Closing Ceremony for the Winter Games

Get an up-to-date total of all the gold, silver and bronze medals won at the Winter Games
The Olympic Athletes from Russia claim the world's top prize in hockey, beating a late 3-2...

Find out everything you need to know about watching the Winter Olympics

CBS Sports asks the silver-medal bobsledder about her medals, softball and South Korean cu...