Team USA Track Wrap, Day 1
Recapping all the action from the first -- and largely preparatory -- day of events at the Olympic track and field meet.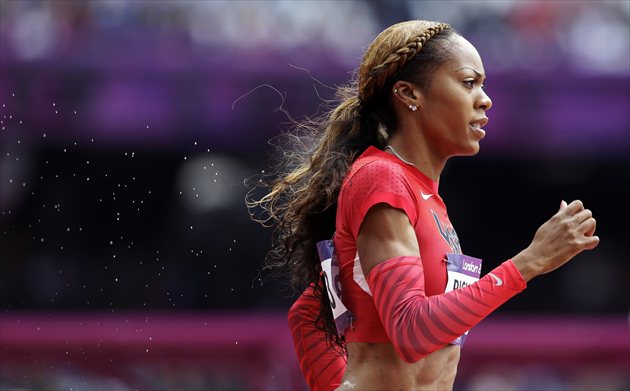 Sanya Richards-Ross's soggy London debut didn't feature much flash. (AP)
Even on an opening day like Friday -- when only two medals are handed out and most of the action consists of preliminary heats and qualifying rounds -- there's a ton to keep track of at the Olympic track and field meet. Here's our event-by-event rundown for Team USA:
Women's 400 meters. Gold-medal favorite Sanya Richards-Ross didn't come close to putting the pedal to the proverbial metal in her London debut, running a terribly slow -- by her standards -- 51.78 to finish fourth in her Round 1 heat. It was still easily good enough to qualify for Saturday's semifinals, and was a product of Richards-Ross conserving energy for the week to come more than any other factor. (One of which might also have been wet conditions.) Still, another slow race Saturday might start whispers that Richards-Ross isn't as unbeatable as she's seemed of late.
Fellow Americans Francena McCorory and DeeDee Trotter qualifed in more impressive fashion, running 50.78 and 50.87 to qualify in third and fifth, respectively.
Women's 100-meter dash. As expected, all three American representatives cruised into the semifinals. What might have been a shade unexpected was Carmelita Jeter putting forth the effort to qualify first overall with a time of 10.83--only .02 off her best time this year. Tianna Madison ran a 10.97 for fifth and Allyson Felix 11.01 (in winning a slow heat) for eighth.
The semifinals will come during Saturday's morning session with the finals -- the first true glamour event of the meet -- slated for Saturday night, London time.
Men's shot put. The American team of Reese Hoffa, Christian Cantwell and Ryan Whiting all came into London with hopes of medaling, and not without reason--the trio accounted for the top six throws in the world in 2012. But Poland's Tomasz Majewski (the defending Olympic gold medalist) and German David Storl both uncorked their best throws of the season -- Majewski a gold-winning 21.89 -- while the Americans did not. The best U.S. throw of the night belonged to Hoffa, whose 21.23 was good enough for bronze--not the color medal he wanted, but also a far better result than his surprising seventh-place finish in Beijing.
Cantwell, the Beijing silver medalist, placed fourth.
Men's 400-meter hurdles. All three American men qualified for Saturday's semifinals with ease, with the fastest time of the three -- and second-fastest time of the round -- posted by Kerron Clement (48.48) as he keept pace with Cuban favorite Javier Culson for 350 meters. Michael Tinsley qualified in fifth, and two-time Olympic gold medalist in the event Angelo Taylor placed 12th.
Men's long jump. 2004 Olympic gold medalist Dwight Phillips is missing the Games through injury, but U.S. hopes aren't exactly dead: both up-and-comer Marquise Goodwin and Will Claye qualified for the final, Goodwin tying for the best leap of the qualifying rounds at 8.11 meters. Both could wind up on the podium with strong jumps in Saturday's final.
Women's heptathlon. As expected, Great Britain's Jessica Ennis is in command of the gold medal race after four of the seven events. But American Hyleas Fountain has surprisingly made a strong charge for a medal, ranking in the top five in the hurdles, high jump, and 200-meter dash to total exactly 3900 points--good for fifth place, and only three points behind third-place Jessica Zelinka of Canada.
Men's 3000-meter steeplechase. One of the most intriguing stories on the American track team continued Friday, with medal hopeful Evan Jager running 8:16.61 to place second overall in the steeplechase heats and easily advance to Sunday's final. A virtual unknown a few months ago who only took up the steeplechase last year -- and has recently been putting up some of the world's top times -- Jager could be the best in the field to break up an expected Kenyan sweep.
Men's 1500 meters. Americans Leonel Manzano, Andrew Wheating, and Matthew Centrowitz all advanced to Sunday's semifinals, though Wheating and Centrowitz did so by the skin of their teeth--both were the final qualifiers out of their heats. Though a deep set of 1500 runners by American standards, none is expected to medal; Centrowitz did take a bronze at the 2011 Worlds, however.
Men's hammer throw. The hammer has traditionally been one of Team USA's weakest throws, but Kibwe Johnson qualified for Sunday's final with a fifth-place throw of 77.17, raising hopes he might sneak onto the podium.
Women's discus. Though not projected among the medal favorites, 2008 gold medalist Stephanie Brown-Trafton will look to join Majewski as a repeat Olympic champion in the throws in Saturday's final. She placed fifth in qualifying with a mark of 64.89.
Women's 10,000 meters. Along with the men's shot put, one of only two events to hand out medals Friday. Americans Amy Hastings (31:10.69), Janet Cherobon-Bawcom, and Lisa Uhl finished 11th, 12th, and 13th, respectively--a fine team performance, but one well back of the Ethiopian and Kenyan leaders.
Women's triple jump. Amanda Smock was the only American to qualify for the event and wasn't expected to contend for a medal. She won't, finishing 27th with a jump of 13.61 meters in the qualifying round and failing to make the final. Given that just making London was a huge accomplishment for Smock, though, we doubt she's too disappointed.
David Kelly is on a 39-10 run in hockey picks and locked in a play for the women's gold medal...

Cue the awkward podium moment for a country that isn't officially recognized this year

Only the women are remaining to skate for their medals
In case you didn't know, OAR is actually a country you've already heard of -- just in disg...

How does your time zone translate to the Pyeongchang Games? We've got you covered

Find out everything you need to know about watching the Winter Olympics on Wednesday