Tickets still available for London opening ceremony
The London Organizing Committee is still selling tickets to the general public for Friday night's opening ceremony.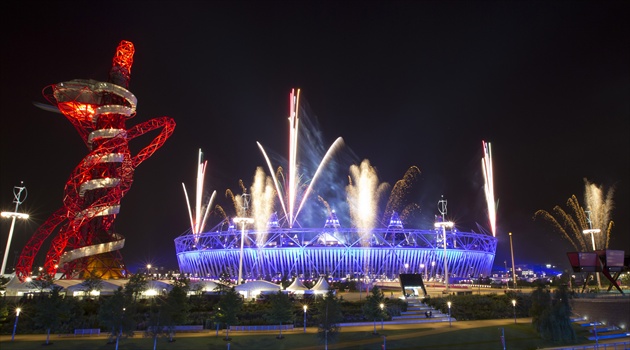 Fireworks go off during a dress rehearsal for the 2012 Olympic opening ceremony. (AP)
Got some cash to burn and a way to get to London in a hurry? You could still see the opening ceremony in person.
Yes, the ceremony is now less than 24 hours away. But according to London newspaper The Guardian, tickets are still available to the general public via both the London Organizing Committee's (LOCOG's) website and by telephone. And not just a handful of random singles, either--a telephone salesman told the Guardian reporters they could still purchase blocks of four.
Those seats won't come cheap, however. The available tickets fall in category "AA" and cost £2,012 ($3,151 U.S.) apiece, or category "A" and run £1,600 ($2,505). Part of the slow sales could be tied to the previous availability of tickets that were offered as cheap as £20.12, and might not deliver all that worse a view of the ceremony.
Despite the limited amount of time available in which to sell the tickets, a LOCOG spokesperson told the Guardian "we are confident there will be no empty seats tomorrow." LOCOG chairman (and British Olympic legend) Sebastian Coe said the organization would "look at" reducing the price of the seats. 
Organizers have held two dress rehearsals for director Danny Boyle's extravagant ceremony to crowds of 60,000 each, apparently without any hiccups. But if a global audience of 1 billion viewers see more than a tiny handful of empty seats Friday night, that might qualify as a substantial hiccup in itself.
HT: Swifter, Higher
Days after apologizing to for comments on Aly Raisman and sexual assault victims, Douglas opens...

Three women strive to be the best African representation 'the Winter Olympics have ever wi...

Team USA will be decked out in Spyder in PyeongChang
Dr. Larry Nassar is currently facing 22 state charges in Michigan

Putin says the United States is trying to 'discredit his government' with recent allegations...

The new USA and Canda hockey jerseys for the 2018 Winter Olympics leave plenty to be desir...