T.J. Oshie leads United States to win in shootout over Russia
T.J. Oshie scored four goals in an eight-round shootout as the USA survived Russia 3-2 on Saturday in an epic Olympic hockey game.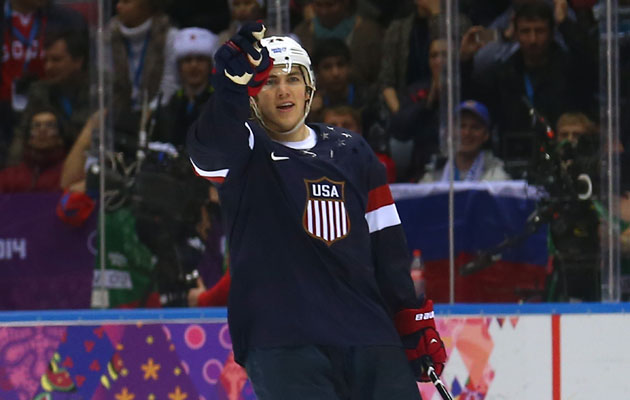 The United States got four goals from T.J. Oshie in an eight-round shootout to defeat Russia by a final score of 3-2 on Saturday to move atop Group A in the Olympic hockey tournament.
In a game that will rival any of the best hockey games you've ever seen, the United States prevailed in a shootout that was as good as the game that preceded it. Because of IIHF rules, after the first three shooters a player can take another turn so after the third round, USA coach Dan Bylsma just kept going back to Oshie and time and time again he delivered. Finally in the eighth round after Jonathan Quick stopped Ilya Kovalchuk, Oshie beat Sergei Bobrovsky for a fourth time to seal the USA win.
After the first period the game was scoreless but Russia drew first blood in the second period when Pavel Datsyuk split the American defense and beat Quick from the slot on the rush. At that point, Russia was pretty well in control of the game.
Penalties against Russia allowed the US to get back into the game as the power play was strong for the Americans. The USA got the equalizer later in the second period when James van Riemsdyk found a chraging Cam Fowler and his pass went off Fowler's skate and into the net.
In the third period the United States struck again on the power play when Patrick Kane found Joe Pavelski on the back door for a one-timer to give the US a 2-1 lead. That lead didn't last long though as a Dustin Brown penalty put Russia on the power play again for the fifth time in the game and that's when Datsyuk scored his second of the game to tie it up.
Minutes later it looked like Russia took the lead on a goal from Fedor Tyutin but after review the goal was waved off. The net came off its moorings a few seconds earlier ever so slightly when Quick made a sliding save attempt and in the international game, if the net is off its position at all, goals are no good. It was a huge break for the Americans but in the international game it was the right call.
The United States had one last power play to end regulation but couldn't convert, carrying it over into the five-minute overtime session. Patrick Kane had the best chance of the OT when he sprung free on a breakaway attempt but was unable to beat Bobrovsky five hole. The game would go to the shootout where it was the Oshie show for the USA against Ilya Kovalchuk and Pavel Datsyuk for Russia.
Quick recevied the start for the USA in the second straight game and was phenomenal. He stopped 29 of 31 shots for Russia on the day and came up big in the shootout as well. Certainly he cemented himself as the USA's goalie in this tournament.
The fact that this game did go to a shootout will have a big impact on the standings. The USA is now a win over Slovakia away from clinching the group and earning a bye into the quarterfinal. But they only received two points instead of three, putting them behind Canada/Finland in Group B and Sweden in Group C, who all have six points. Assuming the Canada/Finland winner wins in overtime and Sweden does the same over Latvia, they will be the top two seeds. The one point in the loss does help Russia because if that Canada/Finland game ends in regulation and Russia beats Slovakia, they will earn the fourth quarterfinal spot and a bye.
Look back on the game with our live blog as it happened.
FINAL: USA 3, Russia 2 (Shootout)
(GIF via @PeteBlackburn)
Eighth round -- T.J. Oshie for USA: GOAL! USA WINS!
Eighth round -- Ilya Kovalchuk for Russia: NO GOAL
Seventh round -- T.J. Oshie for USA: NO GOAL
Seventh round -- Pavel Datsyuk for Russia: NO GOAL
Sixth round -- T.J. Oshie for USA: GOAL
Sixth round -- Ilya Kovalchuk for Russia: GOAL
Fifth round -- T.J. Oshie for USA: GOAL
Fifth round -- Pavel Datsyuk for Russia: GOAL
Fourth round -- T.J. Oshie for USA: NO GOAL
Fourth round -- Ilya Kovalchuk for Russia: NO GOAL
Third round -- Ilya Kovalchuk for Russia: GOAL
Third round -- Joe Pavelski for USA: NO GOAL
Second round -- Pavel Datsyuk for Russia: NO GOAL
Second round -- James van Riemsdyk for USA: NO GOAL
First Round -- Evgeni Malkin for Russia: NO GOAL
First Round -- T.J. Oshie for USA: GOAL
10:03 a.m. -- A small difference in the IIHF shootout rules.
Shootout. Three shooters. After first three go and it's still tied, anyone can shoot whether he's gone or not. 2 points on the line.

— Chris Peters (@chrismpeters) February 15, 2014
10:02 a.m. -- That's it for overtime, here comes the shootout. What. A. Game.
10 a.m. -- Kane gets another great chance in tight, tries to go backhand but Bobrovsky with another save. 27 seconds to go, offensive zone draw for USA.
9:58 a.m. -- Patrick Kane breakaway denied! He was all alone but Bobrovsky stops him.
9:55 a.m. -- Pavel Datsyuk gets a scary chance on the kill when an innocent dump-in gives rebounds off Quick and hangs there but he couldn't put it home. 3:49 left in 4-on-4 OT.
9:53 a.m. -- Don't forget, USA will have another 29 seconds on the power play to start overtime here.
9:52 a.m. -- To overtime we go! This game will have a winner whether it happens in overtime or in the shootout. Though this does hurt the winner in the seeding for quarterfinals, the important part is get the win at this point to get in position to win Group A.
9:50 a.m. -- Everybody is watching right now, even Rob Gronkowski.
No goal!! This game is wild!! #USAvsRUS Let's go #USA

— Rob Gronkowski (@RobGronkowski) February 15, 2014
9:48 a.m. -- POWER PLAY, USA. Evgeny Medvedev draws an interference call with 1:32 to play. The USA will have a chance to end this game in regulation, the only two goals thus far on the Power Play. Find a TV NOW.
9:46 a.m. -- We have the answer. The goal was waved off because the net was off it's moorings. Quick had nudged it a few seconds earlier on a sliding save attempt and in the international game, the goal has to be in its position, no question. Again, a MASSIVE break but perhaps not a blown call.
Left post was off. No goal. pic.twitter.com/fIe0BRppxB

— Pete Blackburn (@PeteBlackburn) February 15, 2014
9:44 a.m. -- That goal has been waved off but we're not sure why. That puck was not deflected on the way in so high sticking shouldn't be an issue there. USA just caught a MASSIVE break. Massive.
9:44 a.m. -- NO GOAL!
9:43 a.m. -- They're reviewing this one but it looks to be a good goal from Fedor Tyutin. It might have been touched by a high stick, we'll see.
9:42 a.m. -- GOAL RUSSIA
9:38 a.m. -- The fifth power play of the day is the charm for Russia. Pavel Datsyuk creeks in from the right side and fires, beating Jonathan Quick on the short side. Great screen by Radulov in front of the net to slightly redeem himself. Now Brown is feeling the Goat status.
9:38 a.m. -- GOAL RUSSIA
9:36 a.m. -- POWER PLAY, Russia. Dustin Brown now going back to the back for a kneeing hit in the neutral zone on Vladimir Tarasenko. Yes, this is important, 7:34 to go.
9:34 a.m. -- Sad Rad.
RIP this guy. #YougonnagetPutind pic.twitter.com/7KHe6Qzcqj

— Marc Dumont (@Dr_Habs) February 15, 2014
9:31 a.m. -- The Americans run a play off the faceoff on the power play and Joe Pavelski finds himself all alone on the far side to hammer home a one-timer. Tremendous pass from Patrick Kane across the width of the ice. The Americans are up with 10:28 to go. Alexander Radulov is feeling so much shame right now.
9:31 a.m. -- GOAL USA!
9:29 a.m. -- Remember Ryan Kesler blocking that shot and leaving briefly? His hand is tied up now. He's still playing because America and because Olympics. And of course because HOCKEY.
Kesler with his hand taped up after that shot block earlier in the game pic.twitter.com/z5Pc4TI1qz

— Pete Blackburn (@PeteBlackburn) February 15, 2014
9:28 a.m. -- POWER PLAY, USA. Radulov will go to the box and feel more shame, this time for a trip. The USA's only goal came on the power play. 11:33 to go.
9:27 a.m. -- The Americans are still having a tough time getting any sustained offensive zone pressure, Russia's neutral-zone trap has been gumming the USA up. A lot of dump-and-chase play for the US. 11:45 left.
9:23 a.m. -- PENALTY KILLED. Russia spends almost the whole two minutes in the offensive zone but mostly just cycling. Jonathan Quick did face two shots, though, and made one heck of a save on a short-angle one-timer from Evgeni Malkin.
9:20 a.m. -- POWER PLAY, Russia. Dustin Brown draws an offensive zone penalty while the USA was in possession of the puck. He touches a Russian defender who falls. That's a dubious call but a Russian power play it is with 17 minutes left.
9:19 a.m. -- PENALTY KILLED. USA never lets Russia get set up, the only shot attempt was an Ovechkin shot blocked once again by McDonagh.
9:16 a.m. -- Third period is ON. Russia has 1:59 of power play time to start.
9:10 a.m. -- The US started the period well with a power play, but took a good long while to get things going offensively. A defensive breakdown led to Pavel Datsyuk having a clean lane to the net and Russia deservedly was first on the board. The ice tilted after Alex Radulov's costly penalty and Cam Fowler's goal clearly woke up the Americans offensively. They actually ended up out-shooting Russia 13-8 in the period, but the US needs to do a better job of breaking through Russia's trap and getting to the middle of the ice. Patrick Kane's penalty puts the US in a bad spot to start the third, but if they can weather the storm early, they'll have a good chance to turn things around. -- Chris Peters
9:04 a.m. -- For your intermission pleasure, watch Cam Fowler score for the Americans and don't forget to celebrate JVR's pass. (GIF again via @PeteBlackburn.)
9:01 a.m. -- That's it for the second period, Pavel Datsyuk scores for Russia and Cam Fowler for the US. This is going to be an awesome final 20 minutes, the group win is (likely) on the line. Shots through 40 minutes: 23-21 in favor of USA.
9 a.m. -- POWER PLAY, Russia. Patrick Kane is called for a trip with 0.9 seconds remaining in the period. Not a great way to start the third for the US. It could really swing the game back to Russia because the US finished that period very strong and turned the tide.
8:56 a.m. -- Never forget, he is Cam America.
8:52 a.m. -- The Americans get some excellent chances and convert this one! James van Riemsdyk has a tremendous pass to Cam Fowler crashing the crease, it goes off his skate and in for the goal. JVR just had an amazing power play shift. Amazing.
8:52 a.m. -- GOAL USA!
8:50 a.m. -- POWER PLAY, USA. Alexander Radulov hits Dustin Brown in the neutral zone well away from the puck. Brown helps draw the call but that's what he does. USA with the man advantage here with 4:45 to go in the second.
8:50 a.m. -- The entire Canadian contingent is in Bolshoy, all of the coaches and GMs too.
"Why can't I be as dreamy as Claude?" - Lindy Ruff pic.twitter.com/68dtkqAKDB

— Pete Blackburn (@PeteBlackburn) February 15, 2014
8:48 a.m. -- Russia continues to control this game, playing much of it in the USA's end but the Americans did just get a nice look with the puck going wide. The USA can't get any sustained offensive time.
8:44 a.m. -- Time for some 4-on-4 action. David Backes and Fedor Tyutin get matching minors. Even more ice for a couple of minutes.
8:43 a.m. -- Here's that Datsyuk goal, GIF via @PeteBlackburn.
8:41 a.m. -- The USA desperately needs to tighten up in transition, Russia is excelling in that department so far. Ryan Kesler is back for the US though, 10 minutes left in the period.
8:38 a.m. -- After a defensive zone faceoff win, Pavel Datsyuk is able to find a massive seam in the American defense and he beats Jonathan Quick from the slot. Tremendous pass through the neutral zone to spring Datsyuk but the defense there by Brooks Orpik and John Carlson made that too easy.
8:38 a.m. -- GOAL RUSSIA
8:35 a.m. -- Kesler blocked an Ilya Kovalchuk slapper from point-blank distance and took it right in the hand. He looked to be in a lot of pain on the bench and has now headed to the dressing room.
Ryan Kesler on the bench, in a lot of pain pic.twitter.com/EyltIRmGCp

— Brian Stubits (@StubitsCBS) February 15, 2014
8:33 a.m. -- PENALTY KILLED. Ryan Kesler and Ryan McDonagh both take painful shots to the body on the penalty kill. USA really paid the price for that kill. 12:45 to play in the second.
8:32 a.m. -- Russia learned from the last power play and Ovechkin is in his firing spot in the faceoff circle. The result? Russia hits two posts and looks absolutely terrifying on the power play.
8:31 a.m. -- POWER PLAY, Russia. Max Pacioretty gets whistled for a hold and the Russian power play comes back out with 14:55 to go in the second.
8:29 a.m. -- The Americans get a 3-on-2 rush and Kessel throws it to defenseman Kevin Shattenkirk who joined the rush but Bobrosvky smothers it. The goaltending has been good on both sides so far but not a ton of tremendous chances either with 15 minutes left in the period.
8:24 a.m. -- PENALTY KILLED. The Americans get some looks, mostly right in the crease with Parise sitting just outside the crease but no dice. However Sergei Bobrovsky is leaving some rebounds out there if the USA can find any of them.
8:22 a.m. -- GAME IS BACK. USA opens on the power play for another 1:24
8:21 a.m. -- Jonathan Toews is in the building too. Who knew that Captain Serious becomes Canadian super fan in his off time?
Toews, what are you doing pic.twitter.com/Rz2BfEZlmc

— Threat In The Net (@ThreatInTheNet) February 15, 2014
8:19 a.m. -- NBC credits the scoring chances in the first period at 6-6. It sure didn't feel that way, Russia held play for most of the period.
8:16 a.m. -- Sidney sighting inside Bolshoy!
You wanna piece of me Ovi? How about you, Geno? pic.twitter.com/GeYUCotG8A

— SabresBuzz (@SabresBuzz) February 15, 2014
8:12 a.m. -- Well, looks like this is the game we expected. Russia got some great opportunities in this game, but Jonathan Quick has looked really good so far. The US might be a little too passive currently, but they started to get more aggressive as the period wore on. Team USA is doing a good job of getting sticks on pucks in the defensive zone which helps a lot. Russia definitely has the skill, but it should be also noted that their neutral zone trap is working well in forcing the U.S. to play a dump and chase game and give up possession. The US gets a power play to start the second period and will need to try and put Russia on their heels. It should be an excellent closing 40 minutes of hockey coming up. -- Chris Peters
8:07 a.m. -- The American power play gets a few shots in just 36 seconds to finally really test Sergei Bobrovsky but we hit the intermission with no goals. Shots after one period: 13-10 in favor of Russia.
8:05 a.m. -- POWER PLAY. With 36 seconds left in the period, the Russians get called for holding, Nikulin going to the box for holding. This is a HUGE chance for the USA to turn the tide in this game.
8 a.m. -- First major close call of the game. Alexander Semin throws the puck to the stick of a hard-charging Evgeni Malkin but Quick gets just enough and the puck dribbles wide. Russia has really taken control of this game with 3:39 left in the first period.
7:59 a.m. -- This is the face of a hockey player. Always a good look, right Radulov?
In Mother Russia, dentist does not find you. pic.twitter.com/Xt3kTNomvA

— World of Isaac (@WorldofIsaac) February 15, 2014
7:56 a.m. -- PENALTY KILLED. The Russians get some pretty good looks by so far Quick has been very good and looks settled. The USA needs to find a way to get a little traction back in this game.
7:54 a.m. -- Welp, that couldn't have felt good.
Referee nailed in the, um, well, you know, that family spot consisting of jewels, so play has to stop.

— Dan Rosen (@drosennhl) February 15, 2014
7:53 a.m. -- Alex Ovechkin makes a living in the NHL by sitting in the faceoff circle on the power play. He's playing the point for Russia. This does not compute.
7:50 a.m. -- POWER PLAY. The first penalty of the game goes to Blake Wheeler of the USA with a trip in the neutral zone. This Russian PP unit is kind of talented.
7:50 a.m. -- Further to the atmosphere, Bruce Arthur nails it.
Here's the thing about a hockey World Cup replacing the Olympics: It could never replace the Olympics.

— Bruce Arthur (@bruce_arthur) February 15, 2014
7:47 a.m. -- This game has a tremendous pace so far and the crowd is really into it. Olympic hockey rules!
7:44 a.m. -- With seven minutes gone there's no score, Shots are 5-4 Russia and the action has been equal so far too. The physicality probably playing to USA's preference.
7:41 a.m. -- Ryan Callahan lays a big hit on Alex Ovechkin and then gets a shot from the high slot a few moments later. After the save, the pushing and shoving starts. This game is intense.
7:39 a.m. -- Valeri Nichushkin shows off some of that immense talent by weaving through the USA defense to get a shot off. It looked pretty but no harm.
7:37 a.m. -- Byslma elected to reunite his Penguins defensemen Paul Martin and Brooks Orpik and so far they are indeed matched up against Evgeni Malkin.
7:35 a.m. -- GAME ON!
7:33 a.m. -- In case you needed to be reminded, this game is on NBC Sports Network this morning. Doc, Eddie O and Pierre on the call.
7:28 a.m. -- Are people excited for this game back in the States? How about these pictures answer that for you.
@chrismpeters line at the bar in boston #USA #USAvRUS pic.twitter.com/bYrQLPn9FL

— Eddie B (@ejb68610) February 15, 2014
It's PACKED here at @RBar_AD! pic.twitter.com/HCJkG3g9gP

— NHL Blue Jackets (@BlueJacketsNHL) February 15, 2014
7:24 a.m. -- Bikes have been the mode of transportation of choice in Sochi among hockey players. Playing up to that and the stereotypes of Southern Californians, Jonathan Quick and Dustin Brown biked from the Olympic village to the Ice Dome on Saturday. Proof:
Dustin Brown and Jonathan Quick arrive for the game on their bikes. pic.twitter.com/HA8uoxTnnE

— Rich Hammond (@Rich_Hammond) February 15, 2014
7:23 a.m. -- It won't be ALL Russian fans in Bolshoy Ice Dome on Saturday, even though it will probably sound like it.
7:20 a.m. -- The players have finished warmpus. We'd say the anthems are right around the corner but they don't do them pregame in the Olympics.
7:09 a.m. -- You're obviously going to hear an awful lot about 1980 and the Miracle on Ice today for good reason but remember, that was against the Soviet Union, not Russia. Comparisons are warranted, though, as every member of that Soviet team was from Russia.
7:06 a.m. -- This is the second game of the day in Group A. Earlier, Slovenia beat Slovakia 3-1. Does that make you feel any different about USA's win over the Slovaks on Thursday?
7:02 a.m. -- The teams are on the ice at Bolshoy. Jonathan Quick getting in the right mindset.
6:54 a.m. -- Even though the game is in Russia against Russia, the USA is the home team. That means a couple of things; Dan Bylsma will get to make the last change and the Americans will be wearing their dark uniforms.
A look inside men's team lockerroom prior to player arrivals today. USA-Russia live on@nbcsn at 730 am ET. pic.twitter.com/GoRwC11d1l

— USA Hockey (@usahockey) February 15, 2014
6:51 a.m. -- As for the Russians, here's how the stack up. Most noteable change: Sergei Bobrovsky is starting instead of Semyon Varlamov. The rest:
RUS lines: Ovechkin-Malkin-Semin, Kovalchuk-Datsyuk-Radulov, Kulemin-Anisimov-Tarasenko, Nichushkin-Tereshenko-Popov. 12 forwards dressed.

— Dan Rosen (@drosennhl) February 15, 2014
RUS D pairs: Markov-Voynov, Medvedev-Emelin, Tyutin-Nikulin, Nikitin-Belov.

— Dan Rosen (@drosennhl) February 15, 2014
6:47 a.m. -- Despite all of the success the Americans had against Slovakia, the USA projects with slightly different combinations. The scratches, however, remain the same; Jimmy Howard, Justin Faulk and Derek Stepan.
Likely lines for USA-Russia game today: Parise-Backes-Callahan; Brown-Kesler-Kane; JVR-Pavelski-Kessel; Pacioretty-Stastny-Oshie; Wheeler

— USA Hockey (@usahockey) February 15, 2014
Likely D pairs for USA-Russia game today: Fowler-Shattenkirk; Orpik-Martin; Suter-McDonagh; Carlson. Quick starts in goal. #teamusa #usah

— USA Hockey (@usahockey) February 15, 2014
_______
Preview
By Chris Peters
The Facts
Who: Russia (1-0-0-0) vs. United States (1-0-0-0)
What: Second game of the Olympics for both teams in Group A
When: 7:30 a.m. eastern Saturday on NBC Sports Network
Where: Bolshoy Ice Dome, Sochi, Russia
Eye on the United States
Three Key Players: Jonathan Quick, Patrick Kane, Ryan Suter

Quick Preview: Coming off the big 7-1 win over Slovakia, Team USA has
proven they can score as well as any team, but they will face a much
more difficult task defensively against Russia. The American defense
wasn't challenged as much as they will be against Russia which also
puts a lot of pressure on starting goalie Jonathan Quick to play a key
role. The U.S. may jumble some of their forward lines and defensive
pairings coming into this game which could slightly alter the way Team
USA plays. If they're able to keep Russia on their heels despite home
ice advantage and a load of offensive weapons, the U.S. should be able
to make it tough on their hosts. This game is going to be played at a
very, very fast pace.


Eye on Russia

Three Key Players: Alexander Ovechkin, Andrei Markov, Pavel Datsyuk

Quick Preview: Russia took a while to put away Slovenia in a somewhat
surprising opener, but there's no denying their offensive prowess.
With a top six that includes some of the very best players in the
world, they have to make sure they are the ones pushing the pace and
not the Americans. All four lines can score, but the defense looked a
little shaky, even against Slovenia, which can't be the case against
Team USA. They'll have the home crowd behind them and expect this team
to be very motivated. The U.S. is likely going to take a physical game
to Russia, but they can't let that get them frustrated. If Russia can
make the most of the chances they get, it's going to be tough for the
U.S.
The IOC reiterated its commitment to political neutrality Thursday

Organizers say the cardboard beds can hold around 440 pounds

The posters offer a creative look into interpretations of the games
The Ugandan teenager raised his arms a moment too early

Russia was the ban following manipulation of doping data

At just 22 years old, Biles has won 25 world championship medals