U.S. 3, Colombia 0: Rapinoe makes her mark
Our postmatch analysis of the U.S. women's soccer team's 3-0 defeat of hapless Colombia.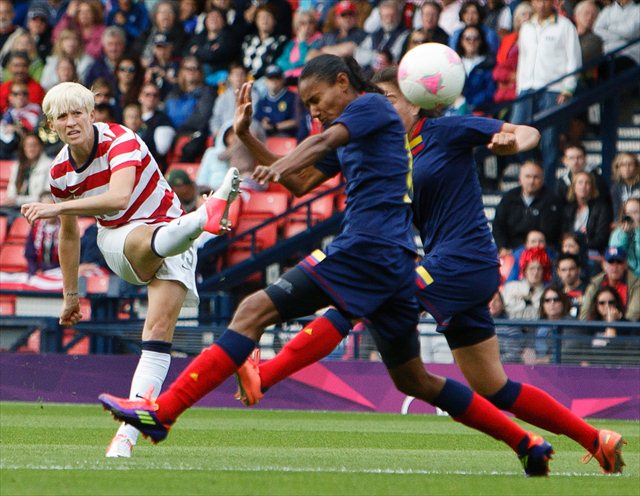 Megan Rapinoe scores the first goal of the U.S.'s 3-0 win over Colombia. (AP)
If we carved out a Mount Rushmore of stars from the current U.S. women's soccer team, Abby Wambach and Hope Solo would no doubt be the first two faces on the cliffside, and by this point Alex Morgan would be the clear choice as the third. But after her performance in the U.S.'s 3-0 victory over Colombia Saturday, now we know who ought the be the fourth face: wide midfielder Megan Rapinoe.
Rapinoe's hardly an unknown, having delivered the cross for Wambach's goal-seen-round-the-world against Brazil in last year's World Cup, and she has one of the most rabidly devoted followings on the team among committed U.S. Women's National Team fans. But she also isn't yet in Wambach's or Solo's stratosphere among the general American viewing public. On the basis of her showings thus far in London, it's time for that to change, as Rapinoe has arguably been the best player on the field for both U.S. matches.
In the Americans' comeback vs. France, Rapinoe provided the corner kick for Wambach's opening goal, then made the critical pass in the build-up to both Carli Lloyd's goal for a 3-2 lead and Morgan's clincher. She was even more involved against the Colombians, scoring the opening goal with a fabulous 20-yard chip into the corner and picking up assists on both Wambach's and Lloyd's second-half goals to ice all three points.Though Rapinoe traditionally plays wide, she drifted inside as a prototypical central playmaker for stretches against both France and Colombia, and has done so to great effect: her ball to Lloyd Saturday was a picture-perfect throughball cutting right through the center of the Colombian defense.
She even got to flash some of her trademark quirky charisma after her goal, pulling a "Happy Birthday" message -- one apparently scrawled on gauze with a Sharpie -- for injured U.S. teammate  Aly Krieger. 
The match as a whole wasn't exactly must-see viewing--while not bad in defense, the Colombians still haven't scored a goal through five World Cup and Olympic outings, and never really looked like ending that drought Saturday. The only real question after Rapinoe's goal was how wide the margin-of-victory would be.
That it eventually wound up being three goals was due in tremendous part to Rapinoe's continued ascension as the team's most creative, most incisive midfielder and arguably even its best player, period. The way she's playing, any match she takes part in is must-see viewing, and it's time for the U.S. to take notice.
A few more thoughts from the U.S. victory:
Do not mess with Abby Wambach. If you're going to come at the champ, Colombia, you'd better knock her out. But Colombian defender Lady Andrade's off-the-ball first-half sucker punch to Wambach's right cheek didn't do more than keep her on the turf for a few minutes ... and make her visibly infuriated with both the defender and an officiating crew that missed the incident entirely. (as an aside: if there's any area where the women's game truly needs to catch up with the men's, it's the quality of the officiating.) We conservatively put the chances of her scoring the next U.S. goal at 1,367 percent. And she did, of course.
So far, so good. We said after the France game that the U.S. defense is what it is: good enough to win gold, appropriately physical and committed, and maddeningly prone to lapses that undo all their other good work. We wonder if coach Pia Sundhage was even less thrilled with the performance vs. France than we were, though; she benched starting left back Amy LePeilbet for Heather Mitts. Though Colombia obviously didn't offer the stiffest resistance, the move seemed to pay dividends. Another steady-as-she-goes performance vs. the vastly improved North Koreans would be a big step forward for the U.S. D.
The bottom line. The U.S. got the six points they needed from their first two matches and are through to the quarterfinals. They'll probably want a result in their final group game to clinch top spot and avoid Japan until the gold medal final (depending on the France-North Korea result, they may clinch beforehand), but regardless, the hard work is done and the starters may get some rest vs. the Koreans. Meaning that aside from that opening 20 minutes vs. France, Sundhage and the U.S. can't have any complaints.
Rippon says 'Mike Pence doesn't stand for anything that I really believe in'

Couric will be joining Mike Tirico at Pyeongchang Olympic Stadium for the Feb. 9 Opening C...

White expects to win in South Korea and for the president to tweet about it
After long-anticipated talks, the two states have planned for a united Winter Games

Amid criticism from Aly Raisman and others, the organization says it won't fine Maroney for...

Kenworthy, who came out as gay in 2016, says the country has taken steps backward under Tr...