U.S. 4, Canada 3: A match great beyond great
How you do describe a match like U.S. 4, Canada 3? We don't know, but here's what we saw--the definitive moment of the Olympics and one of the greatest sporting events of the year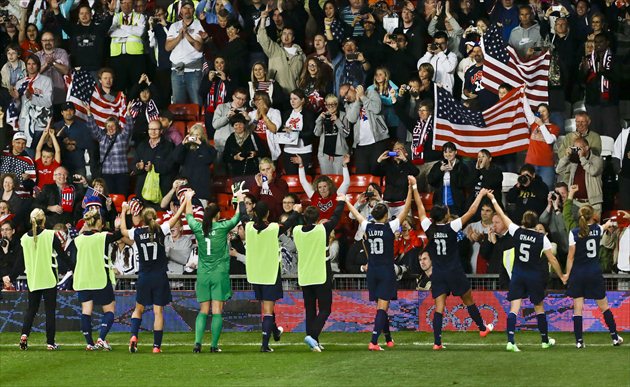 The U.S. celebrates their most dramatic win ... ever? (AP)
Maybe we should talk about the players who took part in the U.S.'s heart-stopping ...
No. Who took part in the U.S.'s unbelievably epic ...
No. Instant-classic? No. Beyond thrilling? No. Unthinkably, ridiculously mind-blowing? Closer, maybe? But no. No, no. no. "Indescribable" is as close as we're going to come.
Because there's no sufficient way to explain how transcendent, how triumphant a sporting event the U.S.'s 4-3 win over Canada in Thursday's Olympic women's soccer semifinal truly was. The race for the definitive moment of Team USA's Olympics -- with all due respect to Gabby, Michael, Missy, and all the rest -- is over. We're calling it. If there's a contest or moment in American sports this year that comes close, we'll frankly be surprised.
That sounds like the rabid hyperbole of a U.S. soccer fan and U.S. Olympic writer, we know. But did you watch it? 
Related links
Did you watch the outrageous Christine Sinclair, the Canadian forward who scored three razor-sharp goals in the greatest performance of her career? Did you see Megan Rapinoe's laser-guided rocket shot bounce in off the post to even the game at 2? Did you watch the Canadians -- fueled by what we have no problem calling their hatred of the U.S.A -- play the greatest game in their program's history, in turn pushing the U.S. and the match as a whole to a level maybe never seen before in the women's game?
Did you watch both teams throw themselves forward in search of goals and eventually score 7 of them, mocking the notion from men's soccer that high-level elimination matches are by necessity cautious, take-no-chances affairs?
Did you feel the weight of the game, the crushing pressure of potential failure fall on the U.S. three separate times as three times Sinclair knocked them back by a goal? Did you see them dig their heels in, go to work, and three times find a way to peg the Canadians back? Did you see them play with -- and did you see them need -- every ounce of that determination, 123 minutes' worth, until the job was done? Did you see them play like American soccer players?
Did you feel the white-hot anger of the Canadians rising out of your television screen as the referee first whistled goalkeeper Erin McLeod for not releasing the ball within six seconds, a call that's essentially never seen at this level? Or when the Americans were awarded a penalty kick on the ensuing free kick, when the ball struck a Canadian arm--a call that's 50/50 at best and is usually let go without a whistle?
Did you watch Alex Morgan rise up in the 123rd minute -- do you know how few matches even have 123rd minutes? -- and float the header over McLeod that would, somehow, make everything that had come before secondary? That would cement those 123 minutes as the most thrilling 123 minutes of sport it seems possible to watch?
Did you feel your American heart soar even as it broke for the U.S.'s devastated opponents?
We should really talk about the players. We should do more than hand out token nods to the irrepressible Rapinoe, to unshakable Canadian defender Desiree Scott, to Canadian bulldozer of a forward Melissa Tancredi, to Wambach's cool in taking the penalty, to Sinclair and above all the amazing Morgan. Morgan hadn't scored since the France match and has never been known for her aerial ability, but there she was, attacking Heather O'Reilly's cross to produce her own head-first moment to rival -- maybe even trump -- nothing less than Wambach's against Brazil in 2011.
The problem is that we watched the match. We watched all of those things listed above. And so even though the players were the ones involved, the ones who made the match what it was, the match proved bigger than them all. We suppose the danger for the U.S. is that this semifinal proves so big that it swallows the final, too--that after the all-encompassing emotion and 30 extra minutes of this win, a cool, calm team like Japan will be one too many.
But those worries are for Wednesday. For Monday, we watched U.S. 4, Canada 3--and we know there's no hyperbole in calling this one of the greatest sporting events we've ever witnessed. 
Nassar continues to have to listen to victim impact statements as he awaits sentencing

The former USA Gymnastics doctor issued a six-page complaint during his sentencing hearing

Mancuso went out in style on her final run, rocking a Wonder Woman outfit and cape
Unsurprisingly, an investigation has been launched into why so many Russian athletes got s...

Rippon says 'Mike Pence doesn't stand for anything that I really believe in'

Couric will be joining Mike Tirico at Pyeongchang Olympic Stadium for the Feb. 9 Opening C...