U.S. 4, France 2: the U.S. women are who we thought they were
Analysis from the U.S. women's 4-2 defeat of medal contender France in their Olympic opener.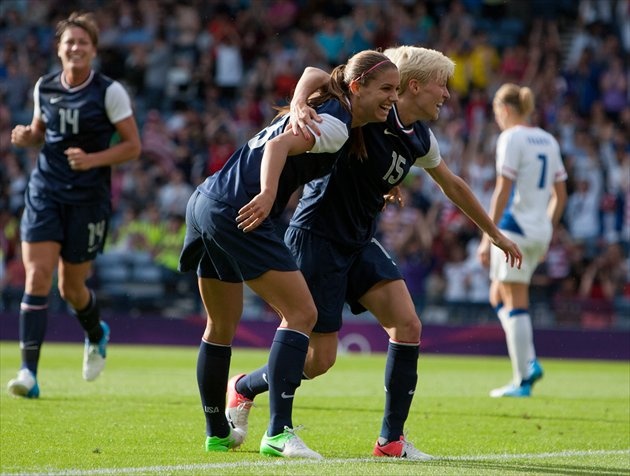 Megan Rapinoe and Alex Morgan celebrate Morgan's goal to put the U.S. up 4-2. (Getty Images)
After an exciting 4-2 win over France in their opening match of the London Games, the U.S. women's Olympic soccer team appear to be exactly who we thought they were. Let us count the ways:
Yes, their strikers are the most lethal in the game. Between the likes of Marie-Laure Delie, Gaetane Thiane, and Sonia Bompastor, France has as much attacking talent as any team save one in the world, as Thiane and Delie proved with their clinical first-half strikes to give the French a shock 2-0 lead. Unfortunately for France, they happened to be playing the one team that can trump them, as Abby Wambach and Alex Morgan proved once again.
There are giant clams at the bottom of sea trenches that could tell you the U.S. wasn't going to target anyone but Wambach on a first-half corner kick; she worked herself free to head in at the far post and cut the lead to 2-1 anyway. Morgan did her strike partner one better on the score sheet, poking home to tie the game at 2 and then sealing the victory with a 66th-minute tap-in, but even more impressive than her "brace" was her aggressive dribbling and lightning-quick runs, for which France had no answer. Her late-first-half skinning of Ophelie Meileroux should have resulted in a penalty kick when Meileroux clumsily brought her down inside the box, and did get Meileroux subbed off at the half.
Support strikers of Morgan's and Wambach's caliber with another stellar performance from wing midfielder Megan Rapinoe -- easily the U.S.'s most creative player, provider of Wambach's corner and passes that led to both second-half goals -- and an individual play like Carli Lloyd's thunderbolt for the third goal, and you have an attack that ... well, you have an attack that scores four goals in 50 minutes against one of the world's best teams.
Yes, they're going to go 100 miles-per-hour regardless of situation. One of the U.S.'s greatest strengths is its superior athleticism and stamina, which is why -- particularly under current coach Pia Sundhage -- the U.S. has dialed up the full-field pressure to smothering levels. And for much of the start of each half, it worked exactly as designed, disrupting France's preferred slow passing build-up and making the French look visibly slowed during the second half stretch that decided the game. It's also worth noting that such an approach is a great help in mounting a comeback from a 2-0 down--when you're energy level is already cranked to 11, you don't have to waste time giving it a boost once you're behind. Result: 2-2 (and a deserved penalty) even before the half.
The downside, though, was on display late in the match, as the U.S continued to press, push bodies forward, and generally do their thing up 4-2 ... which left enough space at the back for France to carve out multiple chances at getting back in the game. You can't tell the U.S. to change their approach when it's been a successful as it's been, when it's the reason they had the 4-2 lead in the first place. But it's not going to make for easy breathing down the stretch.
Yes, the U.S. defense is the U.S. defense. Give the U.S. backline of Amy LePeilbet, Christie Rampone, Rachel Buehler, and Kelley O'Hara credit: after the sloppy second French goal, the marking on the French strikers got substantially tighter and substantially more physical. (O'Hara's shoulder-barge on Delie to force her away from a dangerous throughball was a highlight.) But the veteran Rampone was a hair slow to close Thiane down on the first goal, and the second was the result of the U.S.'s old bugaboo of being unable to clear a loose ball in the box. The same issue reared its head on one scramble in the second half, though this time France failed to take advantage.
At this point, the U.S. defense is what it is: capable, smart, and just prone enough to breakdowns that the gold medal won't be a foregone conclusion no matter how well Wambach and Morgan play.
Yes, they're the gold-medal favorite. The bottom line: the U.S. fell behind 2-0 -- the first of that 2 on a truly fantastic strike by Thiane that won't happen every day -- and still won by two clear goals against the top (or more accurately, only) challenger in their group, a team some feel could be the second-best in the tournament. 
Japan did nothing to dispel their status as the co-favorites in a gritty 2-1 win over a solid Canadian side (the same score, incidentally, by which the U.S. defeated Canada in their final Olympic tune-up), but until we see Wambach, Morgan, and Rapinoe cool off from their current white-hot form, the U.S. deserves to wear the favorite's bullseye on its back.
Biles joins other USA Gymnastics stars such as McKayla Maroney, Aly Raisman and Gabby Doug...

White's 100-point run at the Snowmass Grand Prix lands him a spot on his fourth Olympic te...

Although the nations are still at war, South Korea is looking to join forces with its neighbor...
In the wake of 'I, Tonya,' Harding gave the admission during an ABC special

Team Canada will feature a number of former NHL players on its Olympic roster

The selection of Pence to lead the American contingent is meant to be a statement toward North...