US bobsled pairs announced, Lauryn Williams going for rare double
The bobsled teams were announced for the two-man competitions on Saturday and Lauryn Williams will be with 2010 bronze winner Elana Meyers in her rare double attempt.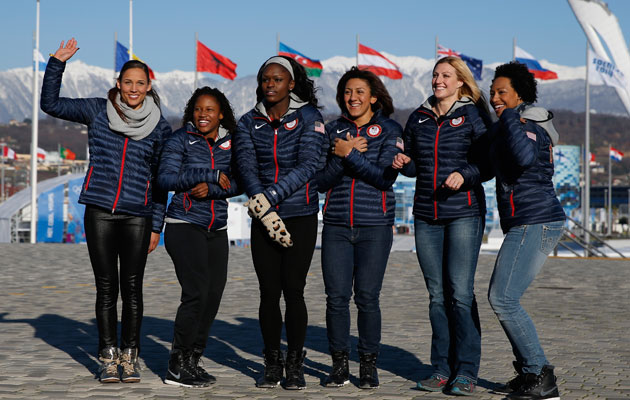 More NHL: Scores | Standings | League Leaders | Odds | Injuries | Power Rankings
The pairings for the American bobsled teams were announced on Saturday with gold medal-winning sprinter Lauryn Williams in the top duo.
After earning a gold medal in 2012 in the 4x100 relay, Williams followed in the footsteps of fellow American track start Lolo Jones and took a shot at the ice and bobsledding. She took to it almost like a fish to water and earned a spot on the Olympic team for Sochi. Not only that, she's on the top American pair. Not bad for a relative newbie from Florida.
US bobsled coach Todd Hays to AP on Lauryn Williams selection to USA-1: "It's incredible. ... It tells you what type of athlete she is."

— Tim Reynolds (@ByTimReynolds) February 8, 2014
Williams will be the brakeman/pusher for Elana Meyers, who won a bronze medal in Vancouver and has won gold at the last two World Championship events. If Williams and Meyers were to win gold -- and they will have an excellent shot to do so -- Williams would become just the second American to win gold in a Summer and Winter Olympic event.
Jamie Greubel will pilot the second sleigh with Aja Evans and then Jones will partner with driver Jazmine Fenlator to complete the women's teams.
The men's pairs were also announced on Saturday. Steven Holcomb, pilot for the four-man bobsled team that won gold in Vancouver, will team with Steve Langton. Nick Cunningham will race with Dallas Robinson and Chris Fogt is paired with Cory Butner.
The men's two-man race will take place on Feb. 16-17 and the women's events will be held Feb. 18-19.
The Olympic champion is one of many women speaking up with the #metoo movement

The famous Braves groundsman goes fast, and Team USA took notice

The Games are to be hosted in South Korea, and France has already expressed concern over s...
If the South Korean standoff with Pyongyang continues, France has said they will stay home...

The news comes shortly after a deal was struck by Los Angeles and the IOC

Jamaican legend goes down on the 4x100 relay final with an apparent leg injury