U.S. Olympic Track and Field Trials: A Team USA wishlist
The U.S. Olympic Track and Field Trials are underway, with a week's worth of action to come. We preview the event with what results would be best for Team USA's London chances--and for viewers.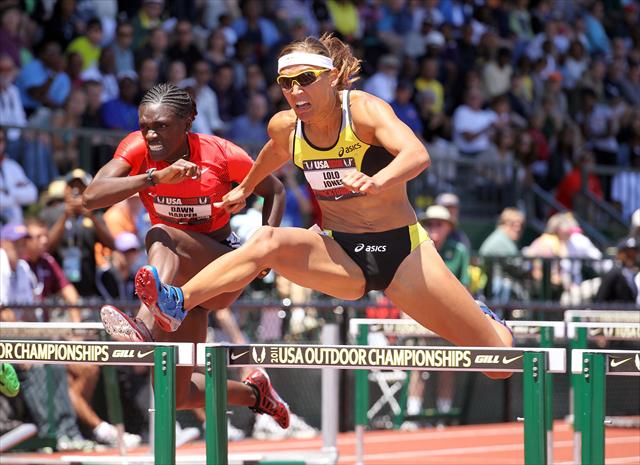 So far in 2012, Lolo Jones' personal life has outshone her hurdling. Will that change Saturday? (Getty Images)
The starter's pistol has fired on the final countdown to the London Games, at least from the American point-of-view: the U.S. Olympic Track and Field Trials have officially begun, with the hammer throw taking place Thursday and high-profile events like the decathlon, women's 100-meter hurdles, and both men's and women's 400-meter dashes getting underway Friday. With the possible exception of the U.S. swim trials -- which themselves start Monday -- there's no larger, more thrilling event for American Olympic fans between now and the start of the Games. (Your schedule of events is here, television schedule here).
Once those Games start, of course, it's easy for Team USA fans to know who to root for: the athletes with the stars-and-stripes on their uniforms. (In track's case, their very, very red uniforms.) But at the Trials, it's tougher. When everyone competing is an American, who should we want to win? Here's one writer's -- and fan's -- wishlist for the Trials, one that would give Team USA both its optimal shot at a medal haul and plenty of reason for casual viewers to tune in:
Lolo Jones qualifies in the women's 100-meter hurdles. Make no mistake: as things stands headed into Trials, Jones is far more pretty face than medal threat. Eight other Americans have run better times this year. Jones' best time, run June 7 in Oslo, was only good for fifth in a field much less competitive than what she'll see this weekend. She's less than a month removed from stumbling at the first hurdle -- literally -- in a race in Rome. You get the picture: if she wasn't Lolo Jones, no one outside the world of track would be paying her the slightest bit of attention. No wonder the current all-encompassing aura of hype surrounding her isn't rubbing everyone the right way.
But it's worth remembering that she didn't become Lolo Jones by accident. It was just four years ago she was the best hurdler in the world and seconds away from Olympic gold. Whether on Twitter or in interviews, she's funny and engaging to a degree most athletes can only dream of. And whatever your reaction to Jones's openness regarding her faith and virginity, it must be acknowledged that the willingness to live with that particular brand of personal-life scrutiny is an uncommon thing. The U.S. needs its top athletes in London, but it also needs the outsized personalities and riveting stories that can turn Team USA from sports story to something larger. Jones can provide those, and if she finishes in the top three Saturday in a field this deep -- one headed by gold-medal contender Kellie Wells -- she'll have earned her ticket anyway.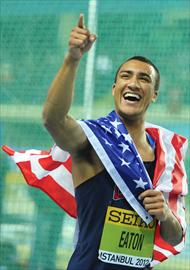 Ashton Eaton could be the gold-medal favorite with a strong performance in the Trials decathlon. (Getty Images)
Ashton Eaton, Bryan Clay, and Trey Hardee look the podium-sweeping part. It's something of a longshot, but as Sports Illustrated's Tim Layden recently made clear in a must-read feature, it's well within the realm of possibility for the U.S. to sweep the decathlon medals. Or at least it is entering Trials--the next 48 hours will go a long way towards telling us if the gifted Eaton (pictured) is mentally ready, if Hardee is healthy, and if the 32-year-old (and defending Olympic champion) Clay is spry enough to make it a reality.
The women's sprinters aren't letting their preparation for their second event affect their first. Carmelita Jeter, Allyson Felix, and Sanya Richards-Ross are the Trials favorites in the 100-, 200-, and 400-meter dashes, respectively, and all three would be considered serious threats (and possibly favorites) for gold in London should they qualify. But all three have elected to take the additional burden of running a second event both in Eugene and, theoretically, London--Jeter the 200, Felix the 100, and Richards-Ross the 200. No one can blame them for attempting to make the most of an opportunity like the Olympics, but it would be a positive sign for Team USA if the additional race didn't seem a drag on their results in the events where gold is most likely.
The U.S. jumps for joy. As mentioned previously in this space, Team USA's prospects might be brighter in the field than on the track, even after the unfortunate Achilles tendon surgery that will rob the team of world champion long jumper Dwight Phillips. That's particularly true in the jumping disciplines, where Brittney Reese is ranked No. 1 in the women's long jump; Jesse Williams is No. 2 in the men's high jump; Christian Taylor is No. 1 in the men's triple jump; and Chaunte Lowe is No. 2 in the women's high jump. Getting all four of these athletes through Trials (not to mention Will Claye, a contender in the triple jump and candidate to fill Phillips' vacuum in the long jump) with high marks would be a major boost to the potential London medal tally.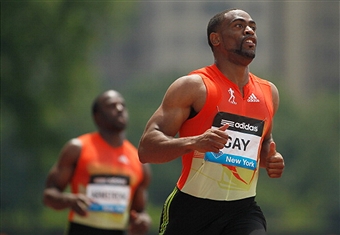 Tyson Gay could threaten the Jamaican favorites--if he's fully recovered from hip surgery. (Getty Images)
Tyson Gay's run in New York wasn't a fluke. The American who should have posed the greatest threat to the Jamaican dominance of the men's 100-meter dash was (and may yet be) Walter Dix, but he's been nursing a hamstring injury. The American who likely will pose the greatest threat is Justin Gatlin, the former Olympic gold medalist who ran a 9.87 to beat out Asafa Powell in May. But given Gatlin's highly controversial history -- these Olympics would be his first since serving a four-year ban for a positive steroid test -- the American we want to pose that threat is Gay, holder of the world's second-fastest time (a 9.69 in September 2009) who missed a year of action following his 2010 hip surgery. 
In his first race back, in New York June 9, Gay ran an eyebrow-raising 10.0 into a strong headwind. If Gay can reproduce that kind of result in Eugene, and give himself another few weeks of preparation to knock off the rust, who knows what might happen in London?
Bernard Lagat looks ready for his U.S. breakthrough. The 1,500-meter specialist collected a pair of Olympic medals for his native Kenya in 2000 and 2004, but surprisingly failed to even qualify for the finals in his first attempt for his adopted U.S. in 2008. Though Lagat has yet to post a top time this year and is now 37 years old, he won an Adidas Grand Prix event just days ago and few doubt he still has the potential to snap a U.S. Olympic medal drought in the event dating back to 1968. His performance at Trials will be a strong indication of whether that potential might be fulfilled in London or not. (Distance running fans will also have their eyes firmly trained on Galen Rupp, the Oregon native who could snap a similar drought in the 5,000.)
Nassar continues to have to listen to victim impact statements as he awaits sentencing

The former USA Gymnastics doctor issued a six-page complaint during his sentencing hearing

Mancuso went out in style on her final run, rocking a Wonder Woman outfit and cape
Unsurprisingly, an investigation has been launched into why so many Russian athletes got s...

Rippon says 'Mike Pence doesn't stand for anything that I really believe in'

Couric will be joining Mike Tirico at Pyeongchang Olympic Stadium for the Feb. 9 Opening C...