U.S. Olympic Trials: A Weekend Viewing Guide
It's the busiest weekend for U.S. Olympic fans until the Games get underway. Here's what to watch and when.
This is it, folks: with the U.S. Olympic Trials concluding in swimming, track and field, and gymnastics, there won't be a busier weekend for Olympic fans between now and the start of the London Games. Here's what to watch and when, in chronological order, all times Eastern: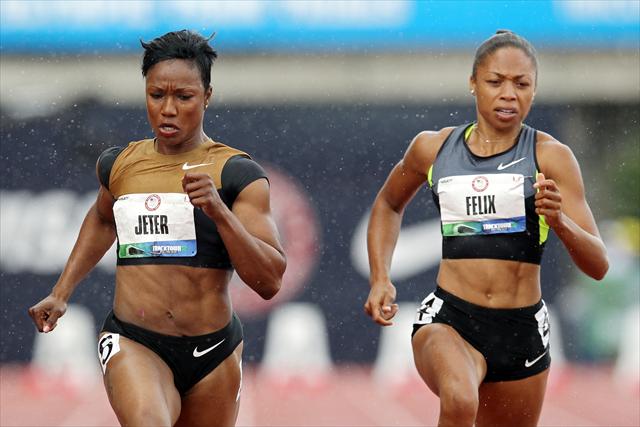 Carmelita Jeter (left) won the 100-meter dash, but Allyson Felix is the favorite in Saturday's loaded 200. 
(Getty Images)
SATURDAY
Men's Gymnastics: 4 p.m.-6 p.m., NBC
The storyline: With three of the five spots for London almost certainly spoken for by national champion John Orozco, Danell Leyva, and surprising Day 1 Trials leader Sam Mikulak, the rest of the field will scramble for the final two berths. Among those battling to be on the plane is 2008 Olympic star Jonathan Horton, who suffered an uncharacteristic fall on the high bar (the apparatus on which he won a silver medal in Beijing) on Day 1. If Horton can recover and the top three can continue their solid performances from Thursday, a deep U.S. squad will go to London with higher hopes than ever of bringing back a team medal.
Athlete to watch: Sam Mikulak. Mikulak is only just now returning to full fitness after breaking both his ankles in a 2011 meet in Puerto Rico--a meet in which, believing his ankles to only be sprained, he finished his rotations all the same. That level of grit speaks well of his chances of performing in London, but first he'll have to overcome an injury setback from his final vault on Day 1. At this point, staying healthy may be more important than impressing the judges, but expect Mikulak to go all out Saturday anyway.
Swimming Trials: 6:30 p.m.-8 p.m., NBC Sports (preliminaries); 8 p.m.-9 p.m., NBC (finals)
The storyline: What else could it be than the rubber match between Michael Phelps and Ryan Lochte, who showed in their epic battle in the 200-meter freestyle that any time they go head-to-head in the pool, it's appointment viewing. Lochte won the 400 individual medley, Phelps the 200 freestyle, and now the 200 individual medley will determine which of the two rivals will go to London with a slight edge over the other. After edging Phelps in the 200 IM semifinal, Lochte is the favorite, but no one's counting Phelps out--Lochte least of all, since he'll swim the 200 backstroke final only minutes before the IM.
Athlete to watch: Allison Schmitt. If there's a women's answer to Lochte/Phelps, it might be the budding competition between the Michigan-born Schmitt and new American swimming darling Missy Franklin. While no one would call Franklin's second-place finish in the 200 freestyle a disappointment, it was hard to take one's eyes off of Schmitt, who smashed her own American record by more than half a second and beat out Franklin by a full 2.39 seconds. They go head-to-head again Saturday in the 100 freestyle final, though a loaded field -- including Natalie Coughlin, in her last chance at qualifying for London in an individual event -- means they'll have plenty of competition other than each other.
Track and Field Trials: 9 p.m.- 10 p.m., NBC.
The storyline: Outside of the Olympics, there won't be a bigger display of sprinting talent in a single race than what you'll see in the women's 200-meter dash finals. Though Allyson Felix is the deserved favorite, no one would be surprised to see any of Sanya Richards-Ross, Carmelita Jeter, Tianna Madison, Jeneba Tarmoh, or even NCAA champion Kimberlyn Duncan grab one of the three Olympic slots ... or win the race outright. That Felix's and Tarmoh's 100-meter dead heat is still to be decided -- and that a Felix qualification in this event might mean her withdrawing from the 100 -- lends even more intrigue to what's already the track highlight of the weekend.
Athlete to watch: Aries Merritt. David Oliver has the 110-meter hurdles medal from Beijing, but it's Merritt who has the second-fastest time in the world this year in the event and is the reigning indoor world champion in the 60-meter hurdles. The 26-year-old Georgia native beat out 2004 Olympic gold medalist Liu Xiang in that particular race, and a first-place finish in Saturday's 110-meter final (combined with a nice time, certainly) would be another shot across the Chinese favorite's bow.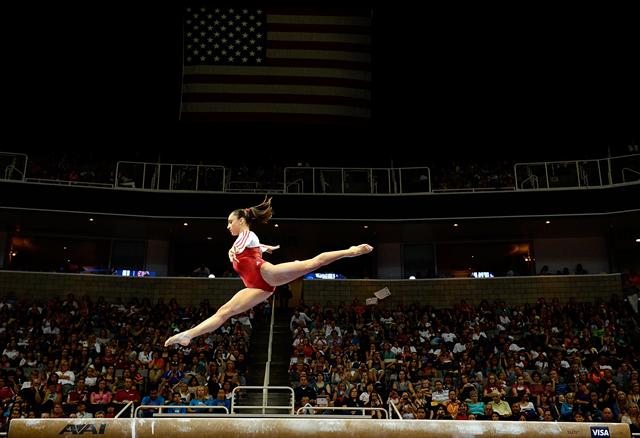 Jordyn Wieber is well on her way to yet another all-around championship ... and maybe another in London. 
(Getty Images)
SUNDAY
Track and Field Trials: 7 p.m.- 8 p.m., NBC.
The storyline: The good folks at NBC are no doubt hoping that Felix and Tarmoh go through with their proposed run-off to liven up an evening light on star power. With Justin Gatlin and Walter Dix scratching out of the 200-meter dash, Wallace Spearmon becomes the heavy favorite to claim the top spot; he'll be looking for redemption after losing his 2008 Olympic bronze on a disqualification. The best head-to-head matchup of the night should be London medal contenders Bershawn Jackson and Angelo Taylor in the men's 400 hurdles ... unless, of course, Felix and Tarmoh elect to race for the final 100 meter spot, which would instantly become the very definition of must-see television.
Athlete to watch: Brittney Reese. You won't actually be able to watch much of her thanks to the television-unfriendly nature of the long jump, but no American in action Sunday will go to London with a better shot at gold than Brittney Reese, the two-time defending world champion and owner of the best jump in the world this year. Assuming there's no catastrophes in Sunday's qualifying, Reese will enter the Olympics favored to win the U.S.'s first gold in the event since Jackie Joyner-Kersee in 1988.
Swimming Trials: 6 p.m.-7 p.m., NBC Sports (preliminaries); 8 p.m.-9 p.m., NBC (finals)
The storyline: The stars come out one final time in Omaha as Phelps presumably locks up his spot in the 100 butterfly and Franklin struts her stuff in the 200 backstroke, the event in which she claimed individual gold at last year's world championships. The finals of the men's 50 freestyle -- the 100-meter dash of the swimming world -- should make for exciting viewing, too. 
Athlete to watch: Missy Franklin.  "Missy the Missile" has not disappointed in her first Olympic Trials, setting a new American record in the 100 backstroke, locking up places both in the 200 freestyle and on the 4x200 freestyle relay team, and generally being the effervescent 17-year-old star-in-the-making she was billed to be. Dominating the 200 backstroke the way she's capable of dominating it would be the clearest sign yet that U.S. swimming might have a second Phelps-grade crossover star on its hands.
Women's Gymnastics: 9 p.m.-11 p.m., NBC
The storyline: With only the very top spot in Trials guaranteeing a trip to London -- and Jordyn Wieber all but a lock to claim that spot --  every routine by every gymnast could prove crucial as coach Martha Karolyi and the USA Gymnastics selection committee puts together their team of five. Aside from the rock-steady Wieber, the U.S. gymnasts weren't collectively at their best on Friday's first day of competition, so expect the likes of Aly Raisman and Gabby Douglas to bounce back. The Trials currently appear to be a bridge too far, however, for reigning Olympic all-around Nastia Liukin, who could see Sunday's rotations be her competitive swansong.
Athlete to watch: Jordyn Wieber. Ask us to pick one American Olympian who'll go absolutely supernova this summer, and we'd go with Wieber, the obvious candidate to follow in Mary Lou Retton's or Shannon Miller's or Shawn Johnson's magazine cover/late-night talk show/national celebrity footsteps. Some of that is the U.S.'s usual quadrennial love for its top-flight gymnasts, but most of it is that Wieber is that good. She's won every all-around competition she's won since 2008 save one, and her spotless performance Friday did nothing to suggest that's going to change in London. Don't be surprised if by the end of August, you're seeing more of Wieber than Bieber.
Johannson, 53, had been tasked with assembling the United States' men's ice hockey team

Nassar continues to have to listen to victim impact statements as he awaits sentencing

The former USA Gymnastics doctor issued a six-page complaint during his sentencing hearing
Mancuso went out in style on her final run, rocking a Wonder Woman outfit and cape

Unsurprisingly, an investigation has been launched into why so many Russian athletes got s...

Rippon says 'Mike Pence doesn't stand for anything that I really believe in'