U.S. prepares to flex its medal count muscle in less glamorous sports
Not many viewers will tune in to watch archery, shooting, fencing, or equestrian. But with strong U.S. medal contenders in all four disciplines, sports like these could hold the key to winning the overall medal count.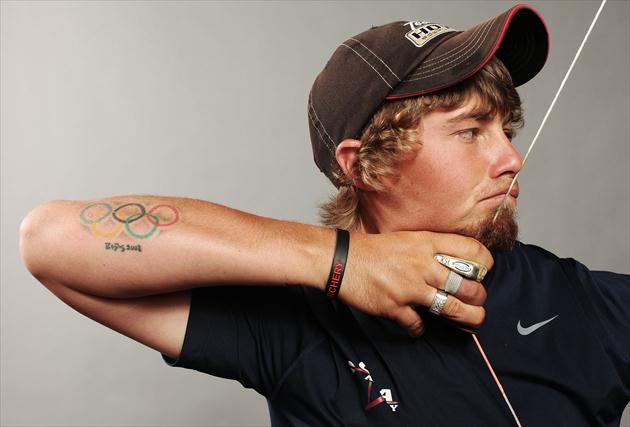 Brady Ellison is favored to win the U.S.'s first gold medal in archery since 1996. (Getty Images)
We know Team USA is going to spark a gold rush in the swimming pool. We know they're going to hold their own and then some in track and field. We know the team sports -- especially on the women's side -- are there for the Americans' taking. But to triumph over China in the overall medal count, and maybe even reclaim the honor of most gold medals the Chinese snatched away in Beijing, it's going to take a lot of U.S. success in a lot of sports that usually won't draw a lot of televised attention.
Here's a breakdown of those sports where the U.S. is strongest, and which athletes could be set for their 15 minutes of golden fame:
ARCHERY
The last time Olympic archery entered the U.S. sporting consciousness, Geena Davis was trying (and failing) to shoot her way into the Sydney Games 12 years ago. But Brady Ellison is poised to change that, and how: the charismatic, self-described "country boy" from an Arizona cattle ranch stormed his way through the June Olympic Trials and cemented himself as the world's No. 1-ranked male archer heading to London. Ellison has now won 35 of his past 37 international matches, making him a clear gold-medal favorite ahead of a clutch of South Korean archers.
That greater team depth makes the Koreans the favorite in the team competition, but Ellison and teammates Jake Kaminski and Jacob Wukie shouldn't be counted out. The trio has put an unusual emphasis on team training and team bonding during the run-up to the Games that Ellison says should pay big dividends. It will have to to catch the Koreans, but as long as Ellison is on his game (and he's almost never off) the Americans should win a medal of some color, giving them their best archery showing since a pair of golds in 1996.
But things might not even stop there. Top women's qualifier Miranda Leek, a 19-year-old from Des Moines, Iowa, is ranked seventh in the world and will have a puncher's chance at a medal herself.
FENCING
Entering 2004, the U.S. hadn't won a fencing gold medal in a century and hadn't won a medal of any color in 20 years--droughts that ended in emphatic fashion with Mariel Zagunis's gold in individual saber in Athens and seem even further away after Team USA's six-medal haul in Beijing. It won't be easy to replicate that feat in London (especially with two of the U.S.'s best events, women's team saber and men's team epee, no longer on the program) but the U.S. will have a shot, starting with none other than Zagunis; this writer's nominee for the U.S. opening ceremony flagbearer is favored to make it three golds in three Olympics in the saber.
Race Imboden could be the U.S.'s next (first?) fencing star. (Getty Images)
The U.S.'s next-best individual hope should be 19-year-old Brooklyn prodigy Race Imboden, already the world's No. 4-ranked fencer and the first-ever winner of the Paris Foil World Cup. Though he'll have to get past multiple Italian veterans to do it, a foil medal should be attainable. Fellow teenager Lee Kiefer could medal in the women's foil competition--she took bronze at the 2011 World Championships when she was just 16 and is now ranked fifth in the world. Sisters  
In the team events, the best hope looks like men's saber--James Williams and Tim Morehouse helped the U.S. win silver in the event in 2008 and are back for another chance at gold, though the European competition is fierce.  Led by Imboden and yet another teenager, 17-year-old Alexander Massialas, men's foil handed Italy their first loss in more than a year earlier this season and put together several strong World Cup performances. Sisters Courtney and Kelley Hurley have helped propel the women's epee team to fifth in the world and into medal contention as well.
SHOOTING
In no Olympic discipline is the ratio of American success to American attention more out of whack than in shooting, where the U.S. leads all nations in both golds (50) and overall medals won (103). Yet few fans outside of the true Olympic diehards have heard of someone like Kim Rhode, winner of one medal in each of the last four Games -- including two golds -- and should make it five-for-five with a potential gold in skeet. 
The U.S. should add plenty more medals to their haul than just Rhode's, though. Josh Richmond is the reigning world champion in double trap and will be joined in the event by 2008 gold medalist Glenn Eller; a gold-silver sweep for the pair isn't out of the question. Getting two Americans onto the podium might be even more likely in the 50-meter rifle three-positions competition, where two-time medalist (and cancer survivor) Matt Emmons and Jason Parker are both gold medal contenders. Other male medal hopefuls include Jason Turner in the 10-meter air pistol, where he won bronze in 2008; Eric Uptagrafft in 50-meter rifle prone; and Vincent Hancock, the reigning Olympic champion in skeet.
For the U.S. women, Rhode will also have her say in trap. Sandra Uptagrafft -- yes, Eric's wife -- will hope for a medal in either pistol event.
EQUESTRIAN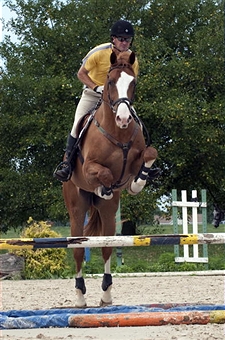 Aussie native Phillip Dutton will look to win his first medal for the U.S. (Getty Images)
There may be no sport more removed from the day-to-day experience of the common couch-dwelling U.S. Olympic fan, but that hasn't stopped Team USA from maintaining its position on the shortlist of world equestrian powers. 2012 shouldn't be any different, with the U.S. fielding medal contenders in all six of the discipline's events. 
The best hope for gold likely comes in the team jumping competition, one of the U.S. has won at each of the last two Olympics thanks in large part to Beezie Madden and McLain Ward, who could stand atop the podium a third time if they can see off Switzerland. World champion Rich Fuller's presence on the team won't hurt, either, and he could bring home gold in individual jumping as well. In dressage, Steffan Peters is considered a threat to win individual gold and his presence could propel the dressage team into the medals as well. The exact same description could be used for Phillip Dutton in eventing, where the former Australian double gold medalist will be competing in his fifth Olympics overall and second with Team USA.
Add it all up, and it could equal six medals for the U.S., twice their 2008 tally in equestrian--and six more than China could hope for in a discipline in which they have no track record. Every bit helps which is why, yes, we'll be watching.
Here's how to watch all of the halfpipe and slopestyle action as Olympic qualifying resume...

The South African sprinter and Paralympic champion is serving time for the murder of his g...

The Olympic skier says she's received hurtful comments since her remarks about competing for...
More than 400 people reportedly held emergency defense drills in advance of the Winter Gam...

The Olympic gold medalist says she also won't accept an invite the White House

The children of Japan will decide on the 2020 Olympics mascots but all of Twitter seems to...