U.S. track medalists Jeter, Richardson defend association with banned agent
LetsRun.com questioned American sprinting medalists Carmelita Jeter and Jason Richardson about their relationship with former agent Mark Block, banned for his role in the BALCO drug scandal. Neither apologized for their association with him.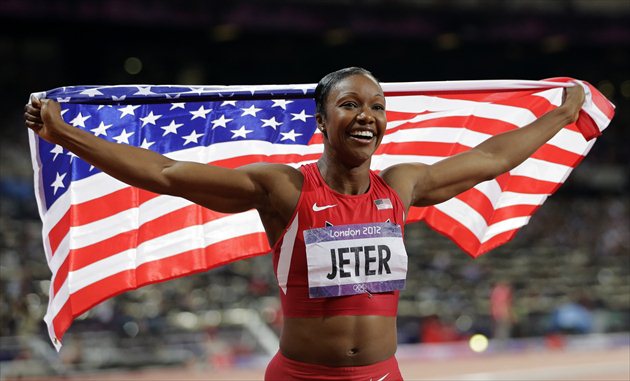 Questions are being asked about Carmelita Jeter's relationship with figures involved in the BALCO steroid scandal. (AP)
American medal-winning sprinters Carmelita Jeter and Jason Richardson have been unapologetic this week about their relationship with a man banned from the sport for his involvement in the BALCO drug scandal.
LetsRun.com reporter Weldon Johnson questioned both Jeter and Richardson after their medal performances in the 200-meter dash and the 110-meter hurdles, respectively, about their willingness to associate with banned track agent and former collegiate track coach Mark Block. In 2011, Block was banned by the U.S. Anti-Doping Association for 10 years for "participation in the trading and trafficking of prohibited substances including 'the cream' and 'the clear,'" but both Jeter and Richardson have admitted to spending time with him this year. Per LetsRun.com, Block was spotted at the U.S. Olympic Trials in June.
Speaking to Johnson, neither athlete was happy to be asked about the topic, but neither shied away from their relationship with Block, either.
"Mark Block is a close friend of mine," Jeter said. "He's a very close friend of mine and I love him dearly. Whatever happened with Mark Block before I came to Mark Block has absolutely nothing to do with me. I love that man. I love his family. I love his daughter. And I don't know how some people are raised but I was raised to always be friends with someone and to have loyalty with people.
"And if he got in trouble for whatever he got in trouble for that does not mean I still do not care for him, that does not mean I do not still consider him a close friend of mine because that is exactly what he is." 
Richardson echoed those sentiments when told that Jeter had been asked the same question. 
"I will say to you that everybody makes a mistake," he said. "I don't know the exactly the details of Mark's mistake. I know Mark made the mistake completely before I met him. I will say Mark has never gone outside of any lines of friendship. Now if you choose to determine who I'm supposed be friends with, by all means feel righteous enough to ... tell me what to do."
A U.S. Track and Field spokesperson told Yahoo! Sports that the governing body has no power to prevent athletes from associating with who they choose, saying Block's ban applies "only [to] that individual."
Despite their defensiveness, Jeter's and Richardson's association with Block will do nothing to ward off the suspicions aroused by both athletes' decision to train under highly controversial track coach John Smith. Smith has his own ties to the BALCO scandal and founder Victor Conte, saw several of his athletes test positive for doping in the middle of the last decade, and is closely tied to sports agency Total Sports--the agency for which Block worked before his ban, and which now represents both Jeter and Richardson.
Doping suspicions have dogged Jeter ever since she began working with Smith in 2009 and subsequently dropped her personal best in the 100-meter dash by a third of a second at age 30. Her personal best of 10.64, set in September of 2009, is the fastest 100 meter time run by a woman since Florence Griffith-Joyner, even faster than admitted doper and BALCO client Marion Jones.
Jeter and Richardson each deserve the benefit of the doubt, without question, since neither has ever failed a drug test or had any doping evidence to their names beyond their association with Smith and Block. But their fervent defense of a man so closely tied to BALCO that he's no longer even allowed to take part in the sport won't make offering that benefit any easier. 
The 28-year-old veteran is a proven medal winner and plays professionally in Boston

General Kim Yong-chol is attending the closing ceremony of the 2018 Pyeongchang Games, per...

Team Shuster is guaranteed the highest place ever for an American curling team
Find out everything you need to know about watching the Winter Olympics on Thursday

USA will face Canada in the gold medal game for the third straight Olympics

Get an up-to-date total of all the gold, silver and bronze medals won at the Winter Games