U.S. Women's National Team 2, Canada 1: What We Learned
The U.S. dominated the stat sheet but only came away with a one-goal win in their send-off match for London. Here's what we learned.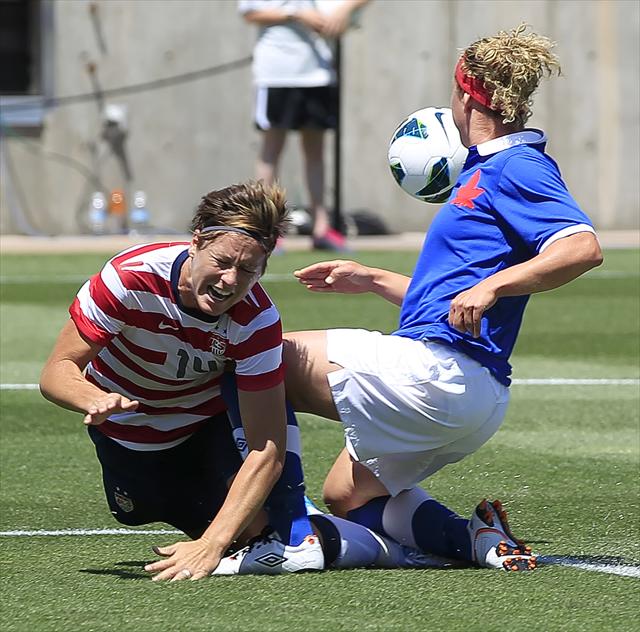 Abby Wambach and the USWNT got the win, but Canada didn't make it easy. (Getty Images)
In their send-off game for the 2012 Olympic tournament, the United States Women's National Team defeated Canada in a friendly at Salt Lake City's Rio Tinto Stadium 2-1. Here's a look at what we learned:
Megan Rapinoe is not going to come off the bench this time. Rapinoe told CBSSports.com in early June that while she was willing to come off the bench to start last year's World Cup, she wasn't exactly happy about it. But after Saturday's display, she won't have anything to worry about. Rapinoe absolutely terrorized the left side of the Canadian defense, whipping in enough dangerous crosses that she might have had a half-dozen assists on a better day of finishing from partner-in-aerial-crime Abby Wambach. As it was, she had to settle for merely providing the ball that led to both U.S. goals and being the best player on the field.
Maybe the U.S. should have selected an opponent with less of a chip on their shoulder. Win by one goal, two, four, eight--no result Saturday would have been half as important for the U.S. as coming out of the match with all of its key players healthy and ready for the trip overseas. That may be the case, but it also may not be after red-hot striker Alex Morgan left the game in the 51st minute with an apparent leg injury. Morgan walked off under her own power and the injury didn't appear to be serious, but there's no official word just yet.
Though the play on which Morgan was injured wasn't chippy, it wouldn't have been a surprise if it had been. The match turned feisty starting late first half, with tackles flying in on both sides and the rough play culminating in Canadian defender Candace Chapman body-checking Wambach in the penalty area in the 65th minute. (Wambach remained on the turf for several minutes while Chapman somehow got away with nothing more than a yellow card.) The U.S. gave as good as they got, though, with midfielder Shannon Boxx delivering a crunching, retaliatory studs-up tackle late in the first half that could have earned her a red card on a different day.
The U.S. and Canada typically have a friendlier rivalry than the one on display Saturday, but it's also true that the Canadians have never hidden their desire to beat their top-ranked neighbors at any given opportunity. Given that the USWNT could have come away with far more roster damage than they did -- either through injury or disciplinary reasons -- perhaps come 2016 U.S. Soccer should consider scheduling an opponent without quite so much motivation.
The U.S. needs more focus in front of goal, on either end. The final scoreline flattered the Canadians--the U.S. outshot them 19-4, took 8 corner kicks to Canada's none, held an overwhelming advantage in term of possession, etc. The game could have easily ended with the same two- or three-goal cushion from the U.S.'s other recent friendlies that have helped make them the favorite going to London. That it didn't was down to some uncharacteristically sloppy finishing from both Wambach and Morgan and the U.S defense getting caught napping on a quick Canadian throughball.
Wambach and Morgan's struggles probably aren't cause for concern; after their recent goalscoring tear, each was due for an off-game. The bigger worry is the backline, which under coach Pia Sundhage has proven unfortunately stubborn in its ability to commit one fatal mistake and help even up a game the U.S. has dominated (the World Cup final vs. Japan being Exhibit A). That the Canadian goal came with starting defenders Amy LePeilbet and Christie Rampone substituted out offers some confidence that similar breakdowns may be avoided in London, but that's still an area in which the U.S. will have to prove it's improved to win the gold.
Yep, Hope Solo's still awesome.
Kenworthy, who came out as gay in 2016, says the country has taken steps backward under Tr...

The ex-USA Gymnastics doctor will face almost 100 different accounts of abuse at a four-day...

Jamaican men first appeared as an Olympic bobsled team in the 1988 Calgary Games
Sam McGuffie never quite panned out at Michigan, but he's making waves elsewhere

Biles joins other USA Gymnastics stars such as McKayla Maroney, Aly Raisman and Gabby Doug...

White's 100-point run at the Snowmass Grand Prix lands him a spot on his fourth Olympic te...