USA Basketball: LeBron brings the James Game 3.0 to London
LeBron James paces and controls the game for Team USA in a 98-71 win over France.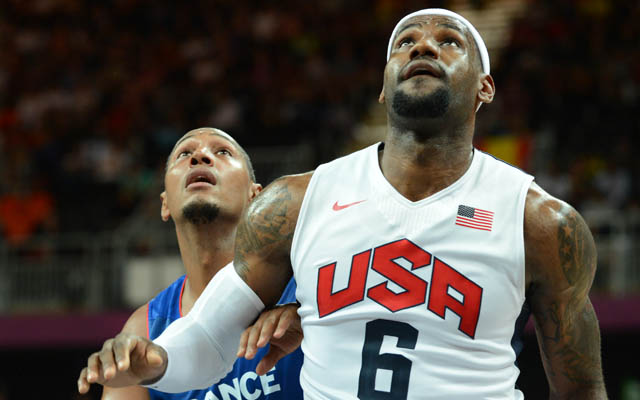 LeBron James' talents were on display against France.
(Getty Images)
It was impossible to watch all of it, the lobs, the outlet passes between three defenders, the pull-up jumper, the baseline fadeaway from the post, the steals, the perimeter shots, but more importantly, the control expressed in his dribble, and not be left stunned.
More on Olympic basketball
Analysis

Related links
More Olympics coverage
We've seen greatness from LeBron James since the moment he stepped on the floor in the NBA.
Even with all the playoff stumbles and Finals foibles, we've seen his prolific talent on display. 
But we've never seen it like we have the past three months. 
Since the start of the playoffs, James has been at a higher level than he was, even in 2009, when his perimeter game was clicking at a higher level. His confidence is higher than it ever has been, and it shows. It's no longer him convincing himself mentally that he's the best and using those talents to validate it. It's just him knowing he's capable of being truly great.
And he's brought the modified game that helped him win the NBA title to London. 
In Team USA's 98-71 win over France, James finished with 9 points, 8 assists, 4 rebounds, 2 steals, and shot 4-of-6 from the field. Nothing prolific, right? Except he did all that in 24 minutes and 45 seconds of play. And while stats are a valuable tool that tells us what players contribute, James' control over the game extended far beyond the box score. He made decisions in split seconds to create fastbreak points. He rotated to corral the opponent. And he was moving all over the floor, making it impossible to match up with him. 
James showcased why he's the best in the world.
And if he continues to play at this level, Team USA will be nearly impossible to stop. When the team struggled to just a single-digit lead at the half, James came out and kicked it into a higher gear. There will be better matchups against him for other teams in medal play, but in the first game of the London Olympics for Team USA basketball, the overall talent was apparent, and even still, LeBron James shined. 
Gil Roberts claims that the only crime that he committed was loving too much

Los Angeles preferred 2024, but may have to wait another four years to host Games again

TSA says it reached out to the gymnast and is looking into the incident
The record-setting Jamaican sprinter had one of his nine gold medals stripped

This could be the best Olympics ever

Hundreds of athletes are implicated across more than one Olympics