USA ends Olympics without medal in speedskating, first time in 30 years
Any hope for a USA medal in speedskating at the Sochi Olympics came to an end Friday meaning the US will go without a speedskating medal for the first time since 1984.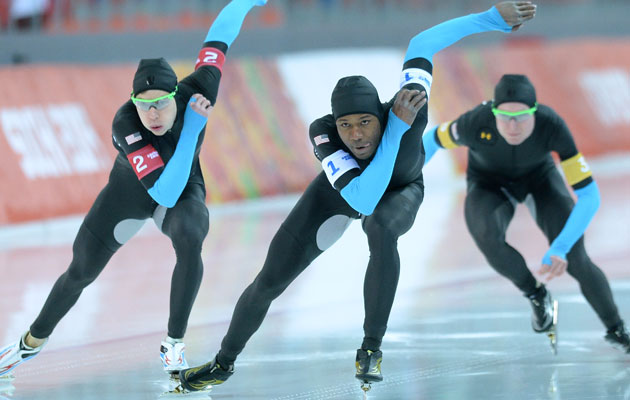 If it feels like these Olympics were extremely disappointing for the United States speedskating team, that's because they were.
Both the men's and women's teams were eliminated in the quarterfinals of the Team Pursuit event on Friday, officially bringing an end to the Sochi Games for the American team. The USA is coming home empty-handed.
This is something USA's speed skating program isn't used to. The last time the US failed to pick up a medal of any color at the Olympics? It was 30 years ago in Sarajevo.
"If I could do a parody from a Simpson's character, I would pick Comic Book Guy and he would say in these exact words: "WORST OLYMPICS EVER," Shani Davis said, summing up the Games perfectly for the US.
Davis came to Sochi looking to become the first Winter Olympian to win a gold medal in the same event at three straight Games but struggled like the rest of his American teammate while the Dutch absolutely dominated the competition.
That fact was underscored in the men's team pursuit on Friday when the USA lost its quarterfinal matchup to Canada by three and a half seconds, finishing as one of the bottom two teams. The women fared only slightly better, having the unenviable task of facing the Dutch in the quarterfinals. The USA came in with the fifth-best time.
At the center of much of the speedskating frustration were the Under Armour suits that the USA was given for the Games. They became a scapegoat as the Americans struggled and the skaters were given permission to change suits. It didn't make much of a difference.
Interestingly enough, a new deal with Under Armour was announced to keep providing the suits for the US team.
Reuters contributed to this post
Here's how to watch all of the halfpipe and slopestyle action as Olympic qualifying resume...

The South African sprinter and Paralympic champion is serving time for the murder of his g...

The Olympic skier says she's received hurtful comments since her remarks about competing for...
More than 400 people reportedly held emergency defense drills in advance of the Winter Gam...

The Olympic gold medalist says she also won't accept an invite the White House

The children of Japan will decide on the 2020 Olympics mascots but all of Twitter seems to...