U.S.'s Jordan Burroughs wins gold in 74 kilogram freestyle wrestling
The reigning world champion and gold medal favorite coming into London, American Jordan Burroughs waltzed through the field in the 74 kilogram freestyle wrestling tournament to win gold.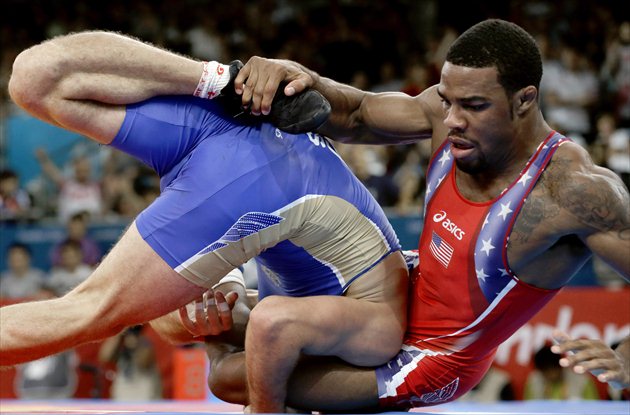 TJordan Burroughs battles Russian Denis Tsargush on his way to the gold medal. (AP)
When American 74 kilogram freestyle wrestler Jordan Burroughs picked out his Twitter handle, he went with one that many might find presumptuous: @alliseeisgold.
But it turned out that come London, the gold medal really was all Burroughs had on his mind. The reigning world champion and Olympic favorite, Burroughs tore through the 74 kg field and won gold medal with a 3-0 shutout victory over Iran's Sadegh Goudarzi.
A former University of Nebraska wrestler and New Jersey native, Burroughs is the first (and quite possibly only) American to win a gold medal at the London Games. He has won 38 straight international matches since leaving Nebraska last year.
Burroughs rarely seemed troubled in the final, a rematch of the 2011 World Championship final between the same two wrestlers. Burroughs scored one point in each of the first two periods with takedowns of Goudarzi, then stifled the Iranian's attacks to win both periods, clinching the best-two-out-of-three match.
It didn't come quite as easily in the semifinal against Russia's Denis Tsargush, who Burroughs had also defeated on his way to the 2011 world title. After Burroughs won the first period 3-1, Tsargush responded with a 2-0 win in the second, forcing a winner-take-all third. 
With the third period tied at 1 and winding down, Burroughs produced a critical takedown for the victory.
In earlier rounds Burroughs had defeated Francisco Soler Tanco of Puerto Rico and Matthew Gentry of Canada in two periods each.
Here's how to watch all of the halfpipe and slopestyle action as Olympic qualifying resume...

The South African sprinter and Paralympic champion is serving time for the murder of his g...

The Olympic skier says she's received hurtful comments since her remarks about competing for...
More than 400 people reportedly held emergency defense drills in advance of the Winter Gam...

The Olympic gold medalist says she also won't accept an invite the White House

The children of Japan will decide on the 2020 Olympics mascots but all of Twitter seems to...