U.S.'s Maddie Bowman wins gold in women's ski halfpipe
The U.S.'s golden run in the new freestyle events continues as California's Maddie Bowman grabs gold in the women's ski halfpipe.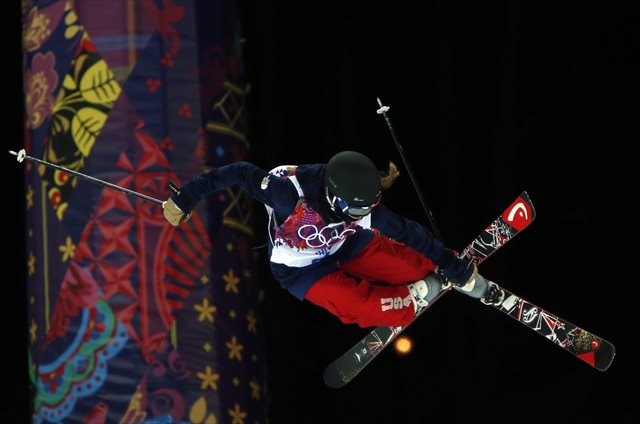 Someone remind the U.S. Olympic Committee to send the IOC a thank-you note.
California's Maddie Bowman won the first-ever Olympic gold medal in women's ski halfpipe Thursday, continuing the Americans' dominance of the extreme-sports events debuting in Sochi. Of Team USA's first eight gold medals, five of them have come in the new events of slopestyle and ski halfpipe.
Bowman's gold also gave the U.S. a sweep of the first ski halfpipe compeition, with David Wise winning the men's competition Wednesday.
Bowman ranked third after qualifying, with France's Marie Martinod's score of 88.50 pacing the field. But Bowman's series of "900s" helped her to an 85.80 in her first finals run, pushing her into the lead, and her even-better second run scored an 89.00 to claim gold.
Martinod's 85.40 in the final run of the competition was good enough for silver but didn't seem to offer enough spectacle to challenge Bowman's runs. Japan's Ayana Onozuka claimed bronze with an 83.20.
Americans claimed three of the top five spots after the two-run qualifying portion, with Bowman joined by second-place Brita Sigourney and fifth-place Angeli VanLaanen. But neither skier could reproduce their success in the finals, with VanLaanen placing 11th with a 29.60 and Sigourney sixth with a 76.00. 
Sigourney's first final runs ended in an ugly crash that prompted Bowman to run alongside medics into the halfpipe to check on her teammate. Her second run looked worthy of a medal until a sloppy landing near the end of the run cost her.
The fourth member of the American team, Annalisa Drew, finished ninth.
Jamaican legend goes down on the 4x100 relay final with an apparent leg injury

The Summer Games are coming to L.A. for the third time

Gil Roberts claims that the only crime that he committed was loving too much
Los Angeles preferred 2024, but may have to wait another four years to host Games again

TSA says it reached out to the gymnast and is looking into the incident

The record-setting Jamaican sprinter had one of his nine gold medals stripped