VIDEO: India's Shiva Keshavan trains for luge on Himalayan highways
How does one become a luge competitor in India? Shiva Keshavan trained on the highways in the Himalayas. On wheels.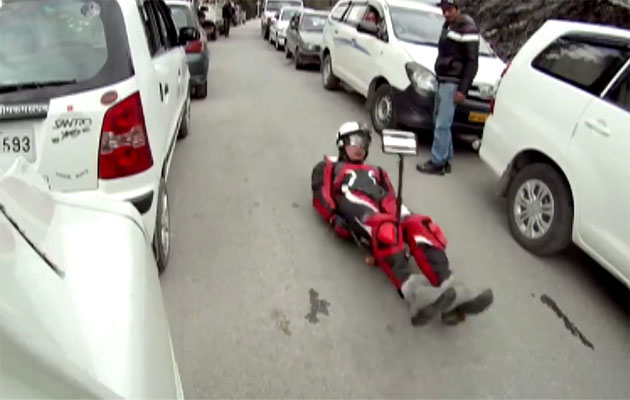 More NHL: Scores | Standings | League Leaders | Odds | Injuries | Power Rankings
If you watched the Opening Ceremony in Sochi, you more than likely watched the Parade of Nations and wondered how do so many of these countries end up in the Winter Olympics? Not all the countries are like Norway and are blessed with mountains, freezing temperatures and snow.
So how exactly does one become an Olympic luge competitor from a place like India? Shiva Keshavan trained on Himalayan highways. On wheels.
(To watch the video, CLICK HERE)
Yes, there is traffic that Keshavan is navigating around. That should make Turn 6 feel like a breeze when the time comes, you'd think.
The Jamaican bobsled team would be proud, No really, Keshavan explains how the Jamaicans told him they all need to stick together being the odd ones in the world of snow and ice and all that. Feel the rhythm.
Keshavan is competing in his fifth Olympic Games after becoming the youngest male to ever take part in the Olympic luge competition. His best showing was a 25th-place finish in Torino back in 2006, so he's a little more than just happy to be there.
It's stories like this that make the Olympics so awesome.
The Olympic gold medalist says she also won't accept an invite the White House

The children of Japan will decide on the 2020 Olympics mascots but all of Twitter seems to...

Nassar, accused of assaulting U.S. gymnasts, is still awaiting sentencing for molestation
Nikki Haley, U.S. ambassador to the United Nations, says concerns with North Korea remain a...

Maroney detailed the extent of the sexual abuse she endured her in a victim-impact stateme...

The International Olympic Committee ruled Tuesday that Russia would be barred from the 2018...