VIDEO: T.J. Oshie scores four goals in shootout for USA win
Watch the entire shootout between Russia and the USA where it became the T.J. Oshie show.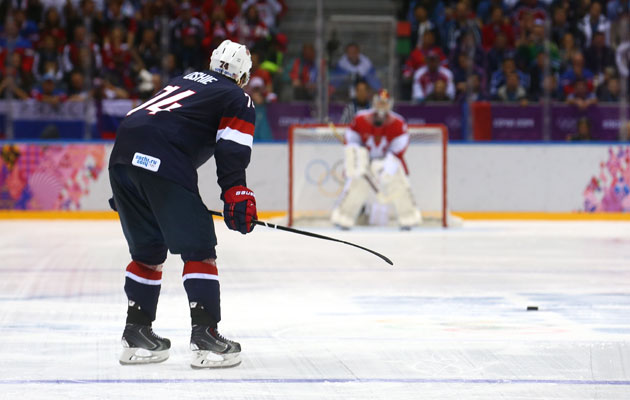 More NHL: Scores | Standings | League Leaders | Odds | Injuries | Power Rankings
Just call it T.J. Sochi for the rest of the Olympics after Saturday's amazing shootout win for the USA over Russia. American forward T.J. Oshie scored four goals on six shootout attempts to help the US outlast the hosts in a game for the ages at Bolshoy Ice Dome.
Did you miss it? No worries, watch the entire shootout here.
Or you can watch the entire game later. I imagine a lot of people will be watching it again.
Instant Classic. @NBCSN will re-air USA vs. Russia at 5 pm ET TODAY. Team USA won 3-2 in thrilling shootout. @NBCOlympics @Olympics

— NBCSportsPR (@NBCSportsPR) February 15, 2014
If you're confused on why Oshie was able to attempt six shots it's because at the international level you can reuse shooters after the first three rounds. When the shootout kept going, so did Oshie. Russia was going back and forth between Ilya Kovalchuk and Pavel Datsyuk.
It's a good thing the game ended when it did, though, because Oshie was about out of moves. Six attempts will do that to you.
Nassar continues to have to listen to victim impact statements as he awaits sentencing

The former USA Gymnastics doctor issued a six-page complaint during his sentencing hearing

Mancuso went out in style on her final run, rocking a Wonder Woman outfit and cape
Unsurprisingly, an investigation has been launched into why so many Russian athletes got s...

Rippon says 'Mike Pence doesn't stand for anything that I really believe in'

Couric will be joining Mike Tirico at Pyeongchang Olympic Stadium for the Feb. 9 Opening C...