Volleyball: U.S. women spike defending gold-medalist Brazil
Women's volleyball takes another win behind another dominant performance from Destinee Hooker.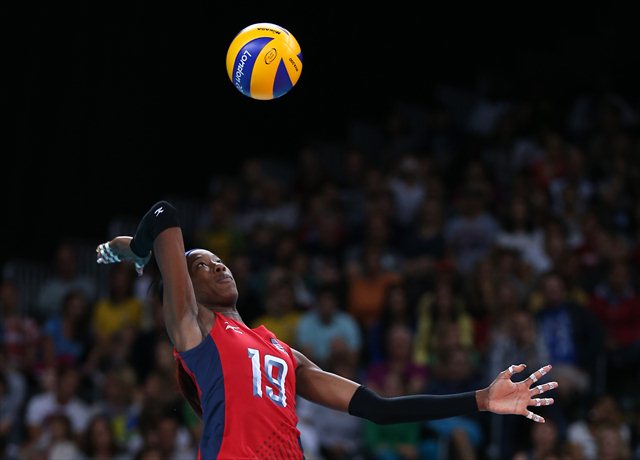 Destinee Hooker helps serve up an impressive win for the U.S. vs. world No. 2 Brazil. (Getty Images)
Brazil presented a significant step-up in opponent for the Team USA Women's Volleyball team on Monday, or so it was thought. In the end, it was more of the same, as the U.S. won 3-1, 25-18, 25-17, 22-25, and 25-21. 
The U.S. was lead again by explosive San Antonio native Destinee Hooker, who finished with 23 spikes and eight blocks, to total 23 points. Her 42-inch vertical was in full display as time after time U.S.A. simply lobbed the ball to Hooker and she broke the Brazilian defense apart. 
After a strong start to the first two matches with the U.S. playing dominant defense, Brazil, spurred on by another raucous crowd at the Games, managed to control the third set, holding on despite a solid push from the Americans. But in the fourth set, Team USA surged forward with a 6-3 run, pushing the lead to 18-14, and never looked back. 
Jordan Larson added 36 spikes and 18 points for the Americans, along with some savvy defense and serves. Foluke Akinradewo added 9 points and 9 spikes, including a vicious corner shot off the face of a Brazillian defender. 
The U.S. retains their second place position in group play with six points, behind China, also with 6 points after a 3-1 victory over Turkey earlier Monday.
The defensive lapses were in part the product of a very persistent Brazilian team who just wouldn't go down. They kept rallying with cross-court ball movement and by using the edges to slip past Team USA's length. But the athleticism of the Americans was just too much to overcome, something that may become a trend in these Olympics in women's volleyball. 
The win sets up a huge match on Wednesday between the U.S. and China for the lead in group play. The two sides will face off at 3 p.m ET. 
Rippon says 'Mike Pence doesn't stand for anything that I really believe in'

Couric will be joining Mike Tirico at Pyeongchang Olympic Stadium for the Feb. 9 Opening C...

White expects to win in South Korea and for the president to tweet about it
After long-anticipated talks, the two states have planned for a united Winter Games

Amid criticism from Aly Raisman and others, the organization says it won't fine Maroney for...

Kenworthy, who came out as gay in 2016, says the country has taken steps backward under Tr...