Winter Olympics Viewer's Guide: Thursday, Feb. 13
Hard to keep track of what to watch and when, right? We make it very easy for you.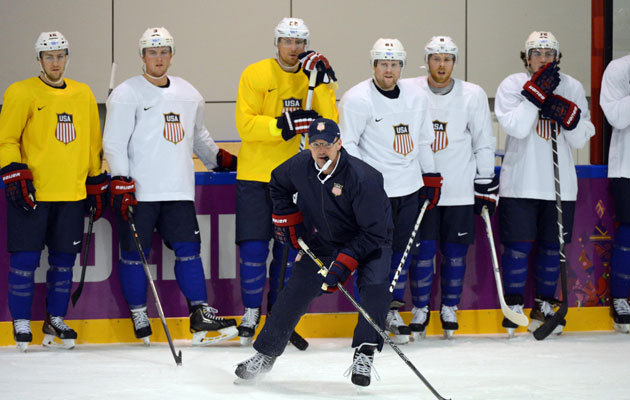 Trying to watch the Olympics? Even with NBCOlympics.com now streaming every event live online, the wild array of events can make the viewing experience a bit bewildering.
But we're here to help. Here's our chronological list of the events U.S. Olympic fans should consider watching, and where. All times Eastern and all events are live action unless otherwise noted.
It has taken a week but it feels like more. Finally, men's hockey is here! The tournament officially began Wednesday with Sweden and Switzerland winning their first games in Group C but Thursday it's time for the Americans to hit the ice. The USA took home the silver medal in Vancouver after losing to Canada in overtime but this team has their sights set on gold and while they don't come in as the favorites, the Americans certainly have the team to do it.
The defending gold medalists will make their debut too but face what should amount to a warmup game. Canada, of course, comes in as the gold-medal favorite. And the most-watched team in these Sochi Olympics, the Russian team, will also open their gold-medal journey (so they hope).
Of course, hockey's not all that will be happening on Thursday. There are more medals to be handed out and the USA is looking to keep its streak of medaling every day of the Games so far intact.
 -- Denotes a medal event
2:30 a.m. ET -- Women's skeleton, NBCOlympics.com: The craziest people in the Olympics? We say that in a good way of course, but it takes a lot of chutzpah to go down an icy chute head first. The ladies begin their race with the first two heats of the competition.
3 a.m. ET -- Men's hockey, Austria vs. Finland, NBCSN: The Finns come in as a bit of a forgotten team but they're always strong, especially in net. This team should be no exception.
4:30 a.m. ET -- Men's Ski Slopestyle final, NBCOlympics.com: The qualification starts at 1:15 a.m. (also on NBCOlympics.com) to decide the field for the medal runs. Young American Nick Goepper won gold at the 2014 X-Games and fellow American Gus Kenworthy is a former X-Games medalist as well. Slopestyle has been very good to the USA, will it continue?
5 a.m. ET -- Ladies' 10km Classic, Cross Country, NBCSN/NBCOlympics.com: As is the case with almost every cross country race, look for mostly Scandanavians to be in the mix.
5 a.m. ET -- Men's curling, USA vs. Great Britain, USA: The Americans picked up their first win on Wednesday against Denmark and would love to make it two in a row.
5:25 a.m. ET -- Men's 1000m Heats, Short Track, NBCOlympics.com: It's just the first-round heats but J.R. Celski is back on the ice after finishing out of the medals in his first event.
6:31 a.m. ET -- Men's 5000m Relay, Short Track, NBCOlympics.com: The semifinal heats prior to Friday's final, the Americans will race in one semi. Celski leads the team along with Eddie Alvarez.
7:05 a.m. ET -- Ladies' 500m, Short Track, NBCOlympics.com: It's an all-day affair for the ladies. Quarterfinals start at 5 a.m., semis a little more than an hour later and finally the final at 7:05. An American hasn't medaled in this event since 1994 in Lillehammer. Emily Scott is the US' only hope.
7:30 a.m. ET -- Men's hockey, USA vs. Slovakia, NBCSN: -- Jonathan Quick gets the start for the USA against a Slovakian team that isn't a medal favorite but is no slouch either, especially with Zdeno Chara on the ice. A good test out of the gate.
7:30 a.m. ET -- Men's hockey, Russia vs. Slovenia, MSNBC: -- These have been called Alex Ovechkin's Olympics and now he gets to show why. The pressure's on Russia but against Slovenia, Bolshoy Arena will be raucous.
9 a.m. ET -- Men's Individual 20km, Biathlon, NBCOlympics.com: Normally you can count out Americans in biathlon but Tim Burke gives USA a strong medal contender, perhaps even a shot at gold. Burke finished second at the 2013 World Championship. That would be something considering the USA has never won a medal in biathlon before.
9 a.m. ET -- Ladies' 1000m Speed Skating, NBCOlympics.com: The USA has a great shot at its first medal in women's speed skating since 2002. In fact, it has a great shot at two medals. There have been four 1000m races this season in the World Cup and an American has won all four and placed two on the stand in each race. Heather Richardson won three of the four races and Brittany Bowe the other. Richardson finished second to Bowe's win and Bowe finished second twice and third once to Richardson's wins. Just maybe the Americans can break the Dutch speed skating lock.
10 a.m. ET -- Men's Short Program, Figure Skating, NBCSN: Figure skatings turns the spotlight over to the men in the first of two days of competition. Both Americans -- Jeremy Abbott and Jason Brown -- had disappointing finishes in the team competition while Russia's Evgeny Plyushchenko wowed. After some question, he'll be competing.
10 a.m. ET -- Women's curling, USA vs. Japan, NBCOlympics.com: Still looking for their first win at 0-4, the American women face a Japanese team that's 2-1.
11:15 a.m. ET -- Team Relay Luge, NBCOlympics.com: Erin Hamlin returns as part of the relay team after earning the first individual medal in American luge Olympic history but everybody will be chasing the Germans.
Noon ET -- Men's hockey, Canada vs. Norway, USA: The favorite Canadians begin their quest to defend their gold with a Norwegian team that only features one NHL player; the Rangers' Mats Zuccarello.
The victim demanded that Nassar apologize to her face before granting him forgiveness

Three members of the Board of Directors executive leadership tendered their resignations on...

Emma Ann Miller, the 95th person to speak against Nassar in court, made the claims Monday
Kenworthy is set for his second Winter Olympics and his first after coming out as gay

Not everybody in South Korea is on board with the decision to unite with North Korea for the...

The Ralph Lauren jacket can be controlled by the athlete's smartphone, so that's something