Winter Olympics Viewer's Guide: Tuesday, Feb. 11
Hard to keep track of what to watch and when, right? We make it very easy for you.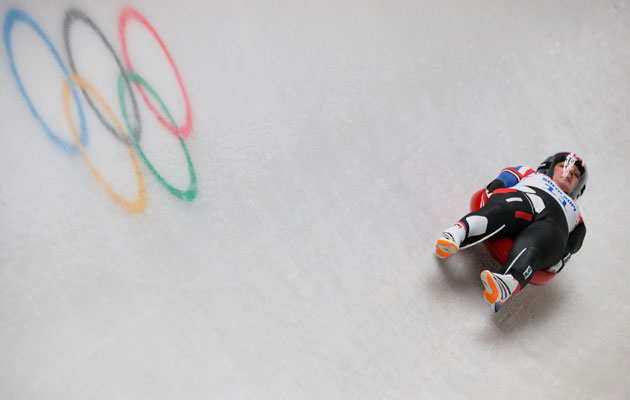 Trying to watch the Olympics? Even with NBCOlympics.com now streaming every event live online, the wild array of events can make the viewing experience a bit bewildering.
But we're here to help. Here's our chronological list of the events U.S. Olympic fans should consider watching, and where. All times Eastern and all events are live action unless otherwise noted.
With the Olympics truly in full swing, Tuesday will see a total of eight medal competitions spread out over seven different sports. Speed will be one of the words of the day as cross-country skiing and speed skating both hold sprint competitions and the luge always promises to be fast. Yet those likely won't be the most-talked about events with Shaun White and the halfpipe making their 2014 debuts.
Don't forget that a lot of these events will be repackaged and shown in the prime time NBC slot so if you miss the big events live, you'll be able to see them later.
 -- Denotes a medal event
Midnight ET -- Women's curling, USA vs. Russia, NBCOlympics.com: Following a 7-4 loss to the Swiss to open round-robin play, the US face the host Russians and the arena will be rocking for the home team as we heard on Monday. Note: This match will be shown on NBCSN starting at 3 a.m. ET.
1 a.m. ET -- Ladies' Ski Slopestyle Qualifications, NBCOlympics.com: The snowboards already hit the slopestyle and now it's the skiers' turn. First comes narrowing down the field with the qualifying round.
4 a.m. ET -- Ladies' Ski Slopestyle final, NBCOlympics.com: Enough with the qualifying, time for the medals. The Canadians have potential to sweep while the US hopes will be on Devin Logan and Keri Herman.
5 a.m. ET -- Men's Halfpipe Qualifications, NBCOlympics.com: This will be our first look at the halfpipe course, which was heavily criticized, to see how well it holds up.
5 a.m. ET -- Men's curling, USA vs. China, NBCOlympics.com: After a last-place finish in Vancouver, skip John Shuster is back looking to improve. However the Americans lost 7-4 to Norway on Monday and now face a Chinese team that beat Denmark.
7:45 a.m. ET -- Ladies' 500m Speed Skating, NBCSN: The men had their turn on Monday, now the ladies' fastest hit the ice. In the 500 they skate twice and combine the times, this is the first of the two on Tuesday.
8:22 a.m. ET -- Ladies' Sprint Free Cross Country, NBCSN: After a couple rounds of qualifying, the medals will be handed out after a quick 1.4 kilometer sprint. Keep an eye on American Kikkan Randall with a great shot at the gold.
8:30 a.m. ET -- Men's Sprint Free Cross Country, NBCSN: -- Right after the ladies, the men will have their sprint. Sweden's Emil Jonsson has won three of the last four World Cups.
9:30 a.m. ET -- Women's Singles Luge, NBCOlympics.com: The third out of four runs commences with American Erin Hamlin in third place, Kate Hansen 10th and Summer Britcher 15th. It's worth watching just to see Hansen's latest dance.
9:34 a.m. ET -- Ladies' 500m Speed Skating, NBCSN: The second of two turns will decide the medals for the fastest women on ice. Heather Richardson has a good chance at a US medal but South Korea's Lee Sang-hwa has dominated this season, setting three world records.
10 a.m. ET -- Women's 10km Pursuit, Biathlon, NBCSN: Hardware is on the line with Slovakia's Anastasiya Kuzmina starting with a 20-second head start thanks to her dominant run in the 7.5K sprint. American Susan Dunklee starts 42 seconds back in 14th.
10 a.m. ET -- Men's Halfpipe Semifinals, NBCOlympics.com: For those that didn't earn their spot in the final in qualifications, this is their last chance.
10 a.m. ET -- Pairs Short Program, Figure Skating, NBCSN: The figure skating returns with the pairs. The American team of Marissa Castelli and Simon Shnapir finished fifth of 10 teams in the short program in the team competition, where the top score went to the Russian duo of Ksenia Stolbova and Fedor Klimov.
10 a.m. ET -- Women's curling, USA vs. Great Britain, NBCOlympics.com: If you didn't get enough of USA curling you'll get one more shot as the American ladies play their second match of the day.
11:20 a.m. ET -- Women's Singles Luge, NBCOlympics.com: The fourth of final runs with the lowest combined time winning the gold. Worth noting: USA has never won a medal of any color in single's luge, men's or women's. No pressure, Miss Hamlin.
12:30 p.m. ET -- Men's Halfpipe Finals, NBCOlympics.com: All eyes are on the halfpipe where Shaun White will go for a third-straight gold medal in this, the third edition of the halfpipe in the Olympics. Though to add a little suspense, White was "frustrated" with his Monday practice.
1:25 p.m. ET -- Ladies' Normal Hill Individual Ski Jumping, NBCSN: To end the day, eyes go to the sky where the ladies will fly. The second of two jumps will decide the first women's ski jumping medals in history. American Sarah Hendrickson won last season's World Cup but has been fighting through a knee injury, struggling so far in Sochi.
The two-time gold medalist's road to making his fourth Olympics just got a little tougher

Here's how to watch all of the halfpipe and slopestyle action as Olympic qualifying resume...

The South African sprinter and Paralympic champion is serving time for the murder of his g...
The Olympic skier says she's received hurtful comments since her remarks about competing for...

More than 400 people reportedly held emergency defense drills in advance of the Winter Gam...

The Olympic gold medalist says she also won't accept an invite the White House