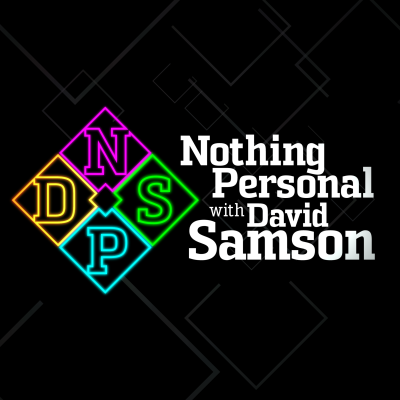 Nothing Personal with David Samson
<p>Nothing Personal with David Samson is a daily sports podcast hosted by David Samson. No guests. No callers. No BS. 45 minutes per day, Monday-Friday. David is dedicated to decoding the endless musings of players, owners and others in a concise, articulate and entertaining manner. Samson was in charge of a Major League Baseball team for 18 years, with winning a World Series ring, building a new ballpark, hosting an All-Star game, and buying and selling a franchise, among his many experiences and accomplishments. His breadth of knowledge covers all aspects of sport. This podcast will be the destination for fans of sports and entertainment who want to hear the truth about real situations as they occur each day. Every segment will give his audience a unique perspective, not found anywhere else. His voice is strong and unwavering, his brand is honesty and his reach is extraordinary. And remember, it's just business...It's nothing personal!</p>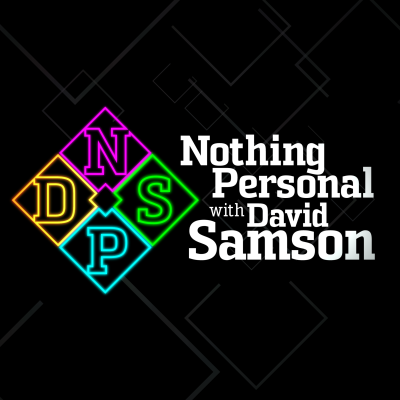 Nothing Personal with David Samson
<p>Nothing Personal with David Samson is a daily sports podcast hosted by David Samson. No guests. No callers. No BS. 45 minutes per day, Monday-Friday. David is dedicated to decoding the endless musings of players, owners and others in a concise, articulate and entertaining manner. Samson was in charge of a Major League Baseball team for 18 years, with winning a World Series ring, building a new ballpark, hosting an All-Star game, and buying and selling a franchise, among his many experiences and accomplishments. His breadth of knowledge covers all aspects of sport. This podcast will be the destination for fans of sports and entertainment who want to hear the truth about real situations as they occur each day. Every segment will give his audience a unique perspective, not found anywhere else. His voice is strong and unwavering, his brand is honesty and his reach is extraordinary. And remember, it's just business...It's nothing personal!</p>
Most Recent Episode
Are you not entertained!? (11/15)

Today's word of the day is 'sellout' as in the Notre Dame Fighting Irish home sellout streak is over (0:06). There was mayhem in the NFL last night with Myles Garrett (1:09) and Mason Rudolph, but what's the real message? We cheer for extreme violence in sports all the time and NOW we have an issue... let's talk about why. Is today a day that ends in 'Y'? It is? Okay, so the Astros are still cheaters (10:22). Mike Trout and Cody Bellinger won MVP awards last night, but was it best for the MLB (16:11)? The NFL could be heading to a 17-schedule so let's discuss the business side of things (20:15). I don't care about Colin Kaepernick's workout this weekend (25:01). I'll take you inside 'Survivor' and what really goes on on the island (27:09). Pirates fired a minor league coach then hired him back the next day - huh!? - I'll tell you what really went down in Pittsburgh (35:13). Let's talk about my top 5 favorite Kevin Bacon movies (38:49). Of Rendon, Cole and Strasburg - which two clients did Scott Boras lie about signing in December? #waittosee
Episodes of This Show
'Stealing Signs' is just the Astros favorite indie band (11/12)

Today's word of the day is 'mea culpa' because I messed up (0:06). I am sorry. Move on. Houston Astros make headlines again after The Athletic uncovered them stealing signs (1:08). What makes this big news is they were able to put a name to their source... that's major. Chaim Bloom is going to have a major decision to make in Boston (10:21). Will he trade Mookie Betts and for what? NFL rules are so hard to interpret what can the league do to change it (16:10)? Will they change anything? An LSU postgame speech was recorded by a player of his coach saying some not so nice things about its' rival - how did I handle this in Miami (22:43)? FBI investigation into insider ticketing with the White Sox is a big story. It happened to us, but we dealt with it differently (27:15). Review of the day is the show 'Modern Love' (32:24). Don Cherry said some things that he should have been fired over and he was fired over (34:58). Let's learn a lesson together. I nailed my picks for Rookie of the Year, will I double up with Manager of the Year? #waittosee P.S. We're off Wednesday and Thursday this week. I've made so much money off my Pick of the Day's I decided to take a quick trip to the Bahamas.

Here, have a gummy (11/11)

Today's word of the day is in honor of Sesame Street, it's 'snuffleupagus' (0:06). The MLB GM meetings started today in Arizona and they basically mean nothing (1:14). Dion Waiters had a panic attack on a team flight after taking a THC-infused gummy, was the suspension the right move (6:34)? Listen to my story about my panic attack on a flight - spoiler alert - it's scary. What is going on with the Knicks is so Knicks that the only team it would happen to is the Knicks (11:36). Jeff Bezos reportedly wants in on an NFL franchise, but it's the sports leagues that want him... and his money (16:12). Trevor Bauer might have just changed the free-agency game (19:55). The Seattle Sounders won the MLS Cup, but raise your hand if you watched (26:10). The review today was a special one, it's my top 5 Veterans Day movies of all time (34:55). Rookie of the year is named tonight in the MLB... is it Pete Alonso's to lose? #waittosee

No load management here (11/8)

Today's word of the day is made up. It's "Barkley'd" and you have Hassan Whiteside to thank for that (0:08). CC Sabathia said something about Gerrit Cole that everyone knew, but I'm still glad he said (1:10). The Astros announced they were shuffling up the front office - big whoop (4:04)! Kawhi Leonard got the Clippers fined because of improper 'load management' by the team (8:34). They fined owner Steve Ballmer a penny, ha. Tiger Woods surprised no one and is playing in the Presidents Cup (12:11). Bravo to Mary Cain for standing up to Nike (14:23). Deion Sanders cannot be a real candidate for the Florida State head coach open... I refuse to believe it (21:46). Ohio State star Chase Young has been suspended for at least a game so let's take a look as to why (24:01). Here's why AC Milan's new streaming deal is so important to U.S. sports (27:41). Review of the day - I went to an Elvis Costello concert Thursday night and it made me think (32:53). Australia's men and women's soccer teams have agreed to equal pay, uhm, not really (36:38). Cole Hamels says he'd take a one-year deal with 'contending' club, yea, because that's all he'll get #waittosee

Collusion is just an illusion (11/7)

Today's word of the day is 'off' in honor of Mitchell Trubisky (:10). The MLBPA thinks what Braves GM Alex Anthopoulos did was collusion... HA (1:00)! That's nothing. The Pittsburgh Pirates are using a search firm to find their latest general manager and do I have a good story about that firm (8:30). Bears coach Matt Nagy is the gift that keeps on giving (14;15). President Trump is going to the LSU-Alabama game and the students are losing their minds (18;20)! Martin Prado is likely to retire this year and he's one of the best players I've ever been around (28:40). Review of the day is ' Inside Bill's Brain: Decoding Bill Gates' (32:30). Alonso and Bregman will win Silver Slugger awards tonight, but only one of them will take home hardware next week (39:30). #waittosee

If you don't learn anything today, blame my producer (11/6)

Today's word of the day is 'bleep'. Scott Boras owns the offseason so let's hope he doesn't make us wait all winter (1:02). Roboumps are coming! Get prepared now (4:44). John Collins is suspended for violating the NBA anti-doping policy for a 'mistake' - it's never a mistake (8:50). A follow up on the Deadspin drama (14:04). It's time I finally talk about the CFP committee and how hilarious it is (17:48). Review of the day is 'American Son' - watch it. What did Kevin Plank do to Under Armour (26:00)? Where did it go wrong? Oh, that's where. Have you ever wanted to know how teams feed their players (31:40)? Well, I've got some stories for you. An umpire analyst is headed to a TV booth near you, you just #waittosee

The Chargers' Owner has lost his mind (11/5)

Today's word of the day is Cat, like the black cat that scared the New York Giants on Monday Night Football. MLB Free Agency started at midnight and who better to get a first hand approach than former Marlins President David Samson. Samson tells a ridiculous story on how the Marlins front office courted Jose Reyes at 12:01am during free agency (1:16). Red Sox J.D. Martinez opts in to his final 3 years in Boston. What does it mean for the Red Sox Front Office? And you won't believe what agent Scott Boras had to say about his client (6:48). Mike Trout will finish in the top 3 of the AL MVP voting for the 8th straight season but would he rather have a World Series ring or another MVP trophy? (9:22) Are the Chargers actually moving to London? Their owner doesn't think so (14:18) Is Jimmy Butler a distraction already in Miami? He feels disrespected but you won't believe what David has to say about Butler's comments. (18:45) The Nationals visit the White House after winning their World Series Championship. (22:19) David Samson reviews the movie Booksmart. (26:08) Is Anthony Davis headed to the Chicago Bulls in free agency? (30:17) Betting Pick of the day. (35:17) In-depth explanation about Qualifying Offers in Major League Baseball (37:50)

We need to teach kids how to lose (11/4)

Today's word of the day is 'gold' (0:06). Adam Gase is an absolute disaster as a head coach so let's breakdown whether or not he should be fired right now (0:55). Odell Beckham Jr. is a quote machine, the Browns are an embarrassment, which means my job is easy (4:09). Willie Taggart was fired after 21 games at Florida State and the school was somehow able to put together $18M to buy him out - where is that money coming from (6:37)? Let's discuss. Mets GM Brodie Van Wagenen calls the Mets a "players' first franchise"... uhm what (10:19)? Imagine winning a marathon in your debut? Well, someone did that at the NYC Marathon and I'll tell you why that's so impressive (15:35). Review of the day - 'Fleabag' (19:15). A high school football coach was suspended for running up the score last week and it's caused me to lose my mind (21:42). You ever wonder why league-owned networks play nice with the league? Here's why. What is the 'South Beach Flu' (35:25)? And we end with a double #waittosee

What's the point in saying "We've got to win now!"? (11/1)

Today's word of the day is for a Chicago legend - 'Sweetness'. Trent Williams could have handled this situation better if he would have just been honest day one. Rob Manfred is happy that the Nationals won, but not for the reason you think. MLBPA did something ridiculous and it's going to backfire. BREAKING NEWS! The Mets are hiring Carlos Beltran! It was always going to be him! Jeter is a bad businessman and I'll tell you why. Padres announce that they "need to win now"... who doesn't!? More drama with Adam Gase and Le'Veon Bell. Review of the day - 'Yesterday'. With all the issues with Golden State, and a new arena opening up, I'll tell you how the Warriors' owners feel. I'll take you inside the mind of Pat Riley and their new unknown hero, Kendrick Nunn. Chevy paid Manchester United $560 MILLION for a sponsorship deal, will the team get more money for a new deal in 2021? #waittosee




Gerrit Cole should have demanded to pitch in Game 7 (10/31)

David Samson shares his thoughts on Game 7 of the World Series as the Nationals claimed their first title in franchise history. He details why Zack Greinke shouldn't have been removed in the 7th inning and how embarrassing it was that Gerrit Cole didn't come in to replace him. Next, developments in the Kyrie Irving saga, followed by the 'Review of the Day' which is 'Shawshank Redemption'. Samson then details his spin on Mattress Mack and Deadspin. Will load management work its way into the next CBA? #waittosee




Wake up! It's Game 7! (10/30)

Today's word of the day is 'tuchus'. Let's discuss everything you need to know about Game 6 of the World Series (:15). I'll start with Verlander succumbing to his 1st inning demons (1:40) and I end with a full breakdown of that 7th inning mishap (9:10). Baker Mayfield did everything we say is wrong when it comes to dealing with the media (14:00). Jamal Adams decided to call out his GM on Twitter for whatever reason (18:50). Bud Light gave a man an extra 15 minutes of fame and I love it. Review of the day is 'Mad Max 2 - The Road Warrior'. Game 7 is tonight and an unsung hero will win this game, or maybe it's the pitching, or maybe it's both #waittosee

Don't believe the leaks (10/29)

We start today off with the NPDS Word of the Day! Today's word is PUPPET (0:06). The NFL trade deadline was happening live and David fills you in with everything you need to know about it - from how a story is leaked and when are trades actually discussed (1:30)? World Series deep dive! Verlander looks to exorcise his demons while Strasburg is pitching for his future (10:53). A guy from Nepal did the impossible and I'll tell you what he did (21:50). California made the NCAA 'bend the knee' but it will open up a can of worms like never seen before (25:40). Review of the day is 'Dolemite is My Name' (31:07). I make the case for roboumps in MLB (33:39) - listen, learn, accept. Will it be Joe Girardi, or David Ross, who makes the playoffs first? #waittosee

This isn't just a baseball pod (10/28)

The Warriors are winless still and experiencing what all mortal teams do (0:06). The Nationals lost Game 5 before the game even started (0:54). For all the off-field drama the Astros front office has caused the team was always going to be ready on the field (4:58). Bill Belichick gets his 300th career win as a head coach and I'll tell you why him and Robert Kraft have worked so well together for so long (7:37). Tiger Woods picks up his 82nd career PGA Tour win, the big question now is when will the sponsors come back (10:03)? Joe Flacco made a fool of himself and his coaches - what will come of that (15:44)? Astros' owner Jim Crane apologized to the Sports Illustrated reporter and now needs to apologize for how bad that apology was (21:24). The Pittsburgh Pirates are a huge mess and I'll tell you where it all went wrong (26:02). Kris Bryant will be the offseasons biggest loser and rightfully so (32:12). Review of the day is 'Ask Dr. Ruth.' (38:55) Do I think the Patriots or 49ers will win the Super Bowl? #waittosee

Even If They Win, The Astros Already Lost (10/25)

Vince Carter still playing in the NBA is remarkable (:10). Let's talk about how rare what he's doing is. We have a full weekend of games to get to, but it all starts tonight. The Astros need to win Game 3 and I'll tell you how they do it (:55). If the Nationals want to win I'll tell you what they can't do. Houston GM Jeff Luhnow couldn't have messed up his press conference worse than he did (9:30). This front office had a chance to get things right and they didn't. The NBA and MLB are very similar and I'll explain how (18:00). It's time we talk about players and fans and the broken relationship they have - how can we fix it? The XFL isn't paying its' players any money and that's the first of many problems (28:30). On this day in 2003 I won a World Series (30:30). Let me tell you exactly how that day went. Review of the day is 'Sleepers' (36;20) Will the XFL play a full season? #Waittosee

Nationals shouldn't plan World Series parade yet (10/24)

We start today off recapping what happened in Game 2. Where did things go wrong for the Astros? (0:10)  Will the Nationals be able to keep things up at home? Dynasties are very hard to start and it's greed that usually tears them apart - Astros and Warriors could both fall this year(4:19). The MLB is investigating an umpire because of his tweets and this is exactly the type of thing Commissioner Manfred doesn't want this week (8:00). Public Relations teams kill stories, but what happens to the business side (13:52)? What are both teams doing on their day's off? Hint: Nothing fun. We have some new baseball managers in MLB and I'll break them all down for you (21:06). The Mets missed out on Joe Girardi (30:18). Hint: He was never getting that job. Review of the day is 'Iron Cowboy' (35:17).  Do I think the World Series is over? #waittosee

Why Didn't Springer Run? (10/23)

Los Angeles is clearly home to the Lakers which gives the Clippers all the more reason to move. [0:07] With all the drama going on with the Astros front office I'll tell you what the Owners Suite was probably like. [1:00] In-game decisions impact everything - here's what each team got right and wrong. George Springer could have made it to 3rd base if he was sprinting. [5:59] This is not a debate. John Elway comments on trading Emmanuel Sanders, but what was he really saying? [10:00] The Cubs lied about their coaching search - David Ross was always getting the job. [12:57] Let's hope Joe Girardi has changed since 2005. [17:26] Raptors got their championship rings last night and that reminds me of a great story about my World Series ring. [22:20] "Mic'd Up" segments are great for owners and fan and here's how it all works. [31:55] Game 2 of the World Series is tonight and the most pressure is on....? [35:17]Today I review 'Yellowstone', the show, not the national park. [39:42] Where does Joe Girardi end up in 2020? #waittosee

Houston, we already have a World Series problem (10/22)

Tom Brady is looking to sell his house, does that mean he's also out the door? [0:19] World Series starts tonight and before we talk about the game, let's talk about the series. [1:06] I lay out everything you need to know about both teams. As far as tonight goes, this is a baseball fan's dream come true. Cole vs Scherzer then tomorrow Verlander vs Strasburg. The Jets have been seeing ghosts for years now, but Sam Darnold and Adam Gase realized firsthand that Bill Belichick is the Bogeyman. [9:52] The NBA scheduling tip-off against the World Series is a problem - let's discuss why. NBA stars moving out west is not what the NBA wants and Zion being hurt is not what the NBA needs. [14:53] We have some BREAKING NEWS concerning the Houston Astros! I'll tell you why their front office should be ashamed of themselves... this is big. [24:56] Instead of one review, I'll give you my top 5 Baseball movies of all time. [40:14] Debate me if you dare. Who wins a title first in LA... Clippers or Lakers? #waittosee

Matt Nagy needs to stop talking, and just coach (10/21)

Aaron Judge said the Yankees season was 'a failure' so let's take a dive into what went wrong. Where do the Yankees go from here? Jalen Ramsey miraculously recovered from his back injury after he was traded. Did Shad Khan make the right decision? This situation with the Jets and Kelechi Osemele is going to get uglier and fast. When an owner endorses his coach in a losing season I'll fill you in on what he's really saying. Bears head coach Matt Nagy had an all-time moment at his presser - I have some strong advice for him and how he should handle his players. I'll tell you why Roger Goodell was wrong for fining Clay Matthews and Baker Mayfield for saying what everyone has been thinking. Review of the day is a Tom Brady/Paul Rudd mashup. Now that you know what Arthur Blank is really saying about Dan Quinn - will he be the head coach in 2020? #Waittosee

Here's what Jordan, Jeter, and Elway have in common (10/18)

Brian Cashman and the new look Yankees were made to make it TO October but not THROUGH October. [0:42] We all reacted the same way when Patrick Mahomes got hurt, but I'll fill you on what went down behind the scenes. [7:14] Zion's knees have always been a red flag - here's how it'll impact the Pelicans financially. [10:51] Joe Girardi is the finalist for two different NL East managerial jobs - which one do I believe he should get? [13:39] The NFL wants a 17-game season and London is going to be the avenue to provide that. [18:01] Athletes shouldn't be owners - no one told that to Michael Jordan, Derek Jeter, and John Elway so I will. [21:24] China/NBA heats back up when Silver comments on it for no reason. [26:56] The NCAA has to deal with Mitt Romney now, or do they? [31:21] We review my movie of the day and it should have a special place in Yankees fans hearts. [37:04] I'm a big fan of Elway the player, but I have bad news for Elway the owner - what is it? #waittosee

Hey Draymond, I got some news for you! (10/17)

Kyle Shanahan was very honest about his time in Washington, [0:30] but he didn't need to burn bridges. Draymond Green had some choice words for the Phoenix Suns so I let him in on some news. [5:06] He can love it or hate it, but it's nothing personal. Did Bryce Harper's deal hurt the players? [9:05] Yup, and I'll tell you why owners are celebrating. Boxing needs some serious changes and so do we as fans. [16:15] Game 4 of the ALCS is tonight and I'll fill you in on everything you need to know from what Brian Cashman is thinking to how I expect it to play out. [23:00] Pittsburgh's Mayor gave me a case of deja ju. [29:18] Review of the Day is 'Man In the High Castle'. Today's #Waittosee is courtesy of John Calipari and the NBA. [42:32] Will the NBA draft expand to more rounds? And my Pick of the Night is comes from Game 4 of the ALCS - let's hope this pick is better than my first two #Waittosee.

We're In the Midst of a Player Revolt (10/16)

The Nationals have finally made the World Series and I'd like to take a little credit for that [0:06]. How did we manage to break the trophy after winning the pennant in 2003 [5:07]? Roger Goodell continues to address the public as if we're all fools [8:33]. Yes, tanking is real. Yes, there's an officiating problem [10:05]. No, Roger, we don't believe you. Jalen Ramsey's trade request reaffirms my opinion that a player revolt is ongoing [11:48]. How should owners handle this? Joe Maddon gets to return home to Anaheim to manage the Angels, but what sort of mess is he walking into [16:26]? Do executives root for players they traded away? 'Screwball' is the Review of the Day (I can't believe I compliment Billy Corben) [31:35]. We end with more baseball - the ALCS Game 4 being postponed and how this impacts the series, and how much money will Gerrit Cole get in free agency [35:01] #waittosee.

I can't believe LeBron said that! (10/15)

LeBron James had some choice words for Daryl Morey [6:05], but what did it all mean? On today's episode David Samson walks you through exactly what King James was saying. There's also a major problem with officiating in the NFL [0:36] and only one person can fix it. Who is this mystery man? Listen to find out. 

What you should know about the MLB playoffs (10/14)

David Samson takes you inside this year's MLB playoffs [0:41]. He gives some inside secrets into whether or not the baseballs are still "juiced" [30:07]. Are the Miami Dolphins really tanking [6:36]? You betcha. Is Jason Garrett going to survive the season [11:20]? #WaitToSee. Today's pick of the day comes from the Cardinals-Nationals game [43:37] .

Welcome to Nothing Personal with David Samson

Nothing Personal with David Samson offers an unprecedented look at the reality of sports instead of simply speculation. Host David Samson spent 18 years as a MLB executive and will provide the truth behind sports stories on his new daily podcast debuting Monday, October 14th. Subscribe now!
CBS Sports HQ Daily Newsletter
Get the best highlights and stories - yeah, just the good stuff handpicked by our team to start your day.
Please check the opt-in box to acknowledge that you would like to subscribe.
Thanks for signing up!
Keep an eye on your inbox for the latest sports news.
Sorry!
There was an error processing your subscription.