2010 draft odyssey
2010 draft odyssey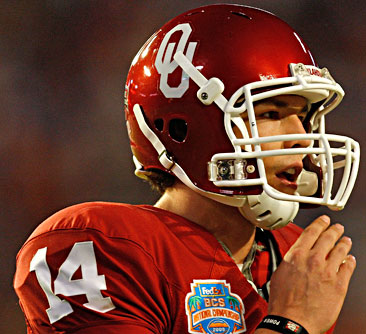 QB Sam Bradford will be in the mix for the next top pick. (Getty Images)
The 2009 NFL Draft is in the books, meaning it's time ... to start thinking about 2010. Along with our post-draft analysis, Pete Prisco looks ahead Tuesday to the 32 players he expects to be atop the board next April.
• Complete coverage | 2009 picks | Prisco's grades | Judgements | Debate
Upcoming Schedule
Monday - May 2
Golf
Steve Elling and John Huggan engage in another intercontinental duel of wits in this week's edition of Pond Scrum.
Thursday - May 5
Baseball
Want to know what's going on in MLB? Check out the blogs from Scott Miller, Danny Knobler and our Eye on Baseball crew.

Hate Mail
The cards and letters keep coming, and Gregg Doyel is up to the challenge of giving as good as he gets.
Friday - May 6
College Basketball
It's the quietest part of the offseason, but Gary Parrish has plenty of material for Five for Friday.
Saturday - May 7
NASCAR
The Sprint Cup makes another prime-time appearance with a 7:44 p.m. green flag at Darlington.
Sunday - May 1
Golf
In a high-profile, top field tuneup for The Players, a champion is crowned in the fourth round at Quail Hollow (CBS, 3 p.m. ET).
Starting Thursday: NFL Week 14
Prisco files his quarterly report and covers IND-TEN on Thursday. Also: NE-CHI, OAK-JAC, KC-SD, MIA-NYJ.
•
Midseason report | Scoreboard
Tuesday: Jimmy V Classic
Four top teams are at MSG with Gary Parrish: Memphis-Kansas at 7 p.m. ET, Michigan State-Syracuse at 9.
•
Scoreboard | Parrish: Blog | Twitter
Saturday: The Heisman Trophy
Cam Newton's amazing, bizarre season leads to a coronation in New York, and Dennis Dodd is there, too.
•
Heisman Hopefuls | Newton's stats
Upcoming Video
Monday - May 2
Fantasy Baseball
Scott White and Al Melchior join Lauren Shehadi to look at roster drops and adds.
Tuesday - May 3
Baseball
C. Trent Rosecrans and Lauren Shehadi discuss the game's hot topics in MLB Today.
Wednesday - May 4
NBA
Coach and player interviews in the wake of all the day's action in postseason play.

Fantasy Football
Jamey Eisenberg and Dave Richard join Lauren Shehadi for another Fantasy podcast.
Thursday - May 5
Fantasy Baseball
Scott White, Al Melchior and Lauren Shehadi with another edition of Grade the Trade.
Friday - May 6
Baseball
Danny Knobler joins Lauren Shehadi for a daily dose of MLB Today.
Saturday - May 7
'NBA
Postgame interviews from all the principals each day for the duration of the playoffs.
Sunday - May 8
Golf
The CBS Sports broadcast team wraps up the final round of the high-profile PGA Tour event at Quail Hollow.