Best ever Argentina starting lineup includes Messi and Maradona
Who makes up the best starting eleven in Argentina history?
• 1 min read
Argentina's soccer federation (AFA) announced its all-time starting eleven team for the country, and Lionel Messi and Diego Maradona made the squad to no surprise. 
The team, which you can see below, also features legendary strikers Gabrielle Batistuta and Mario Kempes, alongside former Real Madrid star midfielder Fernando Redondo and Inter Milan icon Javier Zanetti at the back. 
Varias personalidades armaron su 11 ideal Albiceleste en #AFARevista y así quedó el equipo https://t.co/jhonvMfP2r pic.twitter.com/ZRhQ5Zqk1d

— AFA (@afa) January 4, 2016
Sounds about right. Maybe defender Roberto Ayala could be in there? Of course, several of these guys like Maradona and Kempes have won the World Cup. 
When it comes to the Argentina national team, Messi, in the end, may be a bit forgotten if he doesn't deliver a trophy, with the next opportunity being at the Copa America Centenario next summer in the US. 
No doubt Messi is one of the top to play for the Argentina national team, and many would put him ahead of Diego Maradona. But if he doesn't win a trophy with his country, can you put him above the midfielder when it comes to all time?
For news, stories, results and more, follow us on Twitter: @CBSSportsSoccer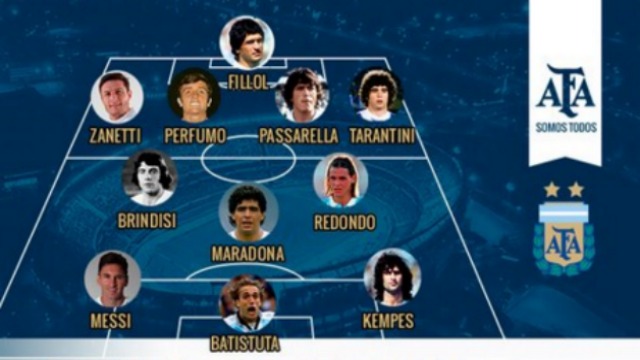 The World Cup champion joined CBS Sports Network's 'We Need To Talk'

The rising Dutch superstar touched down in Italy late on Tuesday

The new Premier League season will kick off on Aug. 9
Neymar met with Paris Saint-Germain executives on Monday to express his desire to leave the...

The club's new away kit is inspired by one of their most iconic jerseys ever

A look at the biggest transfer rumors and news for Monday