LOOK: Soccer club in Argentina embedding microchips in fans
Tigre has chosen a strange way to give out season tickets.
• 1 min read
It what is one of the weirdest, most unbelievable soccer stories in quite a while, an Argentine soccer club says it will be providing season tickets through a chip that is implanted into a person's arm. Really. Tigre announced its "Passion Ticket" on Twitter on Monday. 
Ahora, podés llevar a tu club adentro...De verdad ! pic.twitter.com/ojfAt1jZrq

— Club Atlético Tigre (@catigreoficial) April 25, 2016
The text on the left of the above image reads:
Through a chip implanted in the body with all the information of the season ticket holder, the fan can enter the stadium by only moving close to the ticket scanner. This will read the information of the implanted chip, and if the fan has their payments up to date, the security gate will open to provide access to the corresponding section of the stadium.
As you can imagine, fans of the club are doubting the validity of the tweet, wondering why something like fingerprints won't be used, why go to the length of implanting chips? Argentine soccer isn't loaded with money, especially a small club like Tigre, so it makes little sense and I'm still not convinced it is true, but that's what the club is saying at the moment.
That is so weird. But is it as weird as Lionel Messi being filmed eating breakfast with a fork when the only person who would use that utensil to eat a cracker covered in dulce de leche is Mr. Pitt from Seinfeld?
For news, stories, results and more, follow us:
- @CBSSportsSoccer - @RGonzalezCBS - Facebook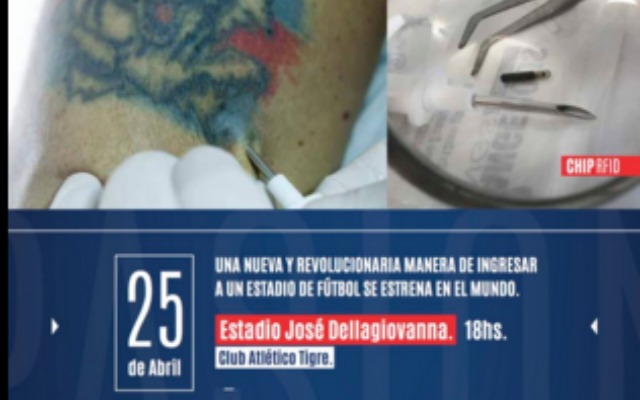 Here's the complete schedule and results of the 2019-20 Champions League

Here's everything you need to know about the UEFA Champions League season for 2019-20

The Real Madrid defender put his team behind the 8-ball with another red card on Wednesday
Two title contenders will meet in Madrid

Juve hits the road for the first leg

Robert Lewandowski is expected to sit out the next four weeks with a fractured tibia
Real Madrid is in big trouble while Juve may be OK

City turned this match on its head with two quick goals in six minutes, thanks to Kevin De...